Thirty-Five.
That's how many days this family has until our routine quickens its pace from the lazy days of sunshine, pools, sunscreen and camps to school: early mornings, carpools, uniforms, backpacks and homework. I feel as though I have spent hours, days, WEEKS wishing for the moments I'm experiencing now. It is hard to imagine that time is flying by so quickly, and yet…..it is.
Soon, my no-longer-quite-so-small-people will need prodding from their beds, the encouragement it requires to tidy their rooms and get dressed and we'll meet in the kitchen as we always have to prepare for their day.
And, as we so often do, as a traditional, long-time Kellogg's family, we'll be clinking spoons over a bowl of their favorite cereal, talking about what to expect for the day ahead, and naturally, planning the day's school and sport's schedule.
You and I both know so many families often reach for cereal for a number of reasons:
It's quick and easy… the walk to the pantry and the fridge takes seconds.
The preparation of the meal by either me (mom), that guy who never misses the opportunity to join them for the start of their day (dad) or even their little hands is seamless and we never have to encourage them to eat.
It's family tradition – I ate cereal growing up and so did my husband…it was with comfort that we began to share the same foods with our children.
It's affordable
But nutrition matters, too. Making sure we are all fueled for the day is important.
I was recently in New York City with Kellogg's, talking about just that: the benefits of cereal and milk and how they can provide us the grains and protein we need to start our day.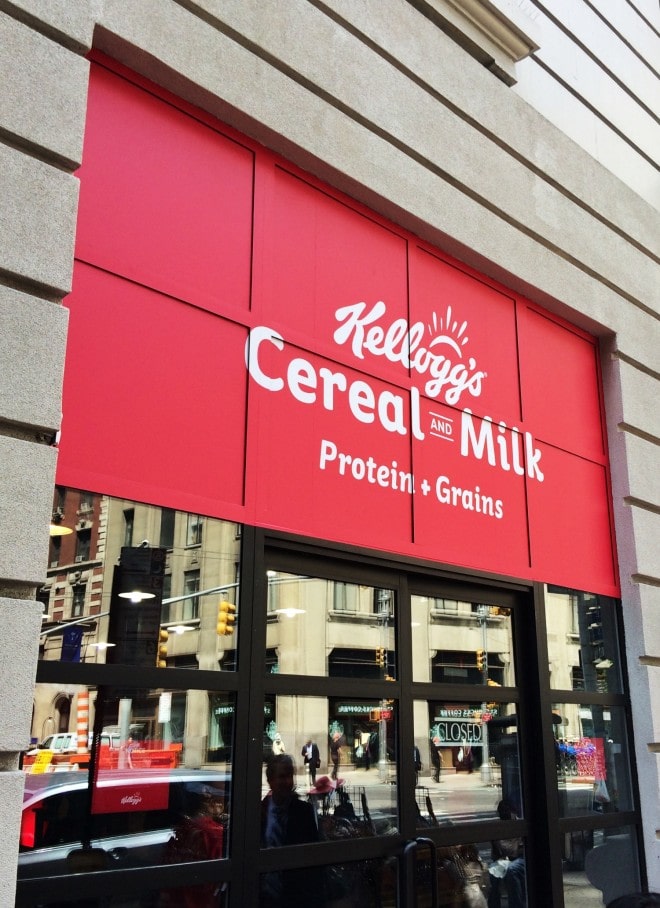 Kellogg's hosted a pop-up Recharge Bar in the middle of the city for an entire week. Anyone….absolutely anyone…was free to wander in for breakfast, grab a bowl and choose any variety of their favorite Kellogg's cereal, an extraordinary set of toppings – some traditional and some gourmet – and of course, milk.
The goal: Rethink Cereal.
For so long, we've reached for this staple without fully embracing the goodness behind it.  Here at the Recharge Bar, you were offered an incredible menu of options you have never tried before. (and of course many you know)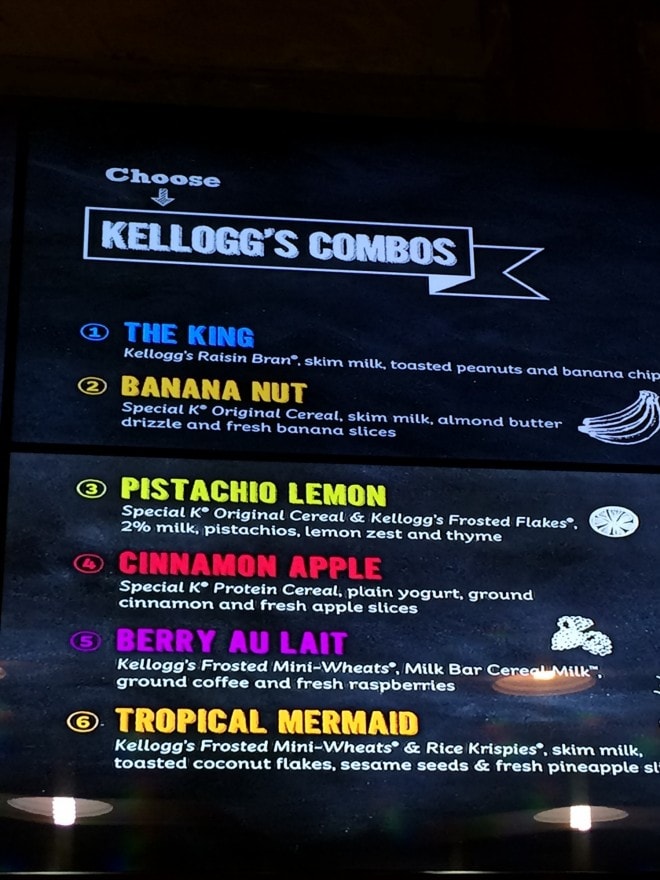 Christina Tosi, the owner and founder and Milk Bar was the mastermind behind the recipes, but you could also create your own. There was an option to go gourmet: to add nuts, banana chips, raspberries, pistachios, thyme, and yes…even coffee grounds. It was, in a word….divine.
This bowl right here – the Berry Au Lait  – Kellogg's Frosted Mini Wheats®, Raspberries, Milk Bar Cereal Milk ™ and coffee grounds, was a favorite.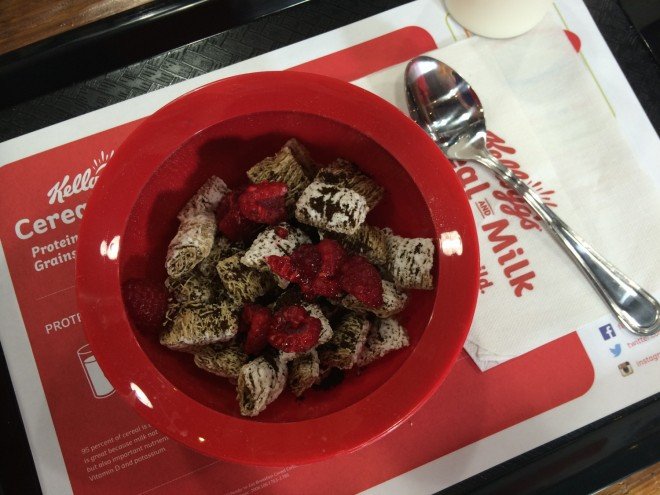 I was excited to have some time to sit down with Dr. Travis Stork, one of the spokespeople for this project. We talked initially about getting back to basics – how starting your day with breakfast is crucial….and then about the importance of the grains in cereal that help us recharge in the morning, combined with the protein in milk that helps us to refuel.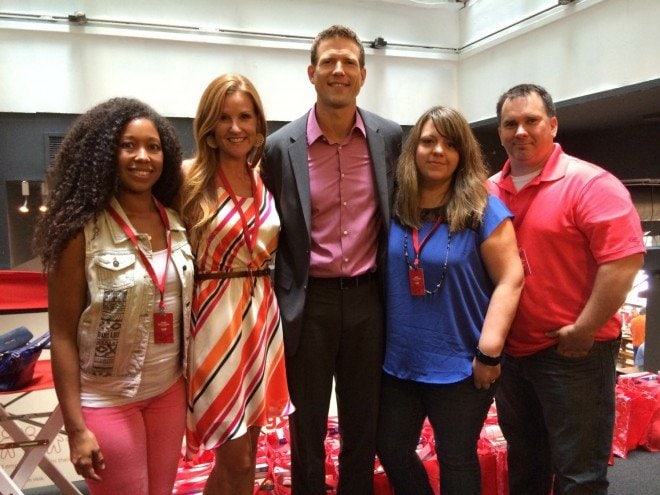 You and I both know we can certainly make choices that make cereal and milk the sweeter treat that was reserved for Saturday mornings in my childhood, but we can also opt for for a strong and healthy start by making a few simple decisions:
Add fruit – bananas, raspberries, blueberries, or apples
Spice it up: Cinnamon, Nutmeg
Go for the Grains: Read the labels and include cereal in your morning that include whole grains
Remember the Protein: Milk is an important part of the equation
This is a peek inside the Recharge Bar and a few minutes of a highlight performance from a group that I adore, The Roots singing the Kellogg's Cereal and Milk Jingle with some students from the Philadelphia High School for Creative & Performing Arts. For a fuller version of their performance – you can hop over here. 
One of the things that I loved the most about the Recharge Bar was the way it encouraged us to Rethink Cereal. The special cereal combinations challenged our palates…we're so used to pouring a bowl of cereal, possibly adding a little fruit, pouring milk and calling it breakfast. I smile just remembering the taste of my favorite of Christina's recipes – the Pistachio Lemon. It combined Kellogg's Special K®, Frosted Flakes®, pistachios, lemon zest and thyme. It was delicious.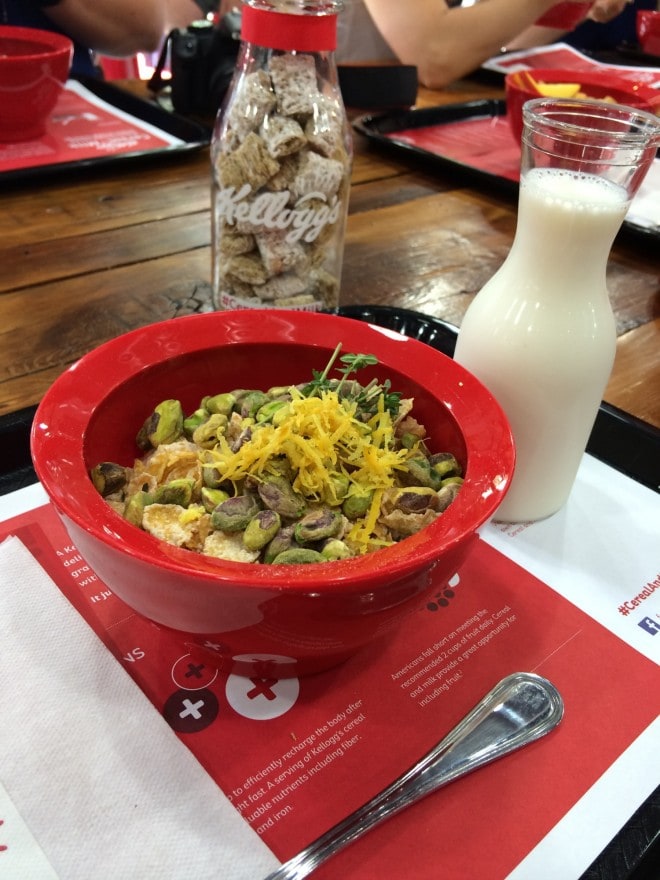 I'm excited to say I'm duplicating this Recharge experience here in my home for Back-to-School in just a few weeks….knowing that my friends and their kids can also use a little push to 'Rethink' the way they are doing cereal in the morning.
I'll be offering Christina-Tosi-inspired cereal options and looking for school-ready kids to share their favorite inspiration.
I can't wait to share what they create.
Disclosure: I have been a long-time partner of
Kellogg's
and am thrilled to continue working with them as breakfast is and always has been a huge priority in my home.