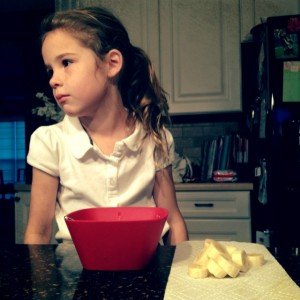 "Baby, sit down…. eat your breakfast."
"Coop…buddy, take a bite."
"Small people…. breakfast….please…now!"
Sound familiar?
This is the soundtrack in my kitchen before school.  On repeat.  On Monday.  On Fridays.  Doesn't matter the day…. I am the encourager…. they are the procrastinators.
It is my job, as a parent, to channel their….ummm… energy? And make sure their tummies are full before sending them off to a day full of school, of learning…  I don't need statistics to tell me children learn better, have a greater ability to focus AND a decreased chance of falling victim to childhood obesity if a healthy breakfast is part of their routine. You and I both know it is true.  And yet, so many kids head off to school with empty tummies.
Breakfast is important.  As nutrition.  As a family ritual.  As a lifetime habit.  And for these reasons, I've joined forces with Kellogg's to promote these very fundamental beliefs.  Recognizing that many children don't head off to school with the right start – with the proper nutrition and full belly, Kellogg's is giving people like you and me and chance to Share Our Breakfasts through April 15th. Every time we do….(read on to see how) a breakfast will be shared with a child.
Here's how you can help!
A balanced breakfast kicks our metabolism into high gear… gives us the brain power we need to learn, to share and to give.  Simple, right?
Also – parents – make sure you are providing the example your kids need: YOU NEED TO EAT BREAKFAST TOO. (I'm talking to myself here as well!)
Final food for thought: (pun intended) a bowl of cereal can be a great option….  if you are making a healthy choice, you can incorporate dairy, fiber, and vitamins into your diet.  And it can cost about 50 cents per meal.  Not too shabby.
What did you have for breakfast?
Disclosure:  I am working with Kelloggs for 2012.  As always, all opinions shared in this space are mine and mine alone.