I don't know about y'all, but I am itching for spring. But then reality sets in, and I realize we have at least another six weeks of cold ahead of us. Is your winter wardrobe starting to feel dull? I'm with ya, sister. But just because it's cold outside doesn't mean that we can't give our wardrobes a little refresh! These cute cold weather accessories are the perfect additions to add just a little style into your winter wardrobe.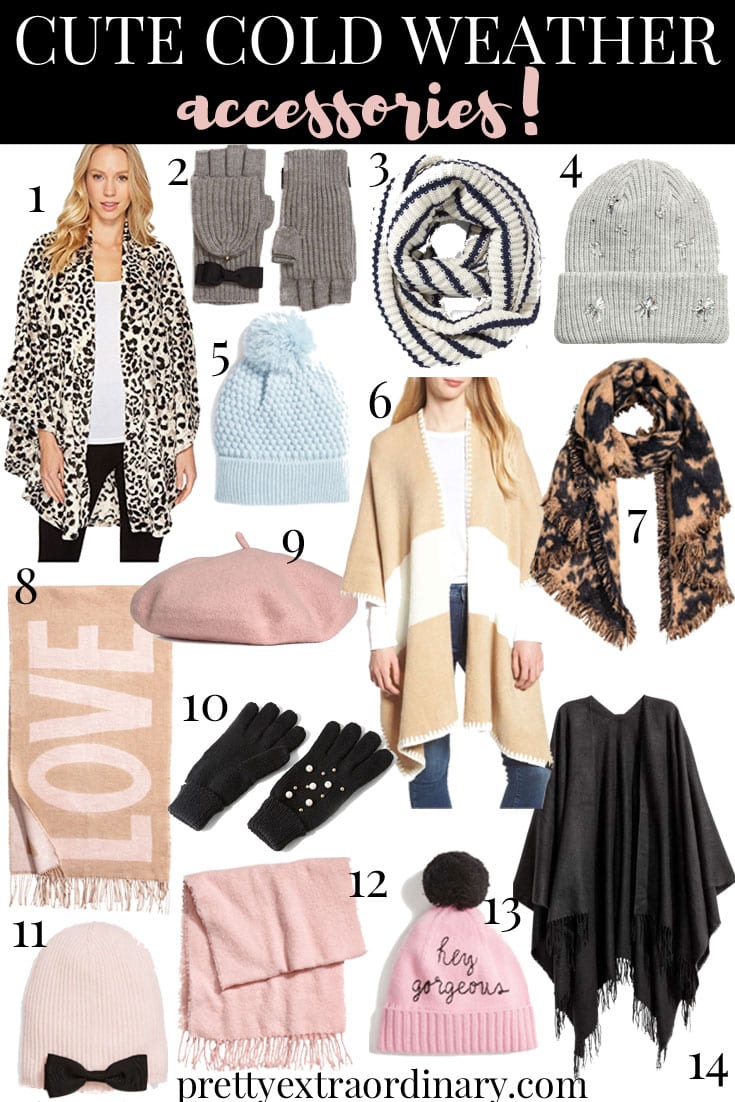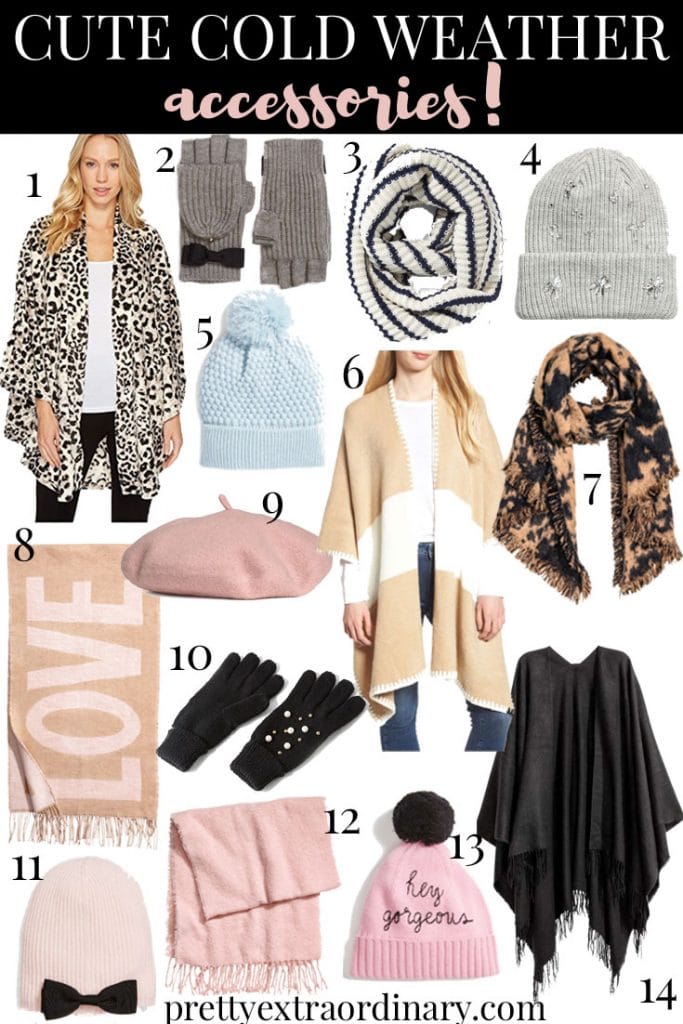 1 | 2 | 3 | 4 | 5 | 6 | 7 | 8 | 9 | 10 | 11 | 12 | 13 | 14
Hats
On snow days, nothing keeps me going more than a cute hat. I know, it's simple. But it's the little things when you're all bundled up, right?! There are so many cute versions out there with plenty of personality. This rhinestone option from H&M just screams glamour! Break out your inner girly girl with a bow beanie, and I'm sure this "hey gorgeous" one will garner many smiles! For the fashion-forward gal, you can't go wrong with an on-trend beret. Or for those who love a timeless hat, I love the powder blue pom version.
Scarves
Scarves are the mainstay of any winter wardrobe. You can truly never have enough! And they're also a simple way to completely change your look! This striped one has a classic nautical vibe that will have you ready for spring. The texture of this fluffy version is so unique and fun! It will keep you cozy and stylish. Plus who doesn't look good in pink?! One of my favorites is this LOVE scarf. It comes in several other colors, but I love how neutral this pink is. And for statement-lovers, you just can't go wrong with leopard!
Gloves
You can never go wrong with a classic pair of leather gloves, but I love how statement ones can really amp up your winter style! These bow gloves come in four color options and easily convert from mittens to fingerless gloves! If a little sparkle is more your style, go for these pearl ones! They're currently on sale for $10!
Ponchos
If you haven't embraced ponchos into your wardrobe, now is the time! They are perfect to wear over layers and keep you cozy while being on-trend! I personally love wearing them over everything from sweater dresses to turtlenecks to long sleeve tees! If you want to go bold, you have to pick up this leopard print poncho! For a more classic look, this striped one is simple and elegant! And if you're on the hunt for a versatile poncho that can be paired with anything, look no farther than this solid black fringe version. It also comes in gray!
What are your favorite statement cold weather accessories?