I am a so-so cook.
But I am decidedly above average when it comes to dessert (just ask anyone who has ever had this little slice of heaven – my Chocolate Chip Cheese Ball). That must make me Blissfully Domestic, yes?  Well, I am certainly Blissful if nothing else.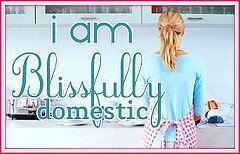 Well….I'll leave it to you to try this recipe and then come back and tell me.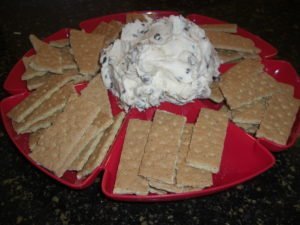 Chocolate Chip CheeseBall
1 package 8oz cream cheese
1/2 Cup butter (softened)
1/4 Teaspoon vanilla
2 Tablespoons Brown Sugar
3/4 Cup Confectioners Sugar
3/4 Cup Mini Chocolate Chips
3/4 Cup Finely Chopped Pecans (Optional)
Graham Crackers
Beat softened cream cheese, butter and vanilla until creamy.  Slowly add sugars until blended.  Stir in Chocolate Chips. Refrigerate for at least one hour. Form into ball or leave as a dip. (If you form a ball, roll it in pecans.)
Serve with Graham Crackers.  Enjoy!