Don't be confused, I'm not a Food Blogger.
If you are looking to drool over food on a regular basis, you need to visit my friends Rachel at A Southern FairyTale or Cheryl at TidyMom…. both of their sites will send you searching for something delicious… or possibly a private chef to do it all for you.
However, every now and then, I make something good. Even better, it's EASY.  And I feel compelled to share.  This is one of those moments.  You're welcome. This falls in to the 'baking category'.  Perfect, right?  Because there will be a plethora of opportunities for you to be baking during the holidays.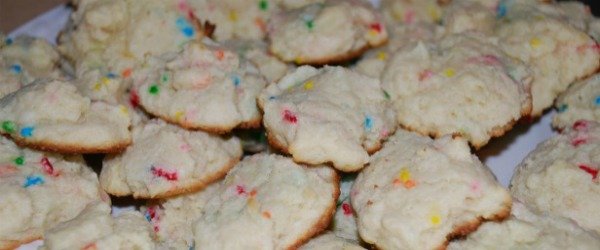 This recipe will save you.  Are you ready?
Gooey Butter Cake Cookies.
Yes.  Divine. And?  I will repeat: Easy.
Gooey Butter Cookies

1 Stick of Butter
1/4 Tsp of Vanilla
1 Egg
1 (8 ounce) Package of Cream Cheese
1 Box of Cake Mix ( I used Funfetti – feel free to use yellow, chocolate, etc… get a little crazy)

Preheat Oven to 350 degrees. Beat butter, vanilla, egg and cream cheese until light and fluffy.  Mix in dry cake mix. Lightly coat cookie sheet with cooking spray.  Drop teaspoons of batter onto cookie sheet.  Cook 7-9 minutes until cookies brown slightly around the edges.  Makes: 3 dozen cookies.
As an alternative, you can cover the dough and put it in the fridge for 30 minutes to chill.  Then roll the dough into balls and dip them in powdered sugar.  When baked they will flatten into a more 'traditional' round cookie.  (I prefer the gooey textured)
Enjoy…..