Summer is the time when my small people are most prone to say something silly like, 'I'm bored'.  I'm sure you may have heard it once or twice too.  But in my house, there are rules. If you tell me you're bored, I will FIND something for you to do, and chances are pretty good that you might not love the options.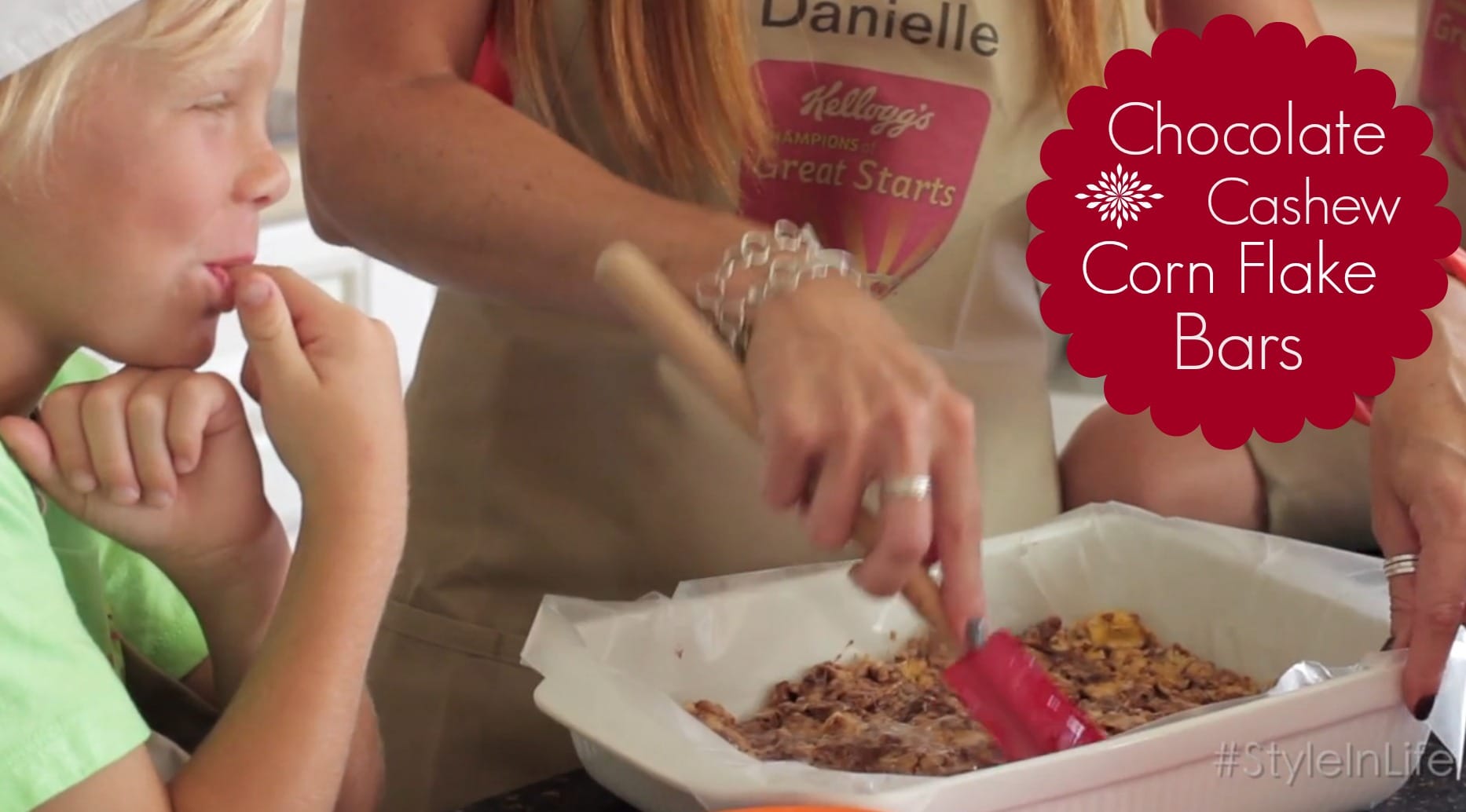 For this video I'm working on minimizing  these 'boredom' moments. I have provided Delaney and Cooper with a few fabulous options to keep them busy…. some are things they can do without me – reading, sports outside, working on our garden…. and some are things we can do together – heading to the pool, organizing their rooms (what, that isn't fun for a 7 and 9 year old?) and baking treats like the one I'm getting ready to share.
Every now and then, you have to branch out, right?  Well, for this recipe – I let my kiddos help me create the recipe itself using some of their favorite ingredients.  Since we are a Kellogg's family (I've been working with them for close to two years now), we started there… and decided to begin with Corn Flakes, but went 'old school' for inspiration. Rice Krispie treats are a favorite in our home.  You may have even seen our Nutella option (to-die for!).  But this recipe has a different spin – we included marshmallows – which both kids love and chocolate – which my daughter could eat for every meal and cashews – MY favorite nut.
Take a look:
Chocolate Cashew Corn Flake Bars
My husband ate half the pan in less than 24 hours.  I think that means he loved them.  What recipes have you created in your home that have been a hit with your family?
This video is part of my 'Keeping Style in Your Life' Series…  I've loved focusing on everything from organization to favorite food to easy hairstyles and wine.
Disclosure: I have a long term working relationship with Kellogg's and was delighted to create this recipe.  As always, all thoughts and opinions on this site are mine and mine alone.