It might not feel like Fall in your part of the country yet, as it doesn't here in the Midwest – we've been hanging tough to the 70's and 80's, but I can see the leaves *thinking* about changing. Of course the days are getting shorter, my small people are in school and their sports – the soccer, the Fall softball and baseball and volleyball are in full swing, but there is something else that tells me this season has arrived: football.
I LOVE FOOTBALL. I love college football. And I love the NFL.  I grew up watching it and I still enjoy both football Saturdays and Sundays.
I especially enjoy a good house party that includes the game. Yes, I'm the girl that loves to spend time with my friends, eat great food AND watch the game.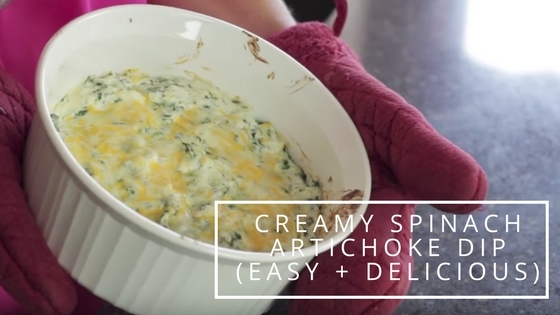 Speaking of great food…. this is one of my favorite appetizers and definitely a MUST when I head to a get-together.
Creamy Spinach Artichoke Dip
Here is the recipe:
Heat oven to 375 degrees.
Ingredients:
1 box frozen spinach
1 14 oz can of artichoke hearts
2 cups parmesan cheese
1 block of cream cheese
1/3 cup mayonaise
2/3 cup of sour cream
1/2 cup mozzarella cheese
2 tsp garlic
Thaw frozen spinach, drain well. Drain artichoke hearts and combine with spinach. Add parmesan cheese.
Combine remaining incredigents together – cream cheese, mayonaise, sour cream, mozzarella cheese and garlic.  Add to spinach mixture.
Cook 20-30 minutes or until ready.  Or, place mixture in a crock pot to cook and then keep on warm.
Enjoy – I'd love to know what you think.