I first knew something was wrong when the trio on stage at the Global Citizens Festival went off prompter and then stood in silence. I was hyper aware that things were not proceeding according to plan. I heard a commotion towards the right front of the stage and the gentleman on stage began to say, 'calm down, calm down'.
I turned to the group with me and said, 'something is wrong'.
I was right, but I honestly STILL do not know or understand the 'something' that set the panic and chaos in to motion.
As I began to repeat myself, security came out and pulled the three from the stage.
Within 30 seconds, there was a tsunami of people running away from the stage – directly AT US. There were nearly 60,000 people in the park and many were sprinting in our direction.
It was run or be trampled….except we couldn't run. The crowds of panicked people made that nearly impossible. I reached for a few of our crew to make sure we stayed together. As a foursome with a guide dog (a delightful black lab named Gallup who was invisible to the crowds) it was impossible for us to move at a rapid pace.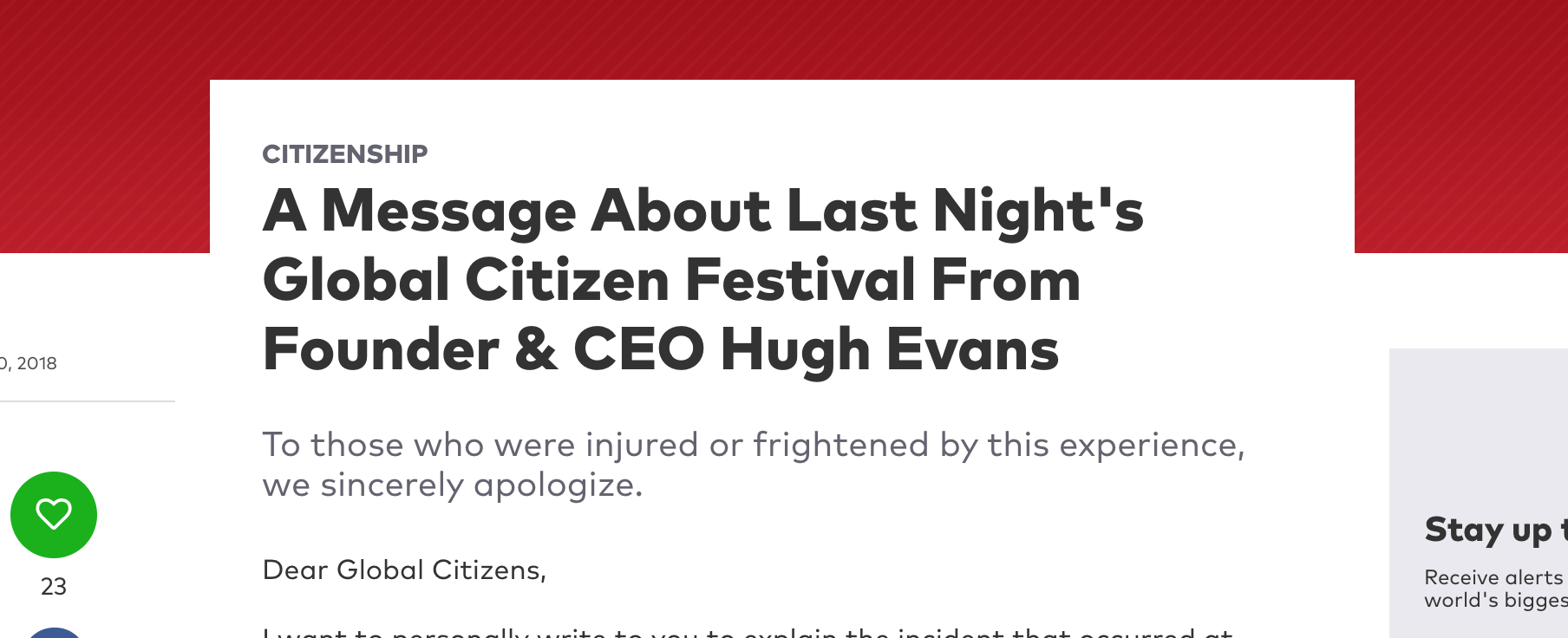 As we moved towards the exit, cries of 'get down!' and 'duck!' seemed to be coming from everywhere. As the people around us crouched, we did the same, clinging to each other. We could hear a series of loud pops….
With the crowd around us….crying, panting, urging us onward, we decided to stumble to our feet to keep moving – as far away from the stage and those sounds as possible. Unfortunately, our path was blocked by rows of benches, requiring us to climb. As two of us and Gallup attempted to clear the bench, we were pushed from behind, sending us solidly to the ground. I have bruises from the many people who stepped on us in an attempt to reach safety.
I honestly don't blame them – fear and panic hit everyone in a different way – and survival at all costs is one of them. But, as I lay on the ground, trying to figure out how I might eventually stand, I firmly understood how people are severely injured when trampled.
A kind man named Sam finally held people back so we could get up and continue our way out of the park.
WHAT IS HAPPENING??? We continued to ask each other – no one certain, but the sounds we had heard were fueling speculation. One person after another was saying there was an active shooter in the park.
While I now know that NOT to be true, it was the reality each of us lived at that moment.
The fear, the terror, the need to call family to let them know you were *almost* safe – it was ALL real. When you are huddled on the ground clinging to your people and strangers, you focus on listening for danger, breathing and praying – whether you are the praying kind or not.
You pray to make it to safety.
You pray to stay together so you everyone makes it out.
You pray to talk to your children.
You pray you GET to talk to your children again.
You pray no one has been hurt or killed.
Once you are out, your heart rate struggles to return to normal. Even two days out, I'm still shaking.
I know what the news is reporting – originally, it was a barricade fell, someone *may* have thrown firecrackers on the ground, someone stepped loudly on a bottle – making a sound some believed to be gunfire.
I honestly don't know what DID happen – as the timeline doesn't make sense (what caused people to run at first and what did we hear WHILE we were running??)….but I understand there was no shooter – and for that, I am grateful.
But it doesn't remove the terror of that period of time (far more than just a few moments of panic) and it doesn't keep my heart from racing.
THIS IS WHAT IT FELT LIKE.
Those people on the ground? That was me….huddled and terrified.
And so truly grateful to make it back to our hotel and account for everyone in our group.
One year ago today, a lone gunman took aim at hundreds of people enjoying a country concert in Las Vegas. I was glued to the news at the time and know a handful of people who were there.
I hope to never be a part of a situation like that, but, after Saturday night, I DO know the fear of believing it was happening all around me.
It's been nearly 48 hours and every single one of my senses can still reply those moments – from the sense that something was amiss, to the sight of everyone running, to the sounds that signaled danger, to the feeling of feet on my back and hips as people fled for safety.
And yes, to the sound of my daughter's voice and the comfort of the hugs from my friends as we arrived at the hotel.
This is a painful reminder of the times in which we live.