Full disclosure: I am a Sam Hunt fan. I was before last week and am even more so now.
This means, the Carnival Live experience offered aboard the Carnival Splendor this past week was ideal for me and for hundreds of others just like me. You know – the kind of fans who have Spotify and Pandora stations dedicated to one of their favorite country music artists. Not to mention the fans who have been to his concerts in the past, who know his songs by heart (yes, all of them) and who, let's be honest, even had special t-shirts made for the occasion.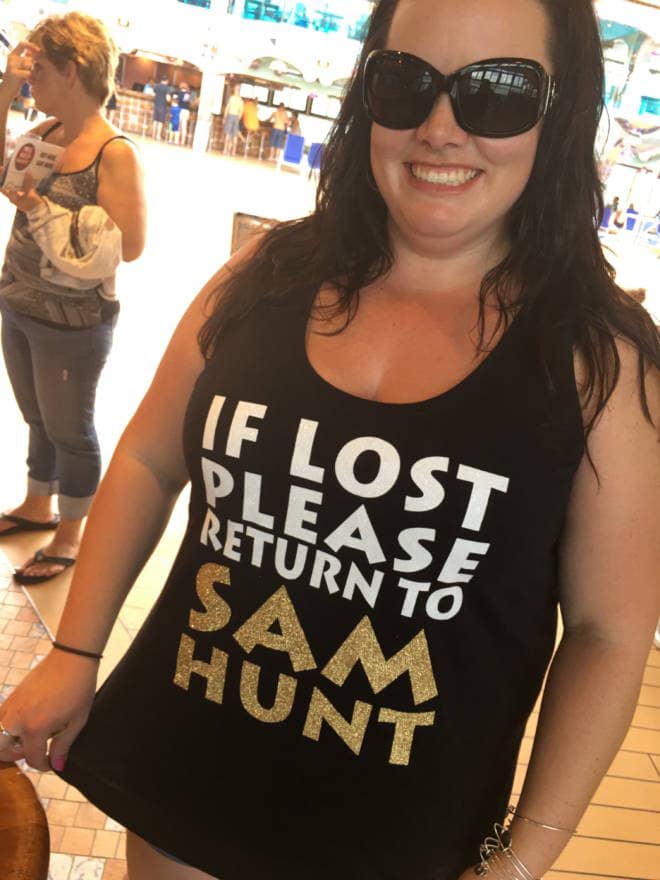 But there is something special that happens with Carnival Live that doesn't happen in a traditional venue.
Prices vary, but for most shows – tickets start at $30 and there isn't a bad seat in the house.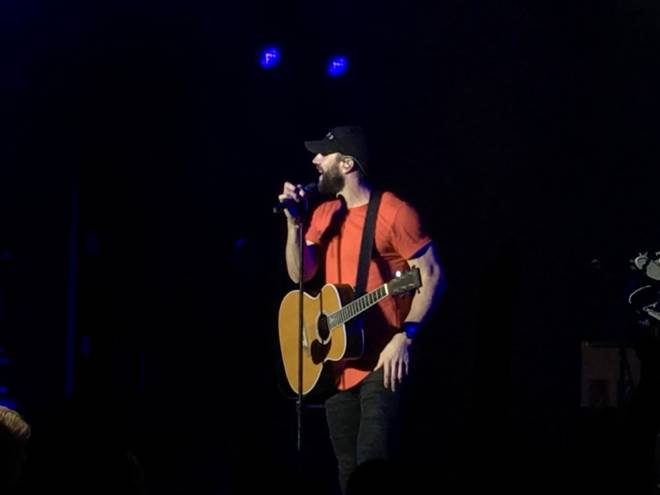 You are so close, you can see Sam Hunt having as much fun as you are. In a media pre-interview with me and a few others, he talked about how much he appreciates the opportunity to perform in a setting like this as it reminds him of his first headlining tour – the Lipstick Graffiti Tour a year and a half ago, "I hope I can always incorporate intimate shows in to what we do because I feel that's where the music translates best".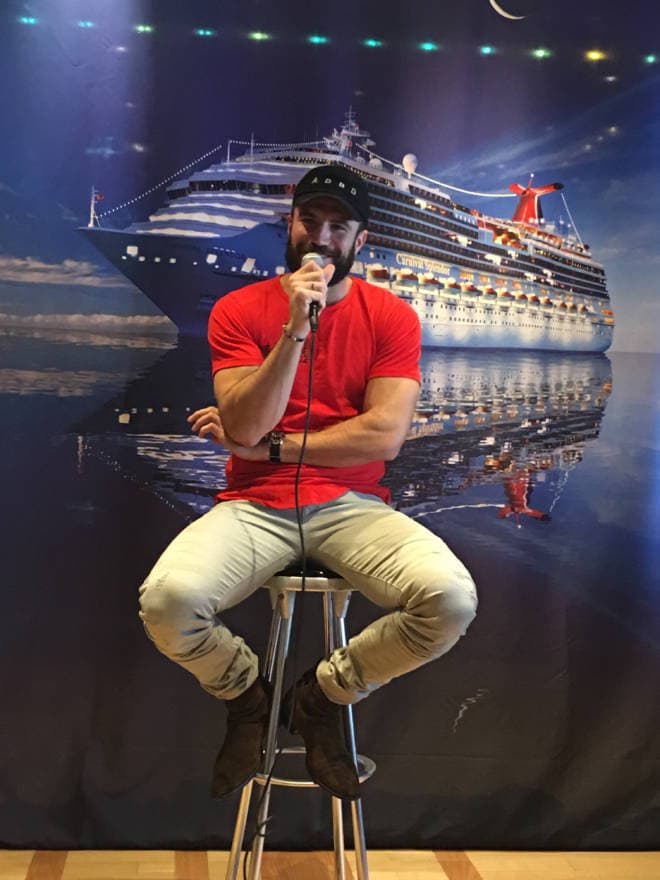 Each Carnival Live artist is available for a meet and greet – as well as a photo opportunity – for VIP ticket holders. Those tickets start around $100 depending on the artist. I loved seeing the enthusiasm of Sam Hunt's fans – they started to line up for their VIP experience nearly two hours before he would be available.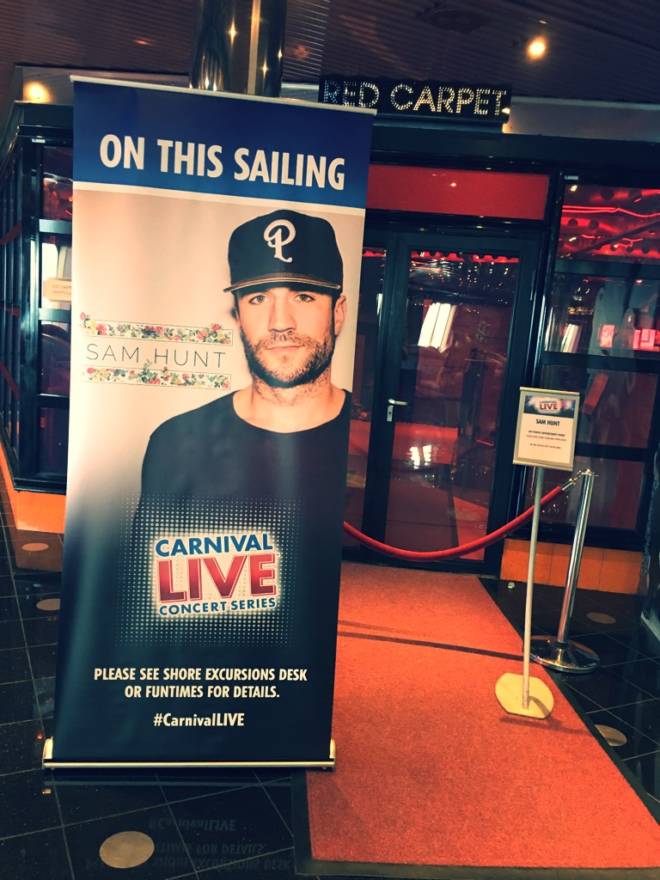 And in picture after picture (on social media) I could see Sam was just as gracious with his fans as I imagined he would be. (Recognize this fan? I took her photo the day we boarded the Splendor – she told me she'd wear the shirt again when she met him. She is a girl of her word.)
You're on vacation AND seeing one of your favorites. Sam noted how much he enjoyed performing for fans who were clearly in 'vacation mode'. We docked in Cozumel, Sam Hunt's crew loaded all of his gear on board and he performed that night. The previous night, he had performed for another Carnival ship – also in Cozumel. Each Carnival Live experience includes two performances for the artist.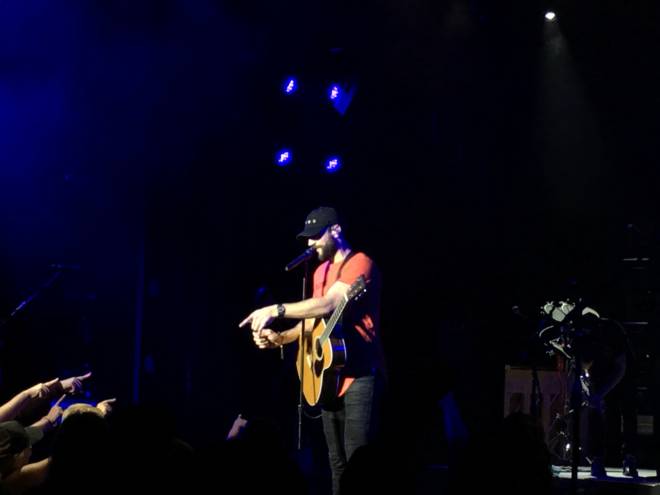 Instead of waiting at Will Call, your tickets are hand delivered to your stateroom. Bonus: No lines for you.
While some shows sell out before the ship sails, for many Carnival Live cruise experiences – you can purchase tickets ahead of time or make a game time decision on board. Admittedly, I spoke to many on the ship who chose this sailing specifically because of the opportunity to see Sam Hunt while on vacation. So friends, plan ahead. There is Carnival Live goodness coming in 2017.
Past Carnival Live artists include Rascal Flatts, Lady Antebellum, Jewel, Gavin DeGraw, Journey, Styx and many more.
The 2017 season already has some of your favorites on the schedule – including Tim McGraw, Little Big Town, Jay Leno and Jeff Foxworthy.
Ready to sail? I am.
I'm beyond grateful to have been a media guest aboard the Carnival Splendor for this Carnival Live experience. The Country Music/Sam Hunt fan in me is looking forward to sharing more about our interview with him. He was as gracious and humble as he is talented. Hint: He revealed his desire to be 'even more vulnerable' on his next album as well as who will do most of the song writing.