I am always looking for ways to make life a little more extraordinary – and let's be honest – having extra money to devote to the things that we LOVE to do, rather than the things we HAVE to do certainly fits the bill.
So, when I was asked to do a money-saving segment on Good Day St. Louis – our local CBS affiliate, I jumped at the chance and started researching! (My segment is under the "Ways to Save in 2011" and is about 2 minutes in to that video.)
By far, my very best resource is YOU, that's right, YOU.  Not google, not the myriad money-saving sites peppering the web – though they are clearly valuable, but, simply – other moms.  Moms are a resourceful bunch and when we put our minds together, when we SHARE our ideas – it almost feels like we could rule the world.
So, I hit Facebook and Twitter.  I asked, "What are some of your tips for saving money in the New Year?" – and the answers helped me to compile this top Five.
Five Ways to Save your Family Money in the New Year
1) Create a Kid's (or even adult) clothing Co-op among your friends.  At the beginning of every season, swap the clothes your kids no longer wear with a friend who has a younger one.  If you are really organized within your group, you can always plan to pass off clothes to the same family.  If you want a fun night with girlfriends….gather ALL of the items you no longer wear – clothing, jewelry, belts, scarves – have everyone bring their items, share some wine and 'SHOP' from each other's goodies….  What is the saying, "One man's trash is someone else's treasure?"
2) Modify recipes that call for meat.  Instead of using a pound of ground beef in a lasagna dish – use 1/2 a pound – you still make the entire dish, can feed your family AND have that remaining 1/2 pound to use in another meal. (for the record, my husband told me tonight that this is the best lasagna he's ever had)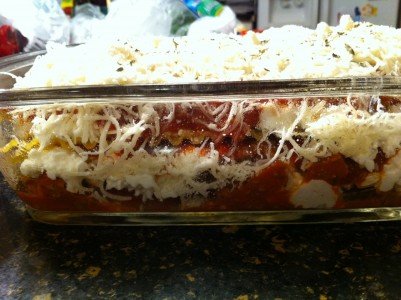 My Lasagna Recipe:
1/2 pound of lean ground beef
1 jar of Spaghetti sauce
32 ounces of cottage cheese
3/4 cup of sour cream
2 eggs
1/2 cup of Parmesan cheese
2 tsp of Italian Herbs spices
salt & pepper to taste
9 lasagna noodles
1/2 cup of water
Preheat oven to 350 degrees
In a large skillet brown ground beef. Drain the grease. Add spaghetti sauce.
In a large bowl, mix the sour cream, cottage cheese, 2 cups of the mozzarella cheese, eggs, 1/2 of the grated Parmesan cheese, Italian Herbs , salt & ground black pepper.
Spray a 9×13 pan with cooking spray, evenly spread 3/4 cup of the sauce mixture. Cover with 3 uncooked lasagna noodles, then 3/4 cup of the cheese mixture, and 1/4 cup sauce. Repeat the layers twice. Top with 3 noodles, remaining sauce, remaining mozzarella and Parmesan cheese. Add 1/2 cup water to the edges of the pan. Cover with aluminum foil.
Bake  for 45 minutes. Uncover and bake an additional 10 minutes. Let stand 10 minutes before serving.
Enjoy!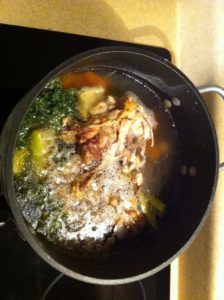 3) This requires more work, but BUY the whole chicken and de-bone it yourself. Don't know how?  YouTube can help.  This will allow you to have chicken for your meal and then use the bones (plus all left over veggies) to create stock that you can use for soups, potatoes, etc.  You pay less when you have to do the work yourself – the same is true for pre-cut veggies and fruit.  A one pound bag of whole carrots costs about a dollar less than a pound of baby carrots or carrot 'chips'. Also – BUY GENERIC.  I promise I'm not shouting at you, but you can save dollars each time you shop if only you reach for generic pastas, sauces and canned fruits and vegetables.
4) Use Cash only.  Develop an envelope system – put ONLY the money you are budgeting for the month into an envelope for Groceries, for gas, for your kids, for entertainment – whatever your expenses may be.  When the cash is gone, it is gone.  And as you are using your cash – save the change in a big jar – in only a matter of months, you will be surprised to find how much you have saved.
5) Banish your inner impulse buyer.  How, you ask?  Write it down.  Keep a note pad handy.  When you see something you covet…..  write down what it is, where you saw it and how much it would set you back.  If you still find yourself thinking about it a week later – it is no longer an 'impulse', but a choice.
Thank you to my amazing friends who shared tips including: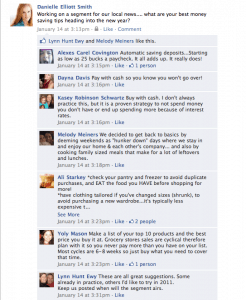 I would love to know if you have other tips?  The more the merrier….  Happy Saving.