I think it is my job to learn and evolve as a person, especially as a parent.  I am supposed to be a role-model.  If that means I learn a new version of patience, or keep my mouth shut when I am dying to yell, so be it.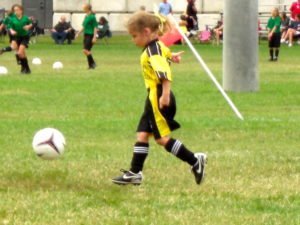 Saturday's Kindergarten soccer game was especially instructional.
I won't bore you with the whole story but suffice it to say, I needed to CALM DOWN before I wrote.
Delaney has been playing for a few weeks now.  She has pierced ears, as do a number of the girls on her team.  The rule has always been that the girls could play with bandaids over their earrings.  Apparently the rules changed.
But instead of the Ref (who was, at BEST 21 years old) explaining the situation to the coaches, I heard phrases like:
"Well THEN THEY CAN'T PLAY!"
"Say another word to me and you're going home!" and
"Just shut your mouth!" (This last one was in response to, "Hey man, I'm just trying to ask you a question.")
Next thing I know, Delaney and another little girl are coming across the field in tears.
If you are like me, your gut says, "NO ONE MAKES MY LITTLE GIRL CRY."
Lesson # 1: Take a deep breath and wait a minute
A few parents got involved.  The ref's responses to them included, "You don't talk to me OLD MAN." and "Maybe if you had a little more common sense you wouldn't have gotten your kindergartner's ears pierced."
Lesson #2: It is good for me to hold my tongue.
If that snotty little thing had criticized my parenting AFTER making my daughter cry, I might have lost my mind. Fortunately, I was smart enough (this time) to stay back.
Lesson #3 Leave it up to the experts (in this case, the coaches) to handle the situation.
I am confident this situation won't end here – our coaches were so disappointed with the entire situation. This Ref has no place in our soccer system.  He was disrespectful and downright rude.  And sadly, initial contact with his boss was fruitless.
Lesson #4 Sometimes holding your tongue makes the greatest impact.
If the Ref had been kind from the beginning, the situation never would have escalated. But now you have a whole group of parents wanting a change.
Parenting is hard, but at least I am learning.