I had this funny little moment a few weeks ago.  I consider myself a fairly smart girl, but sometimes, things just have a way of sneaking up on me.  As a child, Rice Krispies were a staple in my home.  My mom served them before we went to school most days – it was one of the few cereals she allowed since it fell into the healthier category.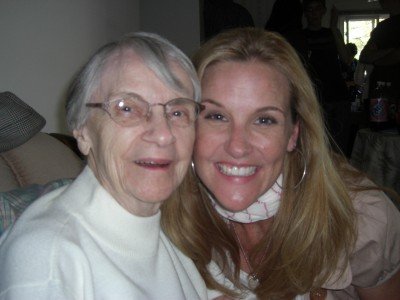 But even more exciting than that, every time my grandmother would visit, she would bring this remarkable batch of Rice Krispie treats with her.  Now, my Grammy came to visit twice a year – once at Christmas (she stayed for a month) and once over the Summer (and she would stay for three months).  The very second she arrived, she would pull out the treats and hand me one. No one has ever been able to make them as well as my sweet Grammy.
No one.
(Side note: Grammy turns 100 – YES – 100 in February, but has Alzheimers, so she doesn't remember how to make them anymore, so I may never have any quite so delicious – but the memory is divine!)
Full confession: as a young child, I told my little brother Rice Krispie treats were made with used chewing gum so he wouldn't eat them.  I wanted them all for myself.  He believed me at first, and still, to this day, holds the lie against me.  I will live.  For a few weeks, there were more magical Rice Krispie treats for me.
Now, are you ready to be amazed?  Try not to laugh (because MAYBE it was just me – and my husband, because he didn't know either) as I JUST learned this while on a call with Kellogg's and seeing this Simple Grains Rice video:
Rice Krispies are really just PUFFED GRAINS OF RICE.
What?  Ok… admittedly, you could be a) laughing at me or b) rolling your eyes at my complete *innocence*.  More than anything, as I watched the video about how the rice goes from being farmed to ending up in the bowl on our kitchen tables, I loved knowing that this cereal, the one I ate as a child, is still being made now as it was then.  The same simple process – from 'seed to spoon' is used for wheat and corn.
Kellogg's new Simple Grains campaign explains how the company has made it a priority to keep so many of their cereals 'simple' – starting with a farm and a single grain: wheat, corn and rice.  And they've been doing it for more than 100 years.  Raisin Bran, Corn Flakes and Rice Krispies are three of the cereals that start like this and they are three that my mom used to buy for us when we were little.
They are now three I have been serving to my small people before they head out the door for school. Simple.
I do have a working relationship with Kellogg's.  As always, all opinions and writing on this site are my own.