Breakfast time in our house is truly one of my favorite times of day. We are all in the kitchen – all talking – all planning for the day. With the number of sports my small people play, this has become the time I truly connect with them. I aim for family dinners, but practice-practice-game-practice dominates our evenings. Soccer, baseball, softball and football are all part of our weekly repertoire.
So, just how fancy are our morning breakfasts? Do I get up at 5am to make pancakes and cook eggs and bacon. Nope. We are a cereal family. There are always a half-dozen boxes of cereal in my pantry. But you know what I love? Cereal – though a morning staple for us – is good for so much more than breakfast.
This post is the first in a series of ways I'm excited to share how you can use cereal for other meals as well. In this case?
Dessert. Treats. Goodies. Fun.
As I have long been a partner with Kellogg's – their cereals – Corn Flakes, Rice Krispies, Special K, and Frosted Flakes are always within reach. And they have been since I was a little girl.
With Easter just around the corner, I wanted to share a favorite recipe for making a holiday-specific treat – and one that my small people adore. (though I will always contend that my sweet Grammy makes the best Rice Krispie treats on the planet – I think my version is passable.)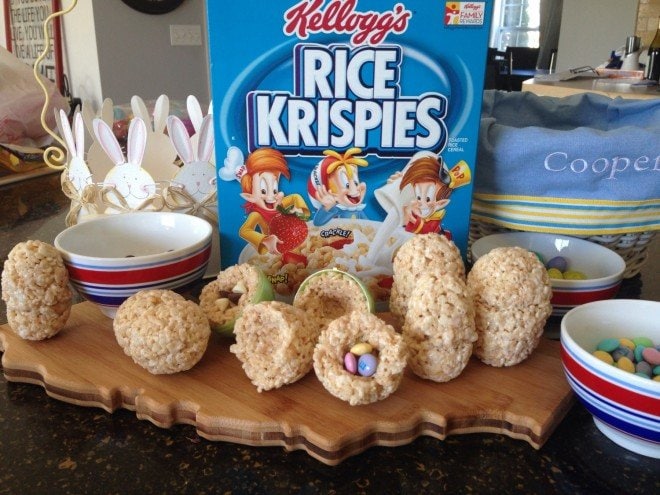 Rice Krispie Easter Egg Surprise Treats
Ingredients:
3 tablespoons butter (don't substitute)
5-6 cups Kellogg's Rice Krispies
Marshmallows (10oz bag of the large or about 4 1/2 cups of the Miniature)
1/2-1 cup of 'treats'  – M&Ms, chocolate chips, jelly beans
Pull-apart plastic Easter Egg for mold
Directions:
Wash the plastic Easter Egg and spray the inside with cooking spray
Melt butter over LOW heat
Add marshmallows – stirring constantly until completely melted
Pour in Rice Krispies – stir constantly until all are coated with marshmallow
Work quickly: Fill Easter Egg with mixture, creating a hollow or hole with your thumb
Remove from mold, add decoration to the outside of egg if you so choose.
Allow to cool slightly
Fill eggs with treats and press gently, but firmly together
Surprise everyone you love!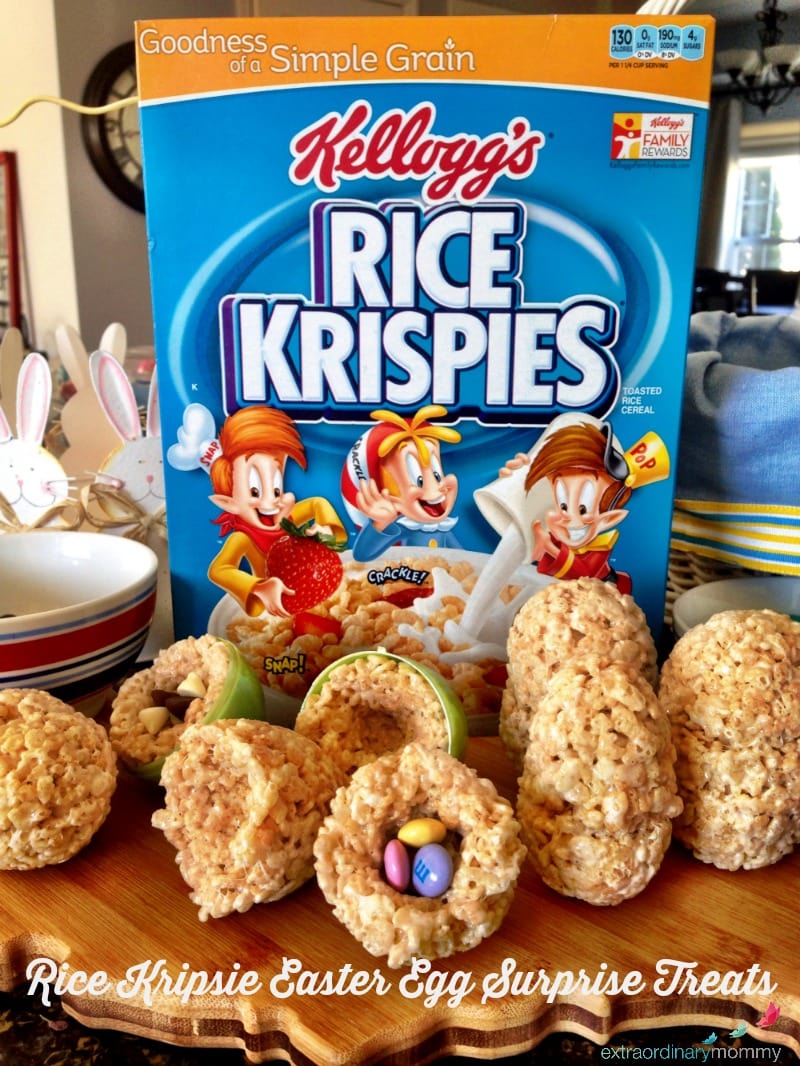 Note: If you allow too much cooling, the eggs will not stick together AND nothing will stick to the outside
I was able to 'surprise' my small people with these when they arrived home from school. Motherhood Winning!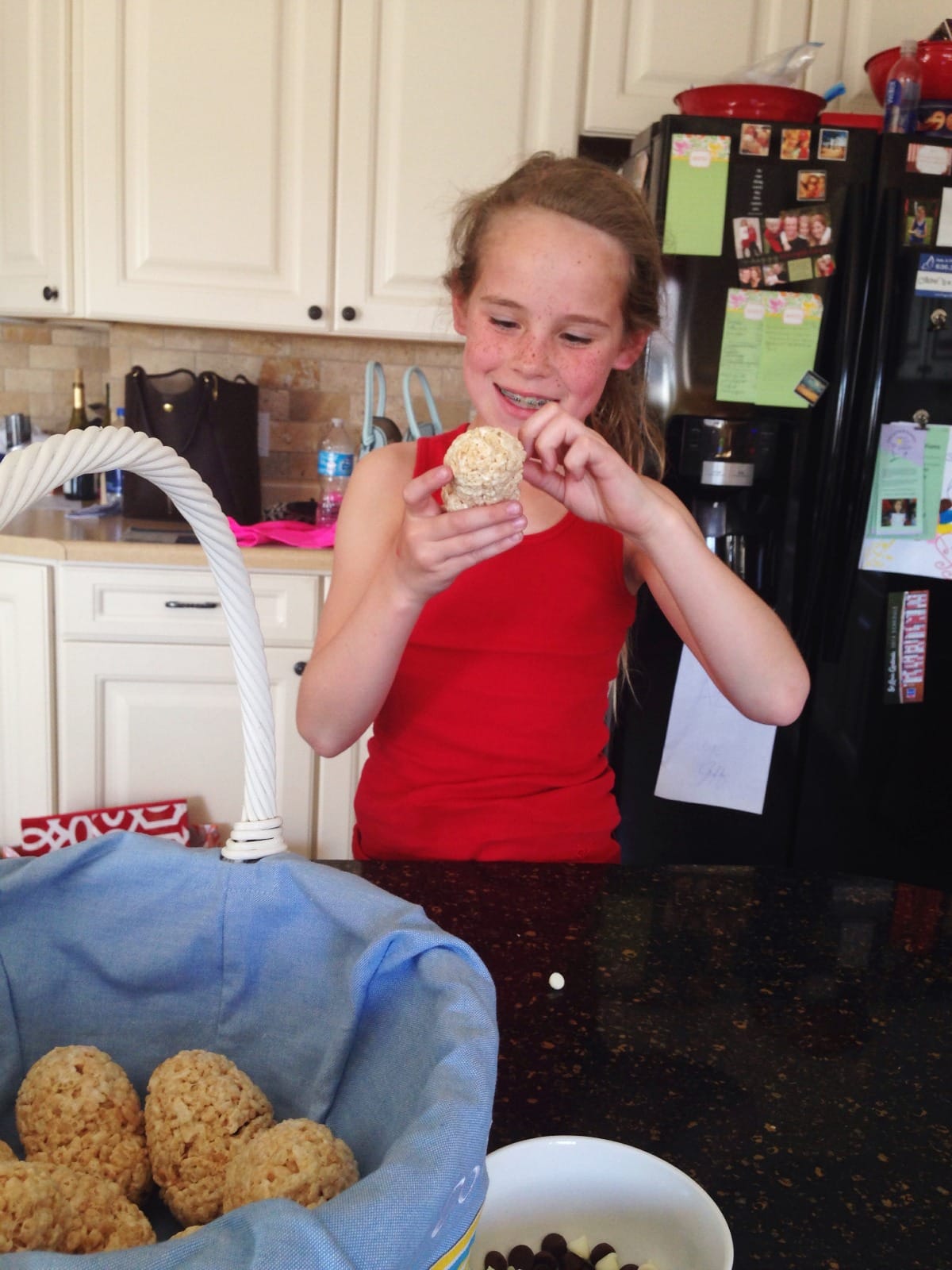 (Have I ever told you how I lied to my little brother when I was seven – just to keep ALL.THE.RICE.KRISPIE.TREATS.TO.MYSELF? I did. I told him it wasn't marshmallows but instead? Used chewing gum. Awesome, right? 30+ years later and he is still mad at me.)
Click here for other fun and fabulous recipes featuring Rice Kripsies. Do you have a favorite?
Disclosure: I am proud to have a long-time working relationship with Kellogg's. This post was prompted by nothing other than my love for my small people, Easter and yes, Kellogg's. As always, all thoughts, opinions and such are my very own.