Raise your hand if you have been counting down the days until Spring officially arrived? My hand is firmly in the air. I know the calendar SAYS Spring, but Mother Nature can't quite seem to make up her mind. We are still flirting with 70's one day and waking up in the 40's the next. While we wait, (impatiently) to fully embrace the warm weather, let's talk beauty products.
Glowing skin is always in, right? But when it comes to spring and summer beauty, having a natural radiance is even more of a must. So are you ready to get glowing? These beauty products will help you achieve a spring glow in no time flat.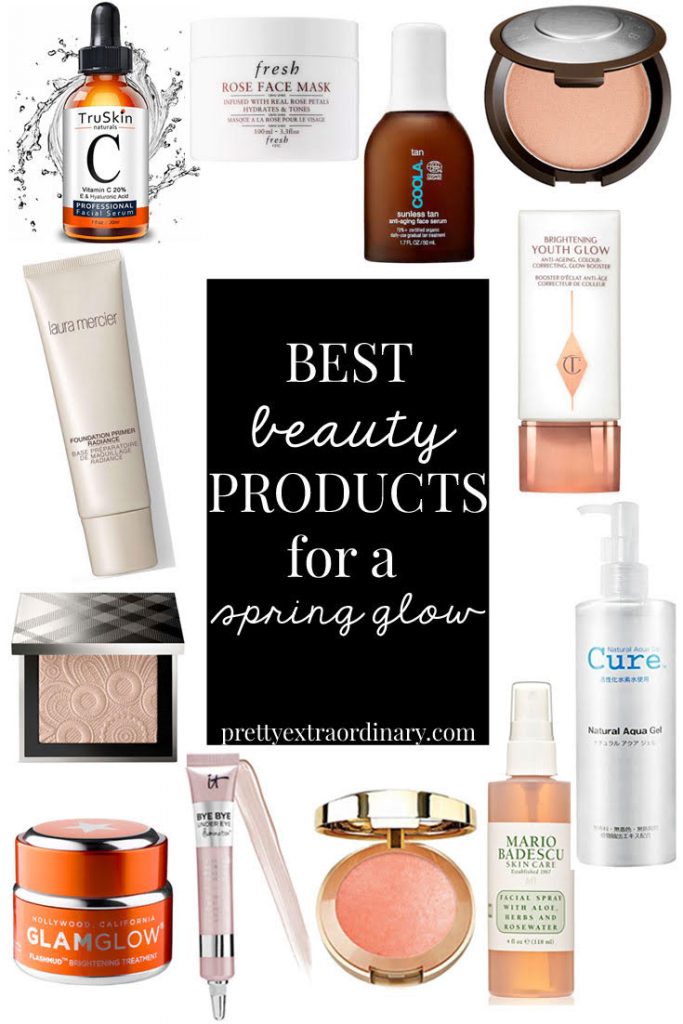 Vitamin C Serum | Rose Face Mask | Sunless Tan Serum | BECCA Highlighter | Laura Mercier Primer | Charlotte Tilbury Primer | Burberry Highlighter | The Cure Exfoliator | GLAMGLOW Mask | IT Cosmetics Concealer | Baked Blush | Rose Water Spray
First of all, I must mention that you can never underestimate the power of staying hydrated and eating healthy. Work to get those eight glasses of water in and eat your fruits and veggies. One of the best ways to get a glow is from the inside out. But these beauty products will certainly help you along your way.
Skincare
One of the best things you can do for your skin is to regularly exfoliate and follow up with a skincare regimen. This exfoliator is my all-time favorite because it's so gentle but it absolutely gets the job done. If you're not a fan of how rough sugar and apricot scrubs can be, you simply must try The Cure.
Next, it's all about hydration. This Vitamin C serum is a must-try. It's a blend that also contains Vitamin E and hyaluronic acid, which helps with hydration, evens skin tone, and brightens skin. Plus it's super-affordable. Follow it up with your favorite skin cream.
Another skincare must is a good mask. I have long been a fan of GLAMGLOW, and for brightening dull skin, this one is perfect. I also recommend this rose face mask. It is the most hydrating mask I've ever used. It's definitely on the pricey side, but I always see instant results after using it.
If you want a little sunless bronze, this tan serum comes highly recommended. What I love about it is that it gradually tans your skin. No oompa-loompa situations with this one.
And lastly, this rose water spray is so refreshing. You can use it after your skincare routine or as a making setting spray for extra hydration. I typically use it after my makeup for a dewy finish.
Makeup
After your skin is quenched, makeup can be a great way to further your glow even more! I always start with a radiant primer. This Charlotte Tilbury one is excellent but pricey. For a more affordable option that I still really like, try this one instead by Laura Mercier. Both create a beautiful glow-y base for your foundation.
If you suffer from dark circles, I'm sure you're no stranger to concealer. I've tried quite a few in my day, but nothing combats darkness while adding glow like this radiant concealer. If you want a more matte option, IT Cosmetics also makes one of those. But we're all about the glow here, right?
Blush is a must if you ask me. It adds a little color and warmth to your face. Although I stay away from glittery ones, the shimmer on this drugstore option is just enough. It's a great universally flattering shade.
And lastly, we have to touch on highlighters, right? I don't like a super-obvious shine, so my picks are on the more subtle side. For the most natural glow, I always reach for this Burberry one. But I also have this one from BECCA that is a cult favorite. A little goes a long way. I dust them on my nose, cheekbones, and cupids bow.
What did I miss? What are your favorite beauty products to achieve a spring glow?
Disclosure: Affiliate links included in this post.