Making cupcakes is one of my favorite things to do!. I love when there's a special occasion that gives me a good excuse to whip up some yummy goodness. Birthdays, baby showers, baptisms AND St. Patricks's Day are all great days to make cupcakes in my book.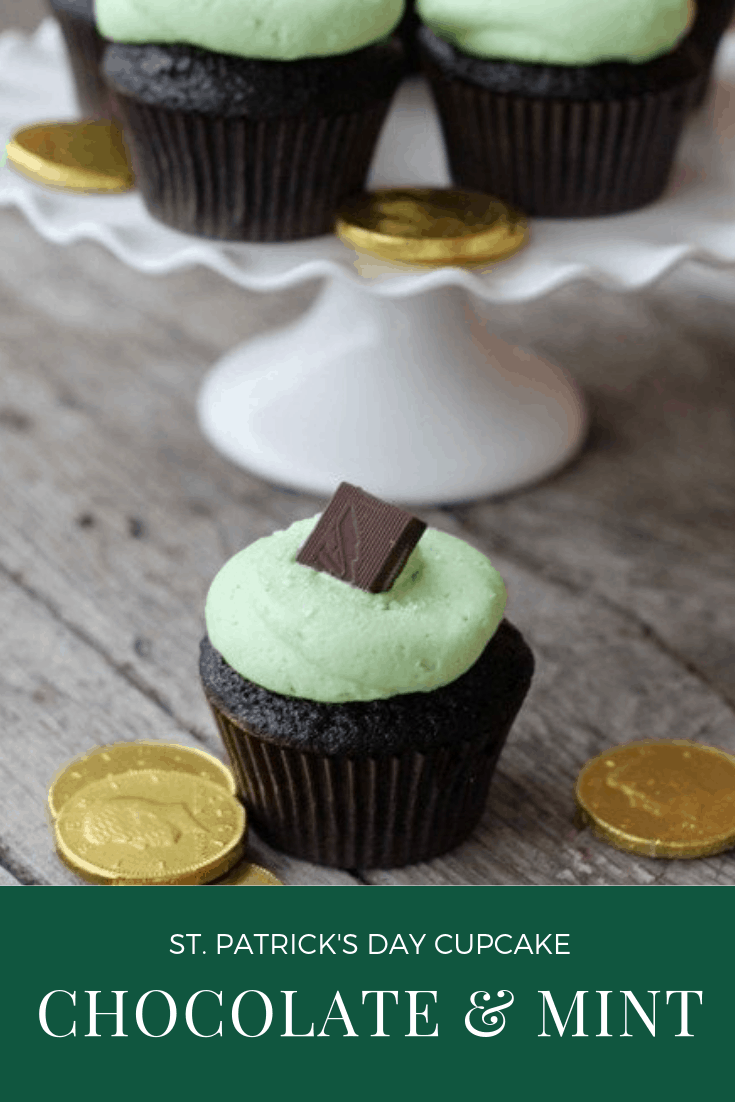 These chocolate and mint cupcakes are really some of the most delicious cupcakes you'll ever have.  Well, only if you like chocolate and mint together. And really, who doesn't love a chocolate and mint combo??!!  One of the great things about these cupcakes is that they are super easy to make!  One bowl for your batter and a simple buttercream frosting that is lightly flavored with pure peppermint piped on and topped with a chocolate/mint candy – they are sure to be a hit!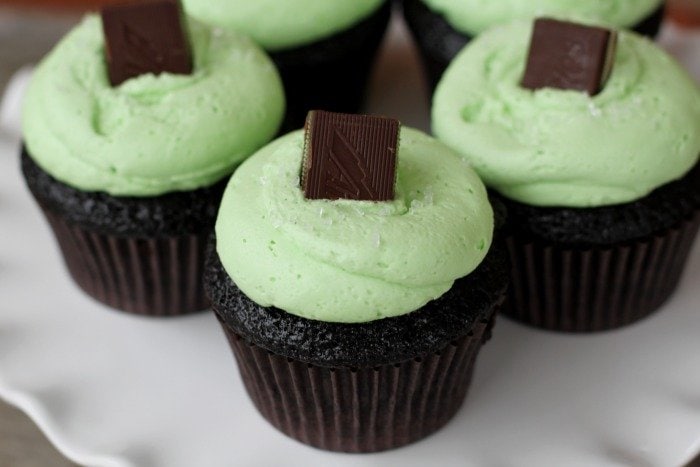 This recipe makes 18 cupcakes and that means there's plenty to share!  Pick up a pretty cupcake box, tie with some colorful twine and add a cute clover tag and you're good to go!  I picked up all three of these things at Target and had them on hand.  You can never go wrong with the $1 aisle at Target!
You're definitely going to be someone's favorite person if you show up with this pretty gift in tow!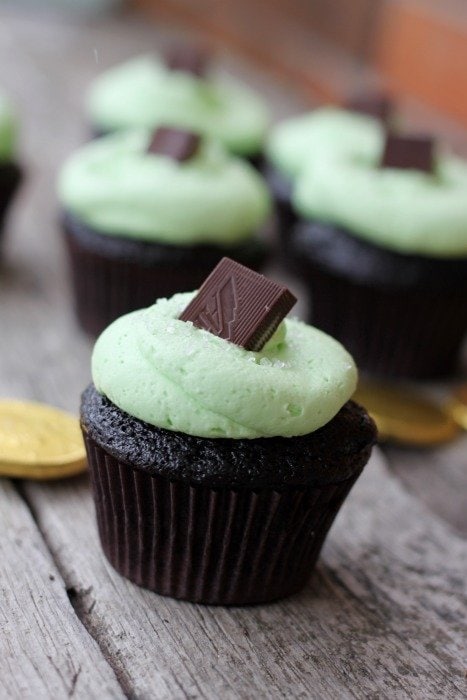 Chocolate Cupcakes
Ingredients:
3/4 cup  Dutch processed cocoa powder 1 1/2 cups all-purpose flour – I like White Lilly best 1 1/2 cups sugar 1 1/2 teaspoons baking soda 3/4 teaspoon baking powder 3/4 teaspoon salt 2 large eggs 3/4 cup buttermilk 3/4 cup strong coffee – cooled 3 tablespoons vegetable oil 1 teaspoon pure vanilla extract
Directions:
1.  Preheat oven to 350 degrees. 2.  Line cupcake pans with liners 3.  Add cocoa, flour, sugar, baking soda, baking powder, and salt into the bowl of a mixer. 4.  Whisk on low speed until combined. 5.  Next add eggs, buttermilk, coffee, oil, and vanilla and beat until smooth. 6.  Place batter into pans – filling cupcake liner half full. 7.  Bake for 18 minutes or until set and a toothpick inserted into the centers comes out clean. 8.  Let cool for 5 minutes in the pan before placing on a wire rack to cool completely before frosting.
Peppermint Buttercream Frosting Ingredients: 2 sticks of room temperature unsalted butter 4 cups confectioners sugar 1/8 teaspoon salt 2-3 tablespoons milk 10 drops of high quality peppermint essential oil OR 1/2 teaspoon peppermint extract green gel food coloring Directions:  1.  Place butter into the bowl of a mixer and beat until smooth. 2.  With the mixer on low, add confectioners sugar one cup at a time – beating well after each cup. 3.  Add salt and mix well. 4.  Next, add milk and peppermint flavoring – mixing well after adding both. 5. Beat at medium speed until light and fluffy. 6.  Add food coloring until desired color is achieved. 7.  Pipe on frosting using a Wilton 1m tip and a pastry bag. 8.  Top with sprinkling sugar and a chocolate/mint candy. Enjoy!