Happy Holidays to all of you Dads out there. This Daddy Diary is strictly for you. Moms who continue to read, you have been warned.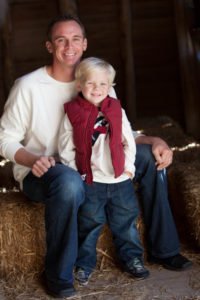 My 3-yr old son, Cooper and I, are off to find a gift for PaPa (Cooper's Grandpa, My Dad).
PaPa's perfect night is a couple of cold ones while watching a baseball game and a plate full of chicken wings in front of him. Every male reader knows where we're going to get his gift.
Hooters!!!
And, this is where the Daddy Diary begins.
Cooper and I enter through the double doors. The Neon Orange blinds us. We both trip right into the hostess stand. (That move never worked in college). Cooper looks up with his big, blue eyes "Hi, my name is Cooper, we need a present for my Papa." Wow, he's smooth. I really could have used him back in the day. I'm so proud of him.
"Well, sure, Cooper, would you like a gift card, so your Papa can come here whenever he wants?" She's smooth too. What a great salesperson. "Yes, please, he told me that his favorite restaurant is Hooters." This is great stuff. Cooper is in charge of the conversation, making good eye contact, and accomplishing our goal. I stand back and admire.
"You're very pretty," says Cooper. "Well, thank you," replies the Hostess, "you're handsome too. Will you be my boyfriend?" Really? It's that easy when you're 3? "No thank you, my mommy is my girlfriend. She's the prettiest girl in the whole wide world." Yep, that was the old 32-A move, "Play hard to get." Women have perfected that move over the years. "Oh well, your mommy is a lucky lady, Mister Cooper" says the Hostess in a fit of jealousy, but never once looking at me. My ego is hit, but I'm the "wing" (shameless pun) man here, I know my role.
Then, Cooper goes in for the close. "Do you like baseball? It's my favorite. I love playing baseball with my Daddy." Yep, here we go, I'm finally introduced to the conversation. "I like baseball too," says Cooper's new friend, "Here's your gift certificate for your Papa. You come back and see me, okay?" Cooper's first trip to Hooters and he lands the 2nd date. Amazing! "Okay," says Cooper, "Merry Christmas." He grabs the gift certificate himself, takes my hand, and we exit the Owl's nest.
Atta boy Coop, you accomplished something that most of us Dads cannot ever dream of doing. You bought a Christmas present with one whole week to spare.
Happy Holidays!