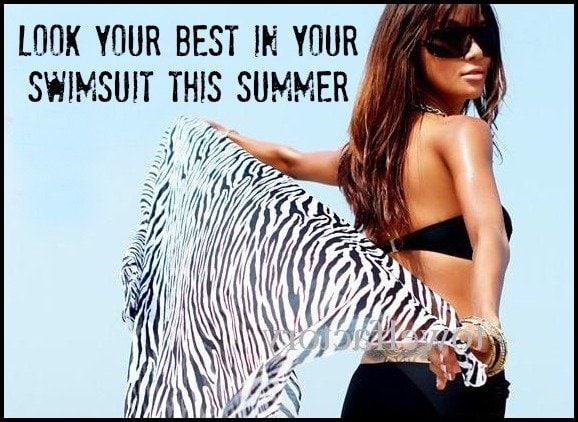 I think you look gorgeous, perfect, splendid. To paraphrase Billy Joel, I like you just the waaaay you arrre. But if you are like me, you are thinking about wearing your swimsuit this summer and you are feeling a little less than confident. Whether you range from the wee bit worried to full-on panic, here are some easy tips you can do before suiting up that will make tying on that tankini a little less nerve-wracking.
Treat 
Hit the drugstore for some affordable products that will make your skin shine. A little tea tree oil will quickly eliminate any back blemishes, and a lotion with alpha hydroxy and lactic acids will take care of those little red bumps on the backs of arms (thanks a lot winter wool sweaters!) and soften rough knees and elbows. My favorites are Out of Africa Pure Tea Tree Oil and AmLactin lotion.
Tan (Sunless) 
The sun is bad for our skin, yes, yes, yes, but we cannot deny that a little color makes us feel more sleek and sexy in our swimsuits. While you are in those drugstore aisles, pick up a gentle self-tanner. Do not be scared, these products have come a long way since the orange gels of our youth! The most natural ones to consider are the new sprays, such as Neutrogena Sunless Tanning Spray Micro Mist, or wipes, such as L'Oreal Paris Sublime Glow Self-Tanner Towelettes. Both methods provide a streak free alternative to lotions. I have also been known to enjoy the cool, refreshing, confidence-boosting spray of a Mystic Tan booth. Priced at about $20 a session at tanning salons, this UVA-free device delivers self-tanner evenly, privately and quickly onto your bod.
Toes
Pop into your favorite nail salon or pop a fav DVD into your player and get your pedicure on. Buffed heels and shiny painted toes always make me stand a little straighter, walk a little taller and feel a whole lot cuter when I hit the beach or pool. I often do my own pedi at home, and I just tried the beauty editor favorite BabyFoot to take the winter and walking-on-hardwood callouses off my feet. It was incredible! I also usually go for a nude-colored nail polish on my toes — I swear it makes my legs look longer. I love how Essie nail polishes come in every possible neutral and skin tone, from the palest porcelain to the deepest mahogany.
Tone
Making my classes at the gym a bigger priority during swimsuit season, never mind the scale or changing my size, always makes me feel better in my swimsuit. A weight-lifting class makes me more aware of the muscles in my arms and legs, and even makes them look slightly more defined that day and the next. A yoga or Pilates class reminds me to keep my core tight when I am walking around in my suit, and to stand with better posture. I also believe that taking care of and using my body helps me appreciate it more when it is wearing less clothing. (Of course, we should exercise several times a week all the time, yeah yeah yeah, but this is an article about looking hot in our suits, not health!)
Tame
Landscaping. Mowing the lawn. Waxing the surfboard. You know what I am talking about. Pick your poison and do it the day before you suit up. If you must shave, use a brand new blade. I recommend the Sally Hansen Zero Bumps Spray for afterwards to help prevent red bumps and ingrown hairs. Also wearing completely cotton, loose-ish fitting underwear the day after helps the newly-shorn skin heal. If you do not have terribly sensitive skin, depilatories developed especially for the bikini line will last you longer than shaving.
But a pro bikini wax is the best way to stave off the red bumps and concerns about gardening duties. It really does keep you (un)covered for a month or more, and I find this helpful as a swim team mom who is at the pool with her kids every day in the summer.
Shop
This is a no-brainer, but make sure you really, really like your swimsuit. If you feel icky about your suit, it is hard to send the love to the hottie inside it. Although I shop online for almost everything else, a swimsuit is one item you really need to try on.
I love to go to stores with knowledgeable sales staff who help thousands of women find their perfect suits. I know I can walk into my local Athleta or Everything But Water and the gals there can look me up and down and grab the suits that will flatter my figure. All the different boobs, booties, tummies, legs and backs on the planet? They have seen 'em, and they know what works. If you have a large bust, I also recommend Intimacy. This lingerie shop with 12 U.S. locations has a great selection of swimsuits available with cup sizing in addition to traditional sizes. I personally found my best suits ever here because the suits provide ample room in the chest but then nip me in everywhere else.
Strut 
You are beautiful. You are hot. You look fabulous in your swimsuit (and trust me, your love totally agrees!) As Audrey Hepburn said, "happy girls are the prettiest girls." Be happy with your healthy, beautiful body, proud of all those products you slathered and painted on it, proud you worked out, proud of that cute new suit. Now throw on your most glamorous shades, a sundress or sarong as your cover-up, and walk to that mother-baby swim class like you were walking the runway. You are my Naomi, my Cindy, my Christy and darling, you are fiiiiine.
Jessica McFadden is a mom of three who wears a swim suit more often now than she did when she was 19. She tries not to think about that too much at A Parent in America.