I've got a confession to make: I'm obsessed with matching my daughter. Yup, any chance I get us matching tops, dresses, shoes, you name it. Thankfully she's only three and still thinks matching mommy is pretty cool. So for summer, I'm ready to step up our game. It's going to be all about the matching mommy and me swimsuits. And if you've been on the hunt too, I'm sharing the best places to find 'em.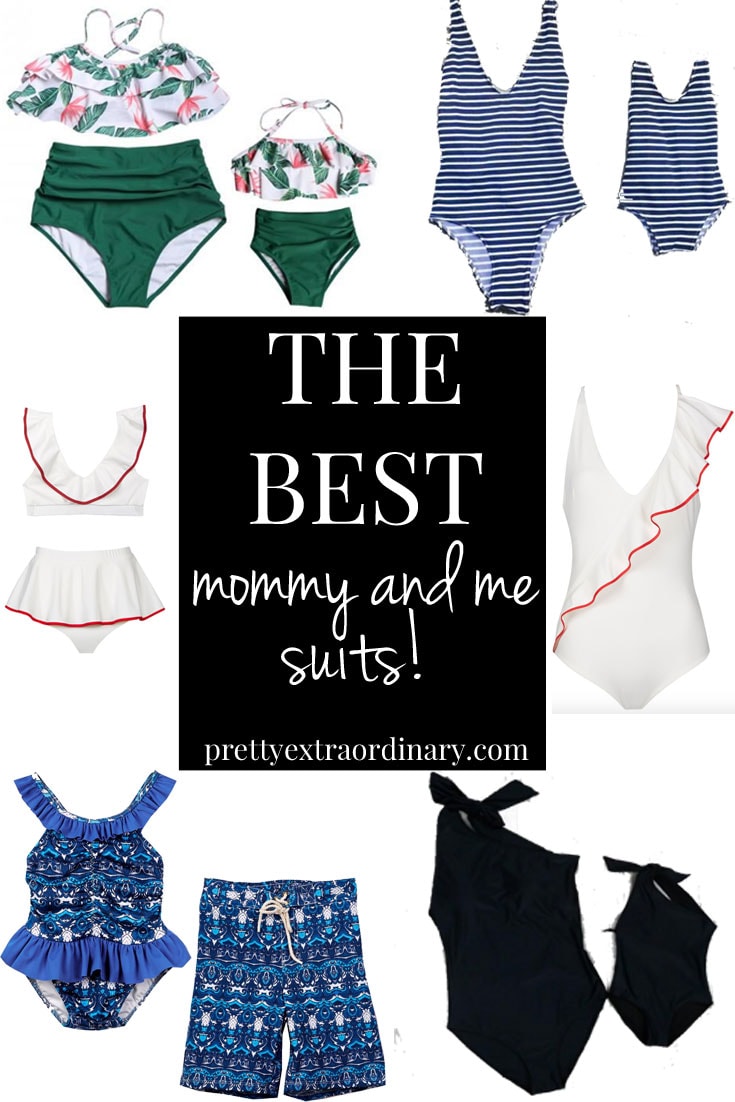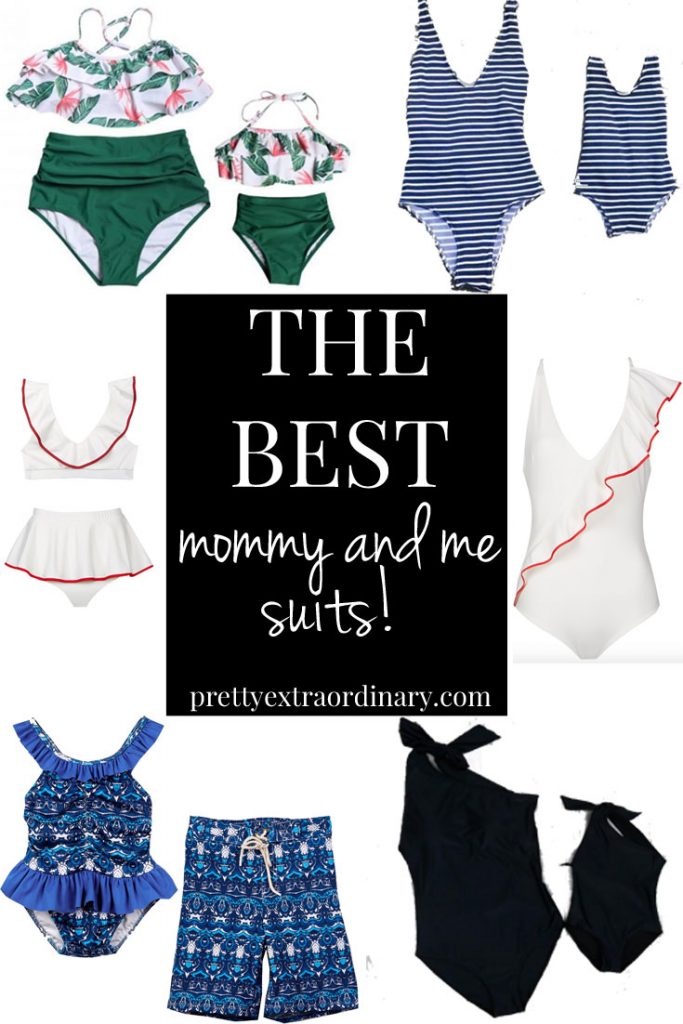 Palm Print | Stripes | Girls Two Piece | White One Piece | Girls Blue Suit | Boys Trunks | Black Suits
If you want affordable options, Pat Pat is a great place to start. They have strictly mommy and little girl options, starting at size 6 month. The suits come in a a variety of options in both one and two piece styles. They even carry matching coverups. Prices start at $13.99.
Another affordable site that offers mommy and me matching hats, swimsuits, dresses, and more. The styles aren't quite as extensive as Pat Pat, but there are a few cute options to check out. I really want these matching sun hats for the beach.
These are probably some of my favorite options because they are so customizable. They even carry boys options from size 3m to 12/13. Men can also join in on the family matching! For women, there are both one-piece and two-piece options that are all modest and flattering. Kids suits start at $20, and adults start at $85.
These suits are on the pricier side, but they do carry mommy and little boy matching options! I especially love these striped ones. Prices start at $120 but do include both suits.
If you want the most variety in the styles for your little ones, start here. The mommy options are more limited, but each print comes in several kid styles. So, if you have more than one child and want each one to have a unique suit, The Salty Baby is a great option. They do also carry a few boys trunks. Kids suits start at $25 and women's start at $60. Sizing starts at 3-6 months.
If your style is a little more classic and you prefer solids, Old Navy has a few options for mommy and me suits. I really love this women's gingham suit and little girl option. Matches aren't exact here, but you can definitely create some similar looks.
Forget mommy and me, you can get matching suits for the entire family here. Yup, daddies and little boys can match too. Kids suits start at $39 and adults at $69. They also offer bundle discounts if you buy a set at once.  I especially love these red, white, and black sets.
If you're into designer options, then these are for you! They are by far the priciest option but are definitely ultra-chic! Be prepared to drop at least $250 for these.
Do you have a favorite?
Disclosure: Some of the links on this site are affiliate links – in simple terms, that means at no additional cost to you, Pretty Extraordinary may earn a small commission if you click through and make a purchase. Thank you, as always, for supporting us.