Yes….Halloween has JUST wrapped up, but Christmas is just around the corner. Instead of waiting until the last minute and stressing over having money for Christmas, the time to start making that money is now. Now, I understand most of us are parents working full-time jobs, so time is limited. That is why I created this list of easy ways to make extra money for Christmas now.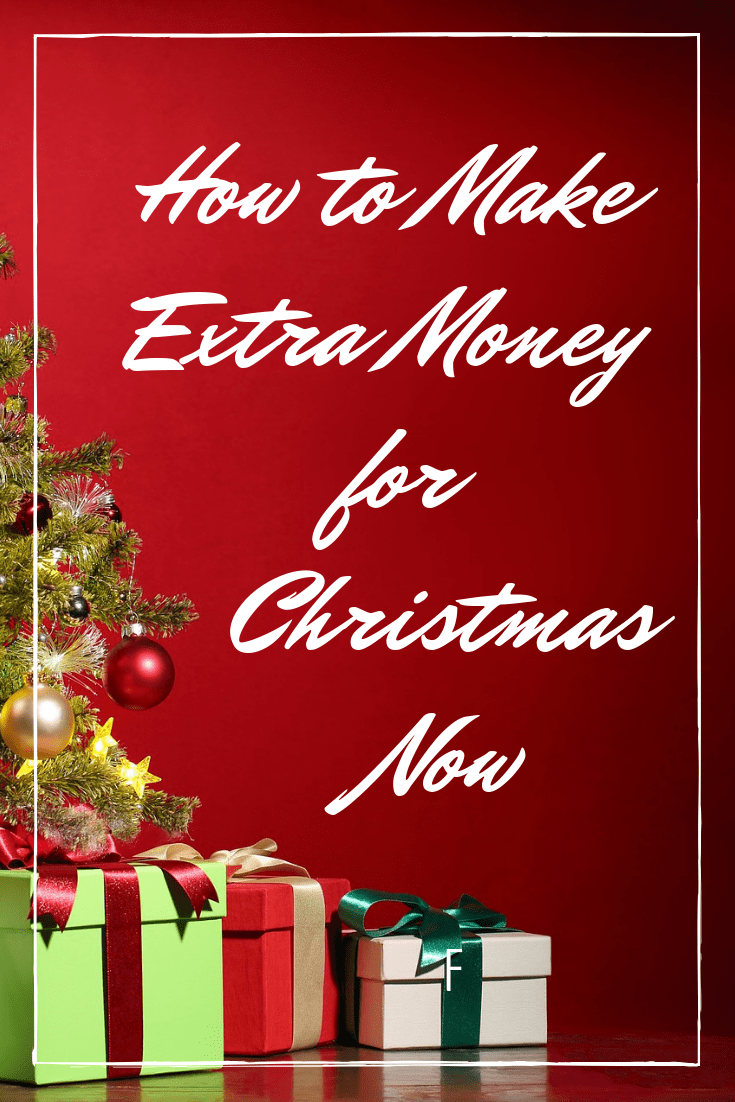 Making Extra Money for Christmas now
Host a garage sale
We always read about spring cleaning, but fall cleaning is a great option as well. I love fall garage sales. Why? Mainly, because not only can I purge my house of all the unwanted or unneeded items, but I make a few bucks on them as well. While garage sales are not typically huge money makers, I have seen some generate a few hundred dollars you can save.
One way to have a great garage sale is to frequent them throughout the year and purchase small items that you can refurbish. But I will get into that more under becoming a flipper.
Flip to Earn
Becoming a flipper does require a little bit of creativity, time, and a little bit of funding to start. All day long sites like Craigslist have "curb alert" items. Sometimes, it is a couch, desk, dresser, or tables and chairs. If you can get lucky enough to snag a few free desks or dressers, then you can easily refurbish them. The distressed farmhouse furniture is a hot item right now, and it tends to sell quickly. Sometimes just a quick sanding and layer of clear coat is all a piece needs to be brought back to life.
Use your phone or Internet
You have a couple of options – Ebates give you cash back as you shop. I find that I earn an average of 5% from the stores I frequent. You can also earn a $25 referral bonus for anyone who signs up through your link. Another option? Swagbucks pays you for using their search engine. You can also earn Swagbucks by doing their online surveys and watching their videos. They pay out in gift cards, and it appears that Target, Walmart, and Amazon gift cards tend to be the most popular. One thing that I like about Swagbucks is that you do not have a crazy amount of points to start earning gift cards. Some, like Amazon, can be cashed out at as little as $3.00
Get paid to exercise
Sweatcoin is a relatively new app for phones that pays you for walking outside with your location on. They pay approximately $0.95 per 1000 steps walked. So, if you can commit to walking 5 miles a day, you can quickly earn almost $5. I think that the pay rate is pretty good, just for walking.  When you have enough Sweatcoins collected, you can choose some of their great payout options.  The one that I would have my eye on is $1000 directly deposited into my PayPal account. Their deals do change, so if you do not see something you like right now, keep saving.
Get Crafty
Yes, I said crafting. Right now, creating t-shirts with HTV, or vinyl decals are super popular. Yes, it does require some upfront funding, but it can repay you quickly. Another popular crafting trend right now are decorated tumblers. Crafters are selling these decorated tumbler cups for anywhere from $25 on up. If you are not crafty, do not get discouraged though, YouTube is full of easy crafts that you can make, and still make some money.
What I like about these ideas are most of them are quick. Some may take a few minutes a day, while a few others may take a little longer.
Do you make extra money for Christmas? What are your tips or secrets on how to make extra money for Christmas?