In our family, we love food. We love both fancy meals and casual, relaxed atmospheres. As my small people have been getting a little older, their palates have been expanding and I've been excited to see them experimenting with new foods…though it never surprises me when they rely on their favorites.
It is not uncommon for us to head out to eat to celebrate both big and small occasions.
Think birthdays. And winning tournaments. And the beginning of a new school year. As is typical in our home, the person (or people) being celebrated, are allowed to choose their favorite restaurants for the evening's meal and ensuing treats.
While the official start of school may not feel like cause for celebration for my newly minted 7th grader, I'm pretty darn excited to be back to the routine, and I know the small dude thinks 5th grade (plus being back in class with his friends and having a chrome book for the first time) are more than a little special.
Therefore: Celebration.
I asked, and they answered. Where to for dinner?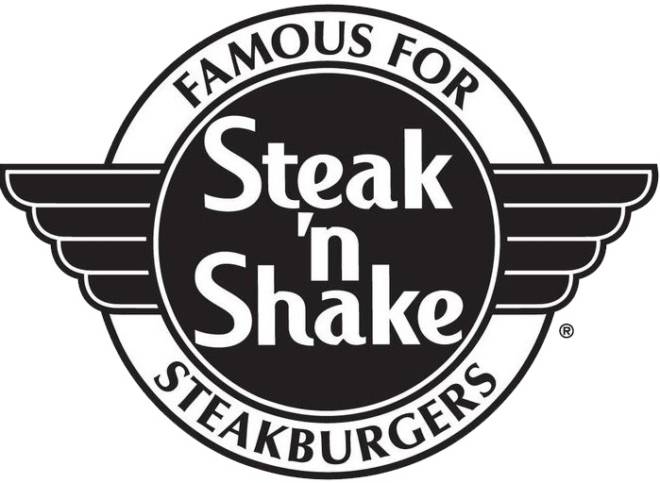 Do you know Steak n' Shake?
Before moving to the Midwest, I didn't. But they are a bit of an institution. And by 'institution', I mean, they've been around since 1934. (And, they coined one of the words I first struggled to pronounce when I landed in Missouri….do you see it on the red neon sign there? TAKHOMASAK)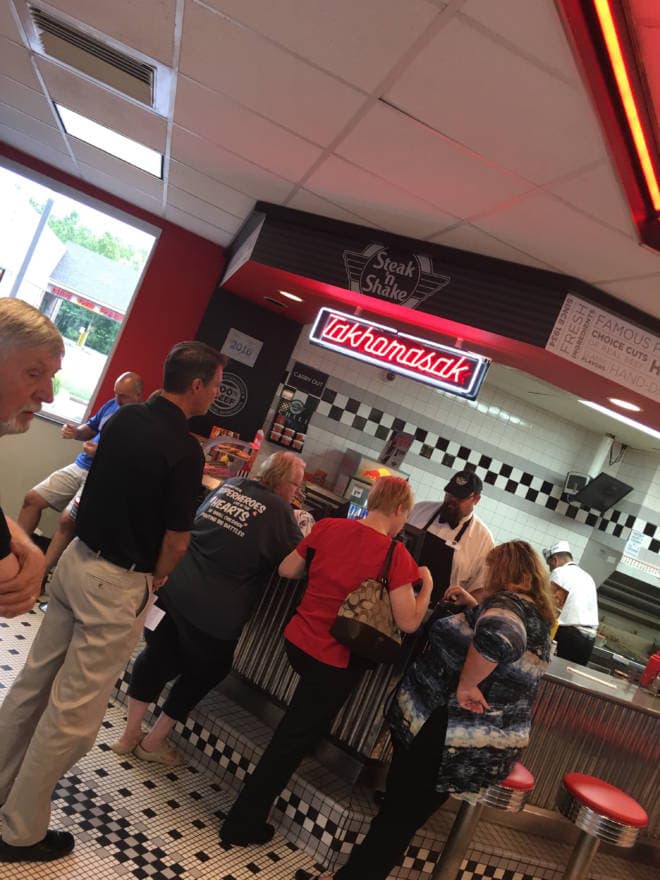 Pronounced – TAKE-HOME-A-SACK….as in, the food is so good, you'll want to take it home with you.
Famous for their steak burgers, a family atmosphere that resembles a 1950's diner and my children's favorite: hand-dipped milkshakes (there are more than a dozen flavors to choose from!).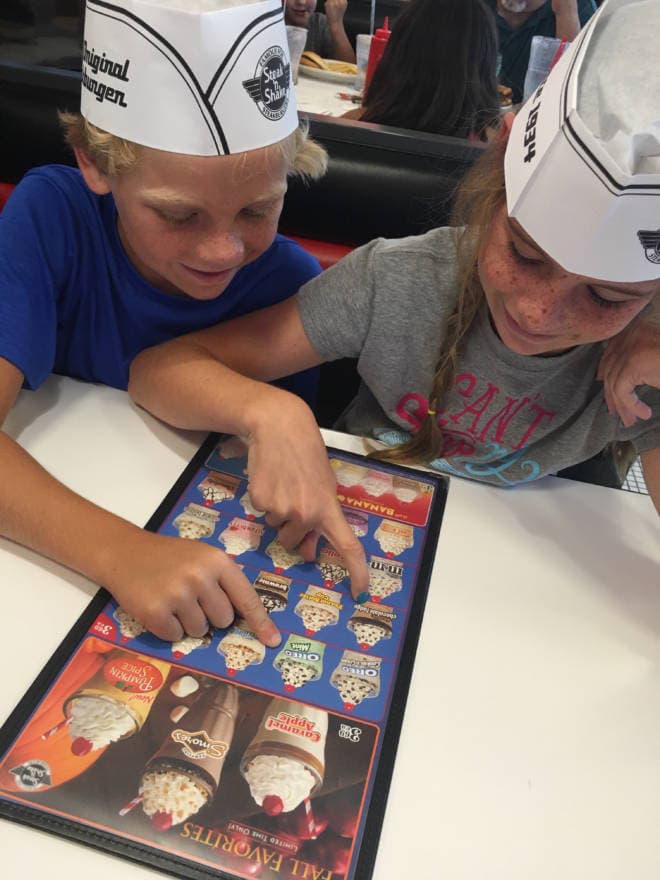 I'm always up for a meal that makes my kids smile and one that I know is aimed to fit the budget for any family. With a new addition to their menu – 24 Meals Under $4 – there is something for every member of your family.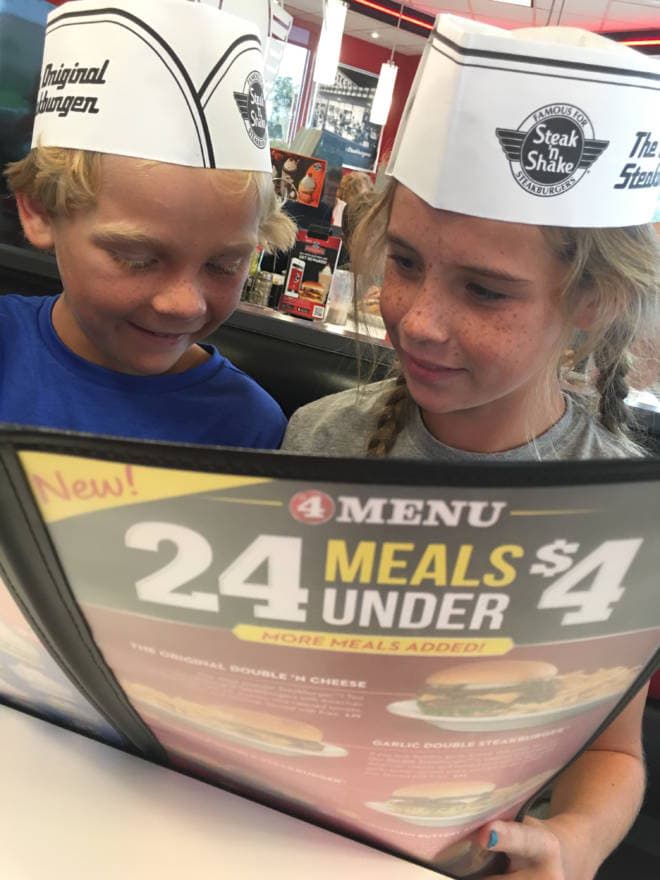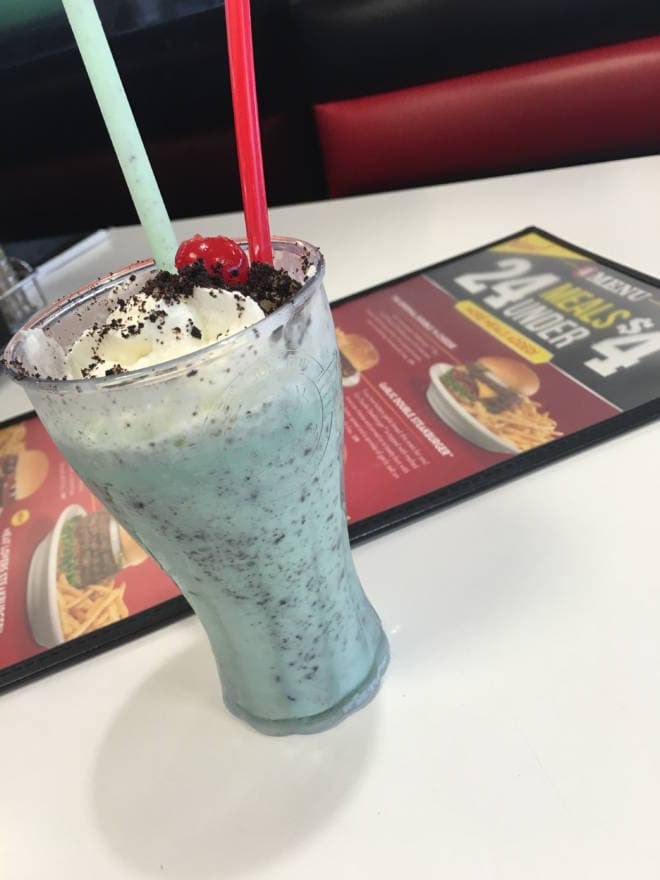 From salads to chili, from chicken fingers to hot dogs, from specialty burgers to the Original Double n' Cheese, I know Delaney and Cooper can stick with their old favorites or decide to try something new.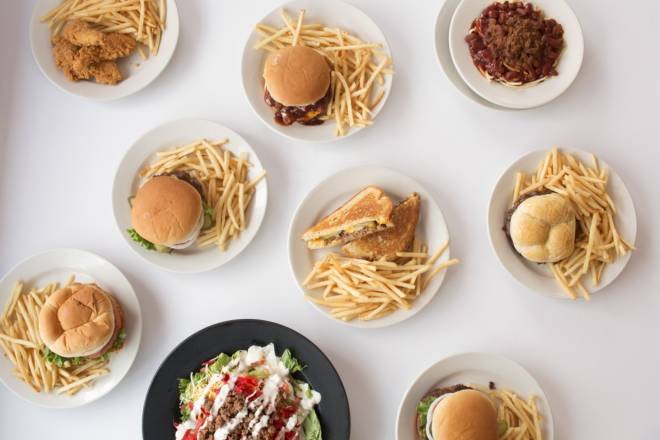 24 Meals Under $4 – Our Choices
The small dude opted for Steakburger Shooters and Fries – so three tiny steakburgers, and the small girl went with an old standard – Chicken Fingers. I tried one of the newest items on the menu – the Garlic Double – seriously – it's a steakburger on garlic bread that just melts in your mouth. Good choice by me. We opted to bring the Classic home for Dad since he couldn't join us at dinner and we knew he wouldn't want to miss out.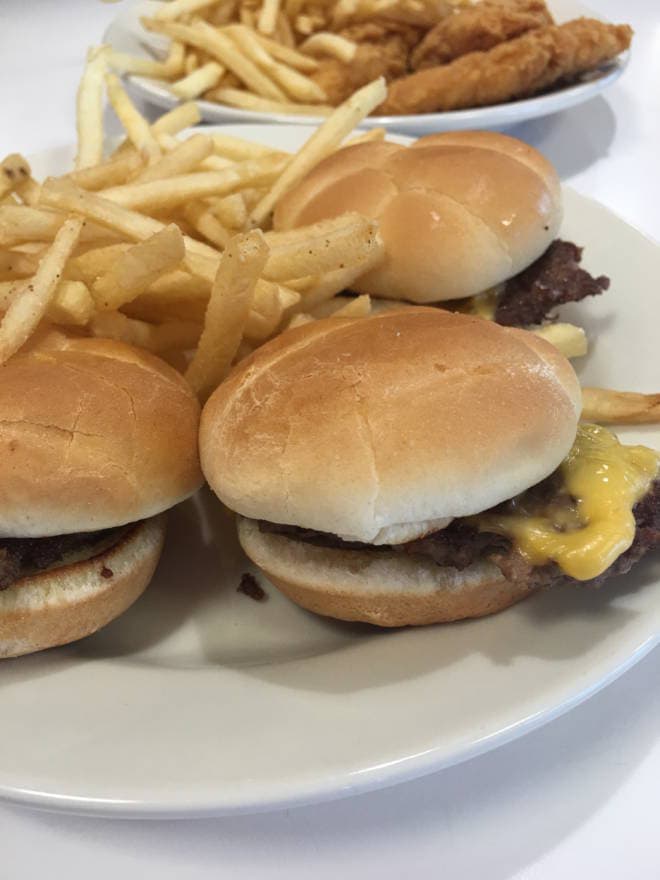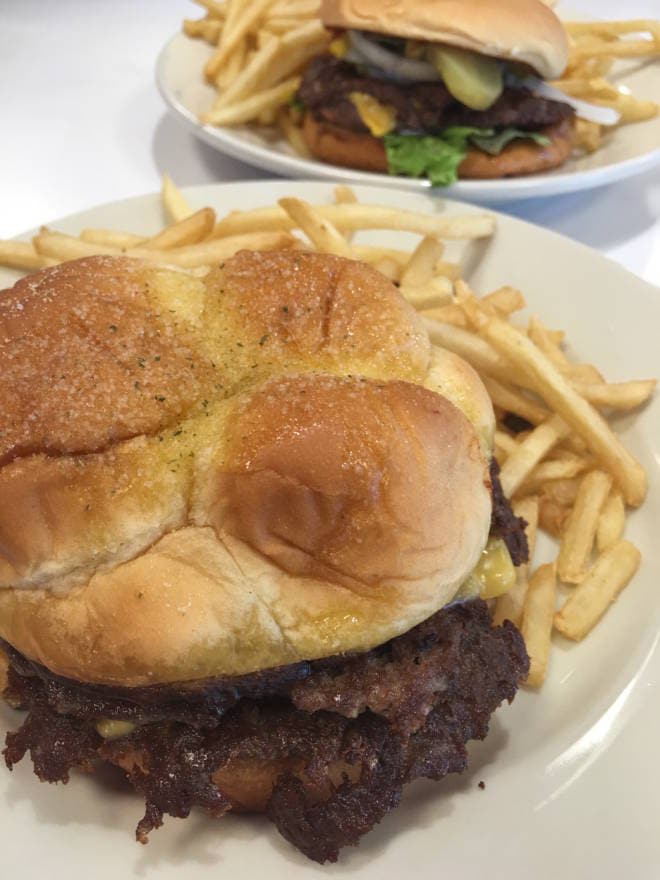 Here's the thing – Steak n' Shake is clearly great for my wallet. And you can't get the kids to fake their happy when they are there. But even beyond that, I'm always grateful for to a restaurant that strives to put families first. Anyone who eats out with kids knows it isn't always easy. Sometimes kids are messy. Or loud. Or just a little too excited about their milkshakes and burgers.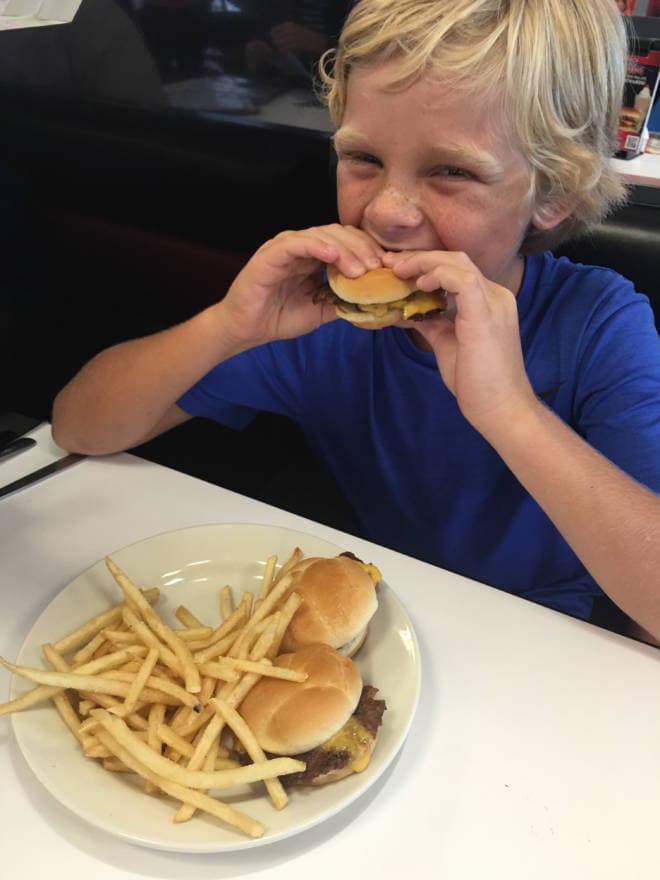 But Steak n' Shake loves kids and strives to create an environment that invites them….and it isn't simply about offering a kid's menu and crayons. On the weekends – Kids Eat Free (at participating locations) with any $8 spent on adult meals. They have also guaranteed their prices will not increase in 2016.
And another super sweet bonus (this is for kids AND adults)  – from 2-5pm, Monday- Friday, all drinks and shakes are half price. They call it Half Price Happy Hour.
If you, like me, (pre moving to the Midwest), have never walked your happy self in to a Steak n' Shake – I suggest you try it out. (Check the location nearest you with the restaurant locator in the top right corner of the site) Take your kids. (Delaney highly recommends the Double Chocolate Fudge Milkshake and Cooper? He'll vote for the Oreo Mint Cookies and Cream every time.) And when you go, you'll have to let me know what you think.
Eat. Drink. Enjoy.
Oh…..and TAKHOMASAK. 🙂
Disclosure: I was happy to partner with one of my small people's favorite restaurants, Steak n' Shake, to share this post with you. As always, all thoughts and opinions are mine and mine alone.