I know, you're thinking out-of-the-box, hoping for something unique….maybe ExtraordinaryMommy can:
Sing – not a chance
Dance – laughable
Play softball – nope, I throw like a girl
Play piano – I wish
Sew – yeah right
Run fast – not an athlete
Fly a plane – seriously?  I can barely fly a kite (trust me, I just watched my husband do it with the kids….way beyond my pool of talent)
Play soccer  – still not an athlete
OK….OK….my special talent:  I'm a good listener.  Stop laughing.  This is a requirement in my world.  Why, you ask?  ExtraordinaryMommy, are you a counselor? (feels like it) a therapist? (not really) So why is listening a special talent?  I'll show you why.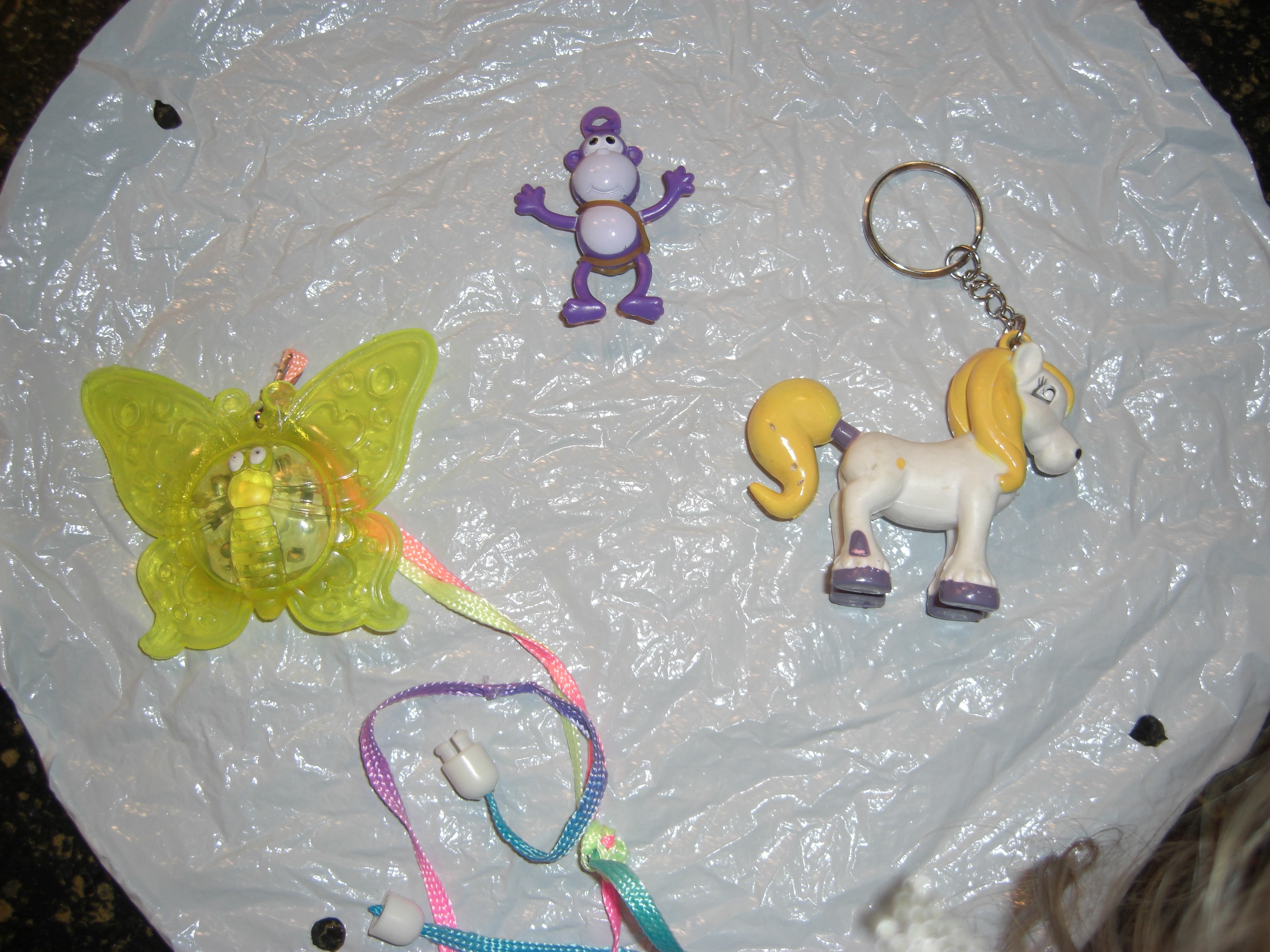 Now….you are wondering…what does a small purple monkey, a yellow rubber butterfly and a small white pony have to do with my special talent for listening?
I LISTENED to my sweet daughter, no less than 105 times today, as she came running with one of those little treats wrapped in white plastic and yelled, "Mommy, I have a surprise for you!"  (Cue my surprise face – "For me?  What could it be?  Let's see…..  Oh!  How wonderful, I've always wanted a purple monkey! (a little pony! a rubbery yellow butterfly!)  What you may not understand is..for a period of one hour (yes, one hour – no exaggeration) she came to me roughly every 45 seconds.  How could she not tire of this game?  Doesn't matter because she just didn't!  I am a champion LISTENER (and actress for that matter).  Take note, as well, dear Mommy friends, that I am also well-schooled in the art of maintaining composure during REPITITION.
And, while it felt as though my ears might begin to bleed from this particular repitition game, the joy on her face kept me going.