If you know anything about me at all, you know that I love to sing.  You just won't ever hear me doing it. Because, if you did, you would cover your ears…and then I would be all sorts of offended and then I might not sing anymore. And that would be sad. (for me)
Because I love to sing.  When I am alone.
Coming in a close second to my love of singing is listening to other people who do it well.
Wish granted.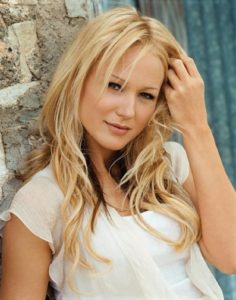 Next Sunday, June 6th – as part of the Road Trips and Guitar Picks concert Tour, I will be listening to the remarkably talented Jewel at the Sheldon Concert Hall in St. Louis.  Even better, as part of the promotion – my sweet husband and I will spend some time with Jewel backstage….I can't wait to bring you the highlights.
I'm told I can't video when she sings for us back stage, but I can get some video before she starts to belt it out.  Any questions you want me to try to ask her?  How did she learn to yodel?  How hard was the road to success? (If memory serves, she and her mom made some huge sacrifices before she was 'discovered')
In the mean time – if YOU want the chance to join the Tour – make sure to enter the Country Financial Road Trips and Guitar Picks sweepstakes. If you win, you and three guests will have airfare and hotel for three nights all set…not to mention a spectacular concert with either Jewel or Jason Aldean.  Good luck!
Photo Credit : Kurt Markus