I closed my eyes and I listened.
I allowed myself to feel every beat of music, to dive into the words of each song.  I smiled and sang along.  It wasn't until I felt something drip onto my hand that I realized I had started to cry.  These tears celebrated my ability to live in this moment, to hold my husband's hand and to be swept away by songs and stories.
Last week, Jeff and I saw Jewel perform at the Sheldon Concert Hall in St. Louis…..an intimate venue (the size of a small church), we were a mere three rows from the stage.  I could see every facial expression, was witness to every sip of water, every shy laugh and a few 'let me start overs'.  Every moment served to make this famous singer, this amazing song-writer simply a real person that I would love to have over for dinner.
She talked about growing up in Alaska with no indoor plumbing, about performing on stage with her dad when she was little, about refusing an employer's advances and ending up without a paycheck: homeless. She shared the stories behind the stories.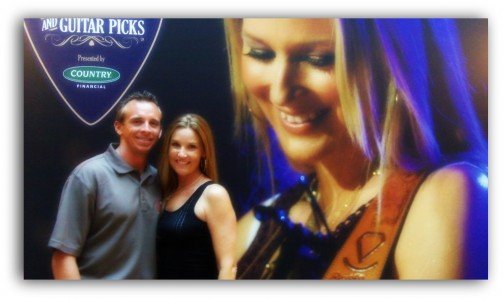 As one of the bloggers invited to the concert to celebrate the Road Trips and Guitar Picks Concert Series…..we also had the special joy of meeting Jewel.  She did a brief private concert for us….performing a never-released song dedicated to a friend who died after battling cancer.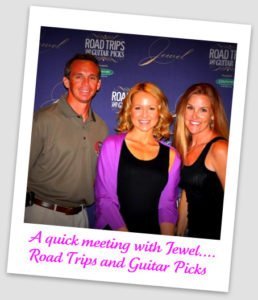 She also answered questions from us.
Naturally, I had one.   I asked her about her song writing process…..do the lyrics or the melody come first? She gave an incredibly eloquent answer about the two melding together for her….and seeming to just happen.  (I'm fascinated….since, as you know, I was a singer-songwriter in my imaginary, previous life) She also said, "good question"….earning me a taunting, "must be nice" from my husband.
I've always enjoyed Jewel's music.  She got her big break in San Diego when I was a college student there. Some of her songs provide a sound track for my final years before official adulthood settled in.  This concert allowed me to revisit that time….she sang, Who Will Save Your Soul, Foolish Games, You were Meant for Me, Standing Still and Hands.
And, of course, she performed a few of my current favorites….(Stronger Woman – below) and I Do.  She even asked the audience to make requests.  She was barraged with favorites…..this was one.
Every song had a beautiful story….but when she talked about Hands, she relayed having been camping in the mountains with her husband on September 10th and 11th, 2001.  They were entirely out of touch with all phones, radio, television and computers.  As they came down and learned about the attacks on the U.S., they sat together in shock until a DJ on the radio cued up Hands….and dedicated it to the people of our country who lost so much that day.  Jewel cried then.  I cried as she told us.
If you haven't ever seen her in concert, do it now.  She is as personable, charming, witty and funny as she is talented. And, damn…she is talented.  I also suggest you follow her on twitter….  I did happen to see she was giving away tickets to some of her fans.
And finally….she has a new album that has just been released: Sweet and Wild.  My favorite song: Ten.
Thank you to Road Trips and Guitar Picks and to Country Financial – for the invitation.  We had a spectacular time. There are other bloggers around the country who have also been invited to attend….t
o hear what they are saying about their experiences, hop on over to visit them:
Craig of Second Drafts

Rachel of Cheeky Chicago

Sheryl of My Atlanta Mommy
Michelle of Michelle Sidles Photography