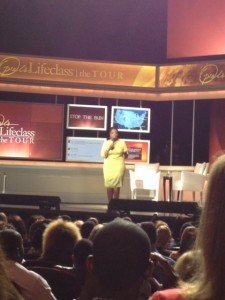 I had a date last night.
With Oprah.
Now, it wasn't just the two of us, mind you.  But it could have been. I mean, it almost felt like it was Oprah and me, sitting down to chat.  She has such an extraordinarily intimate style – as though she is ALWAYS talking to a group of her closest friends.  And it wasn't simply when we were live – she is equally dynamic during every break, during every moment she is on stage or in the audience connecting.
I wondered if I would be disappointed – if her larger-than-life persona would fall flat for me at such close proximity.  But on the contrary, I was more impressed than I imagined.
I was lucky enough to go to Oprah's LifeClass as she takes it on the road. (Thank you to my friend, Meredith and her wonderful husband, Jon) The first stop was here in St. Louis at the Peabody Opera House – a beautiful venue.  And it was packed.  And the audience was giddy.  And by giddy, I mean reminiscent of teenager-New-Kids-On-The-Block-giddy.  And, trust me when I say I am familiar with THAT kind of giddy, so I recognize it when I see it.  It starts with the wild eyes, the permanent smile, the hands ready for clapping at any provocation and those feet?  They are ready to bounce you out of your seat.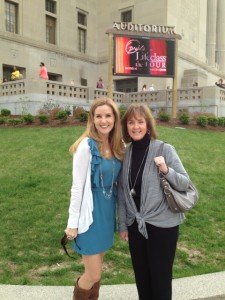 But you know what was ultra-fun?  I was able to surprise my mother-in-law with a ticket.  She screamed.  And not an, 'oh-that-sounds-like-fun' kind of scream…. but a school girl, 'oh-my-gosh-that-is-on-my-bucket-list' kind of sound.  It was so much fun to tell her.  And then to be there with her?  Thrilling.  She has watched Oprah religiously for years and like I did, had nearly given up the dream of ever sitting in the audience during one of her shows.
But this was an extraordinary opportunity.  The theme of this Life Class was 'Stop The Pain'. The guest host was Iyanla Vanzant, an inspirational speaker and spiritual teacher who has a new show premiering this summer on OWN-TV. This show aired LIVE, was being viewed on Facebook and monitored on Twitter and had guests joining via Skype from all over the world.  Within minutes of each 'ah-a' moment, a portion of the show seemed to trend on Twitter.
I wasn't sure 'Stop The Pain' would resonate with me, but it did.  And a good portion of the show's magic continued through each of the commercial breaks.  I LOVE that the flow didn't stop when the cameras did.  If Iyanla or Oprah was having a moment with a guest – it continued (and if it was GOOD, Oprah voiced her wish that the commercials would end so the audience at home could witness the evolution unfolding in front of us).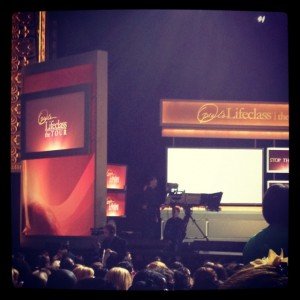 My 'a-ha moment' came as Iyanla spoke to the first guest – a man named Steve, struggling to leave his addictive past behind him.  A man in his 40's with nearly 10 years of sobriety, Steve has been living with his daughter, unable to find and keep a job and move himself into a happy state of mind.
After an incredibly moving moment, when everyone in the audience who had ever been affected by addiction – either personally or via a family member "stood up with Steve", Iyanla recognized that Steve was caught in the web of his past… that he was 'addicted to his story'.
Audible gasp.
I could hear the audience breathe – taking in that moment.  How many of us have been guilty of this?
Addicted to our story.
Let that roll around in your brain.  Say it out loud.
I've done it.  I have allowed life to get the better of me because it was easier to tell my story, by way of explanation for the, "I can't's" in my world.  It is easier to keep it on repeat than it is to stop the mental merry-go-round, take ownership for what you want to change and GET OFF.
Change your story.
That was my lesson from Oprah's LifeClass last night: I can change my story.  It is up to me.
I'm on it.
What is your story?
Note: Oprah's LIfeClass continues to New York (with Tony Robbins)  (Monday, April 2nd 8EST/7CST)and then on to Toronto.  It is worth watching.