I am a lover of stories, of words, of wisdom.  I have always been in awe of people who can sprinkle words across a page that you follow with your eyes but feel in your heart.  It likely won't surprise you to know I am a better TELLER of stories than I am a WRITER of them, but you can't blame a girl for trying, right?
And since this story is about LETTERS, I won't be telling, I'll be writing.  You can judge my prose at the end.
This story, for me, begins back in 2009 when I first entered this blogging space.  I didn't know a soul.  But I was about to be moved to tears by the love a man could have for his wife, the creativity he could exhibit when faced with needing to find the 'perfect gift' for the woman he loves without spending a dime, the respect he had (and still does) for her role as a mom AND the powerful connection we feel to each other as mothers.
I met Amber Haines at Blissdom in January of 2009.  Her smile alone can knock you over… but her gentle spirit and her kindness have fovever made her one of my favorite people.  The Mother Letters Story is hers. (and her husband's). For Christmas in 2008, Amber and her husband Seth agreed to create gifts for each other, instead of buying them. Recognizing that Amber could use some motherly encouragement (she was the mother of three young boys), Seth decided to collect a group of letters written by mothers for other mothers. He started with friends and family, but then decided to reach out to some of Amber's favorite online authors.  The response was better than he dreamed.  Not only did Shannon Lowe, Ann Kroeker, and Ann Voskamp reply, but Shannon asked if she could reach out to her online community for more letters.
Seth agreed. For months, letters came in – filled with love, wisdom, beauty, joy and grief.
Amber received the collection on Christmas Day, 2008.
It was glorious.
And now?  Seth and Amber have curated this collection of Mother Letters: Sharing the Mess & the Glory and made it available to everyone.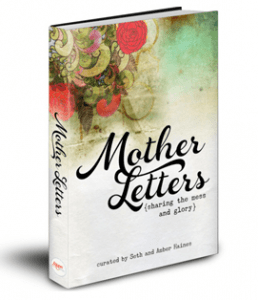 Fifty stories.
Different. Beautiful. Heart-tugging. Messy. Faith-filled. Laugh-until-you-cry. Cry-until-you-can't-breathe.
You will read, breathe deeply and think, "We are all in this together."
And that is extraordinary.
I will wrap up my portion of this story by telling you something that makes my heart flutter.  I am proud to be included in this collection of Mother Letters.  It is a Mother's Day gift of epic proportions to see my name on the pages of this ebook, among women, among writers I have long admired.
Thank you, Amber and Seth, for the gift of Mother Letters.
And for you, Dear Readers…. as you NEED this book in your life, for encouragement, for love:
Code: Buy1Give1 — It's BOGO with a twist. Buy one for YOU and gift one to another mama. Purchase 2 for $9.99, keep one and give one as a gift.
Code: ML25 —- 25% off Mother Letters