I think this whole parenting thing may have been easier when my small people were small.  I mean really small.  Small enough to miss the moments when I'm practicing 'do as I say and not as I do'. Like when I tell them to eat their vegetables and then I pass mine off to the dog.  What?  You've never done that?  *sigh*
Or sending them outside to get their exercise while I found myself too busy to fit it in?
Or standing over them, encouraging breakfast, 'the most important meal of the day', while I skip it myself.
I've had a few epiphanies about this lately.  Some have come in conversation with friends.  And some?  Right from the mouths of the very people I'm trying to raise.
I've always known my children watch what I do.  I've witnessed my daughter wrap her hair in a towel as I do after a shower, my son use his hands to get his point across in conversation, both of them hold doors open for strangers, request to write blog posts, bury their noses in books, pose automatically for an iPhone picture and occasionally use the word 'um'?  (I have to accept the good and the bad, right?)
But somehow, I had, until recently, convinced myself, that my 'bad habits' wouldn't have a lasting effect.  I was visiting the U.S Olympic Training Facility in Chula Vista, California with Kellogg's and a group of fellow bloggers.  During a roundtable discussion about family eating habits, one of the bloggers was talking about her teen children.  And it hit me… I have future teenagers.
I know, I know… maybe not a shock to you, but to me?  Cooper and Delaney are about to turn 6 and 8 and quite honestly, I can't picture them any older than they are now.  In fact, I'm not sure where the last 8 years have gone….
Delaney is now halfway to driving.  *shudder*  And sadly, while I may be a good mother to her in many ways, I am not setting her up with the best eating habits to start her day…not because I don't provide healthy foods, but because I am not the example she needs.
So, I've come up with a few changes I need to make.
Change #1 – Start eating breakfast
Now, I wouldn't classify me as 'unhealthy', per se.  I'm not overweight, and my diet does include fruits and vegetables.  But I don't get enough exercise.  There is nothing like spending time with an Olympic athlete – in this case – Javelin hopeful – Kara Patterson – to recognize just how well she cares for her body and what a poor job I am doing in comparison.  Don't get me wrong, I'm not trying out for the Olympics – for her this is a full time job…. but being a mom and an example of health to my children is certainly important to me.
So – later that day, I was given the opportunity to try my hand at a sport I had never before attempted.  Under the guidance of Olympic Archery hopefuls like Jake Kaminski, I found that I LOVED the sport.  Ignore my Hunger-Games-Katniss-getup.  Clearly, I didn't dress for the occasion.  After failing miserably at my first arrow, my 'coach' said I was 'right eye' dominant and told me to close my left eye for my remaining shots.  Success.  I'm no threat to the U.S. Olympic team, but I had fun.
Change #2 – Exercise is Crucial – try a new sport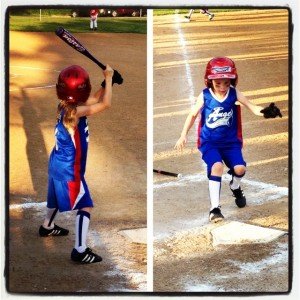 My children are wickedly athletic.  They come by it honestly – from their dad's side of the family.  They play it all – baseball, softball, soccer, basketball….even horseback riding.  And they do it well.  I was injured playing anything and everything as a child.  Broken bones, knocked out teeth.  I'm not kidding.  The only sport I 'played' successfully in my youth was swimming.  But my kids think 'swimming' and 'sports' are two different categories.  In fact, my small girl wanted to get me a baseball glove for Mother's Day so she 'could teach me' how to play.
My children are yearning for my participation in the things they love.  And that means sports.
Do As I Do.
Change #3 – Prove That Swimming IS a Sport.  AND?  Learn to play catch.
I want my small people to remember an active mother.  I want them to know I am capable.  And, I want to introduce them to something amazing.
We'll see how I do.
Those Olympic Games are pretty powerful, now aren't they?
I'm grateful to Kelloggs for the opportunity to visit the Olympic Training Center in Chula Vista. (and for the inspiration to be a better mother) I am delighted to be working with them.