I know it's been rather cold in most of the country and it's currently rainy and overcast where I am as well, but I think it's safe to say that we are ready for Spring. Whether or not the weather has yet to get the memo, let's do this thing! What better way to get ready than to dress for it and paint your nails some fun Spring-y colors…
Today I've rounded up some of my favorite nail colors for the warmer season. Of course you have the right to wear whatever colors you want no matter what time of year it is, but as the weather changes — or not! —  picking a fun bright color can definitely brighten your mood!
nail colors for spring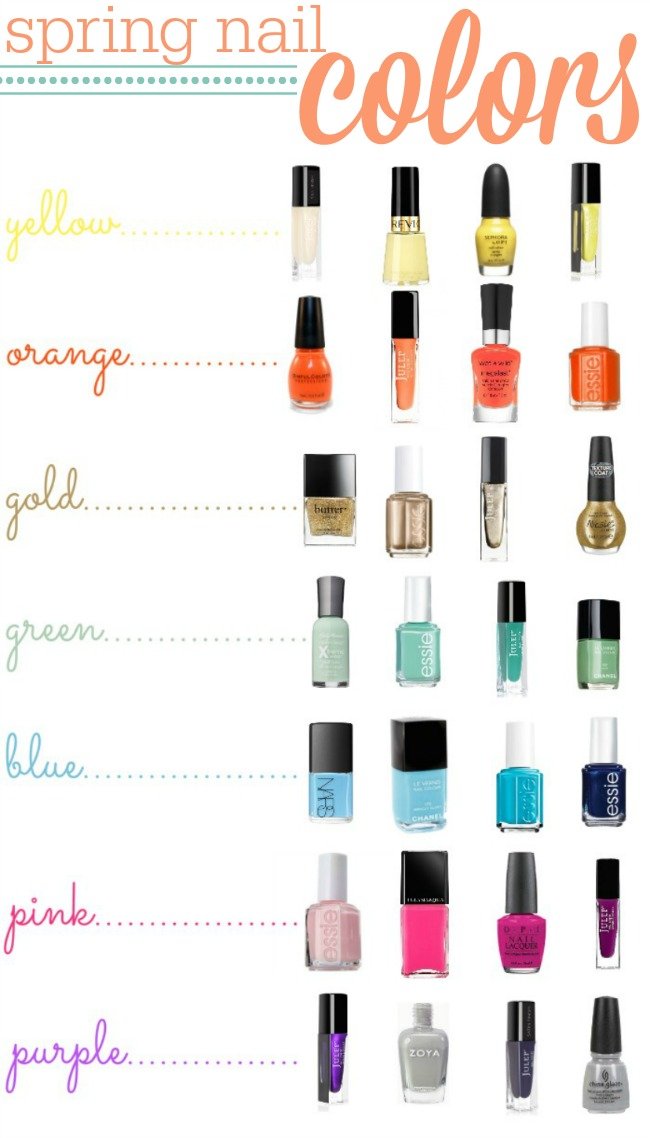 A little bit of the rainbow here, isn't it? I'm confident you're a little happier already. Remember, these are all just fun suggestions for how to prep your nails for Spring. Pick and chose which colors you love and work best for your skin tone and just go for it. I'll share the brand and the name of the color so you can grab yourself some of these fun colors.
Yellow
Even though my mom would say differently, anyone can wear yellow. If you're not sure if you can pull it off, start with a soft, muted yellow and take it from there. If you have a darker skin tone, then rock the brights, baby! The contrast looks fabulous!
Julep in Marcy // Revlon in Sunshine Sparkle // Sephora in Need Sunglasses // Julep in Sunny
Orange
Another great nail color for Spring is orange. It also looks great on darker skin tones, but there are many shades that can work for everyone. It is definitely worth trying to find a shade that works for you. An added bonus? It helps you look more tan!
Sinful Colors in Big Daddy // Julep in Princess Grace // Wet n Wild in Club Havana // Essie in Braziliant
Gold
Not just for the holidays, gold is the perfect accent color to create cute Spring nail art. Whether it's just an accent finger or a full chevron manicure, gold is a definite must-have this season.
Butter in Fully Monty // Essie in Good as Gold // Julep in Sienna // Nicole by OPI in Gold Texture
Green
Green is a great nail color for Spring as it represents new life after a long Winter. Mint green is especially pretty and looks great with all skin types. Coordinate it with gold and create an especially beautiful spring manicure.
Sally Hansen in Mint Sorbet // Essie in Turquoise & Caicos // Julep in Lissa // Chanel in Jade
Blue
Blue is such a lovely nail color and yet I think is often overlooked because it's both unexpected and falls outside the 'classic' colors. But whether you go with a soft, pale blue or a vibrant, bright shade, it's definitely a color you should try this Spring.
Nars in Ikiru // Chanel in Coco Blue // Essie in Strut your Stuff // Essie in Midnight Cami
Pink
Ahhhh pink, can you ever go wrong with a lovely shade of pin, right? Even though it's a very traditional nail color, specially for Spring, it still never goes out of style. Try a super soft pastel pink for fancy occasions like a wedding or a vibrant, bright pink for a fun girl's night out. There is always a shade of pink for every occasion.
Essie in Pink Diamond // Illamasqua in Devotee // OPI in Pink Flamenco // Julep in Bette
Purple and Gray
Even though Spring brings with it fun, bright colors, it's still okay to wear some muted colors from time to time. I know I love some grays and taupes for sure. Purple is also a fun and different color to wear and whenever I wear my Julep in Avni, I always get compliments!
Julep in Avni // Zoya in Dove // Julep in Quinn (which has a satin finish) // China Glaze in Pelican Grey
I hope you're inspired to try out some of these nail colors for Spring! Hopefully they will brighten both your mood and your day!