I know it seems like summer is over because the kids are heading back to school, but it's really not. In California, we have hot weather well into November and I think much of the country is still warm through September at least. Summer also doesn't technically end for a few weeks yet, so yes, we are justified in still wearing some pretty amazing lipsticks!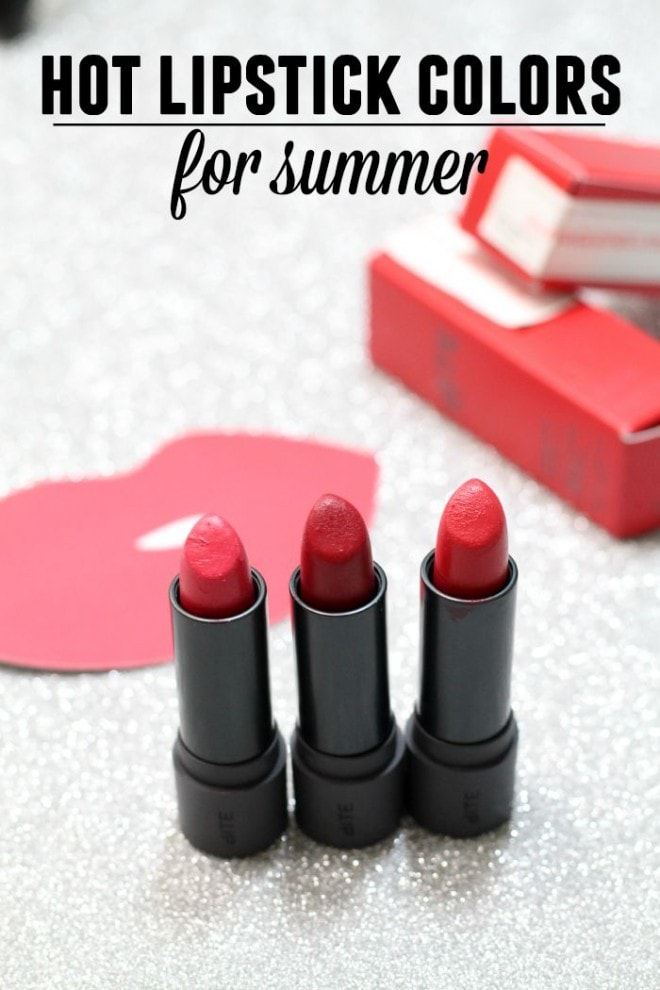 Today I wanted to share with you my top 10 favorites. I love bright colors and rocking bright lips, so you'll obviously see that represented here, but I tried to include some more muted colors for those of you who just aren't feeling so bright. I promise, there is something for everyone.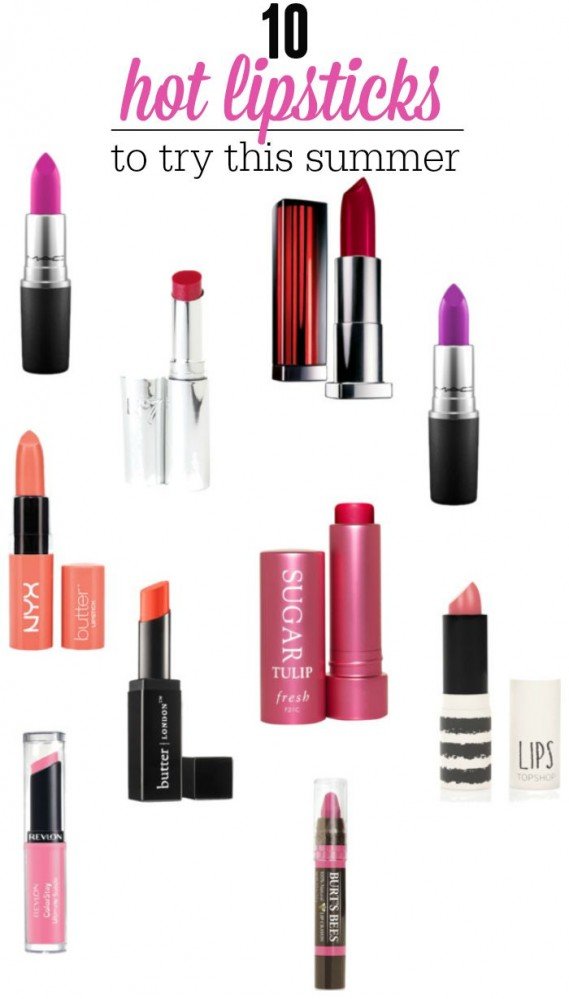 As you can see there's a bit of a theme here: reds, pinks and oranges! I stayed away from darker browns & plums because those tend to do well in the fall. We also have a price range – starting at $6 for the NYX and going up to $23 for the Sugar. I realize it sounds pricey, but I love the stuff.
Tops Lipsticks for Summer
Okay so let's do this! Hopefully you can find a color in here that will look fabulous on you, I am confident you can. I'm going to list starting at the top left and going across each column.
MAC in Show Orchid – $16 — This is a very vibrant pink and is so, so fun! I own this one and absolutely love it. It might not be the best 'starter' bright lipstick, but once you've got the hang of wearing brighter colors, this one is awesome. You must give it a try.
Nº7 in Tempt – $9.99 — This is a perfect lipstick for those of you who aren't used to wearing bright lip colors. It's sheer so you're still getting a pretty red but without it being as bright and colorful.
Revlon in Red Revival – $7.49 — This was one of the first red lip colors I ever bought and I loved it. It's what started me on wearing fun, bright colors. The color is strong and is a true, bright red, and it's less than $8 so you can try it and not like it and that's okay.
MAC in Violetta – $17 — I bought this color on a whim in the Paris airport. (I tend to buy funky colors in airports!) But I absolutely love it and have not a single regret. It's a beautiful purple color without being too crazy. You will probably have to be used to wearing bold colors already, but when you are, go for this beauty.
NYX Butter Lipstick in Pink Coral – $6 — NYX is another great option for sampling some fun colors. The brand is known and loved, but not too pricey. This pretty coral is also a fun way to wear bright colors without them being too bold. It's also absolutely perfect for this season.
Butter LONDON in LadyBird – $22 — This shade of red was so different than I expected. When you look at it, it looks more red than orange. But when you put it on, it's more orange than red. I think that makes it a perfect summer lipstick because both red and orange are hot. It's definitely bright and so pretty. It comes in lip crayon too.
Fresh Sugar Tinted Lip Treatment – $23 — This is a very sheer color. In fact, I wouldn't include this in any 'bright' lipstick color section, but it's a great option. It gives your lips just enough color to make them stand out a bit more though without feeling like you're wearing too much. It's also great for your lips.
Topshop Lipstick in LoveStruck – $12 — This pretty pink/coral color is definitely on the list to be a summer lipstick go-to. It's enough color but not too bright. It is a perfect blend.
Revlon ColorStay in Cruise Collection – $8.59 — I think every girl needs a pretty pink in their lipstick collection and this Revlon option is perfect for it!
Burt's Bees Lip Crayon in Hawaiian Smolder – $8.99 — The Burt's Bees lip crayons are some of my favorites. They go on so smooth, feel great, and are 99% all natural. It doesn't hurt that the colors are fabulous.
There you have it – some of my favorite summer lipstick colors. What do you think, which ones are your favorites? Are you a bright lip gal or prefer more muted colors? I'd love to hear what you think!