This conversation is sponsored by Align Probiotics at Sam's Club. Opinions are my own.
Raise your hand if you made a resolution at the beginning of the year.
I get it.
You thought about it. Saving money. Healthier eating. Exercise. Getting organized.
But only about 40% of us actually committed to a change. (are you one of them….or should I say us?)
I admit – I am a resolution kind of girl. But, I give myself a little extra time and space to create that change. With a January birthday (the 21st – high five to all of my Aquarius friends), I set my birthday as my official 'new year' and my time to flip the calendar and make changes.
Now, if you did make a resolution this year, how are you doing? Typically, only about 40% of us are still hanging strong at six months – and yet, most often, our resolutions are geared towards taking care of ourselves in some way, whether that is making time for the gym, cutting calories or certain foods, or just making overall healthier food choices.
That says something, doesn't it. We have a need….not just to look better, but to FEEL better. And I think the best way to tackle that is with baby steps. I know that every single time I have planned to change ALL THE THINGS at the same time, (exercising five days a week, eliminating sugar, cutting calories, getting more sleep, etc.) it is, quite simply, a recipe for failure.
But, you know what DOES work, what DOES give me the motivation to keep going? Baby steps that allow me to feel better. A happier and healthier version of me is naturally more motivated to keep going, right?
Friends, let me make this easy for you.
One small change can up your self-care game and help you feel better from the inside out. And it only takes seconds a day.
Align Probiotics naturally help maintain digestive balance*. This #1 Doctor recommended probiotic‡ helps to fortify your digestive system with healthy bacteria. * Why take a probiotic? Aside from the balance to your system on an average day, common issues like diet, a basic change in your regular routine, stress from home or work, or even travel may put a glitch in the natural balance of good bacteria.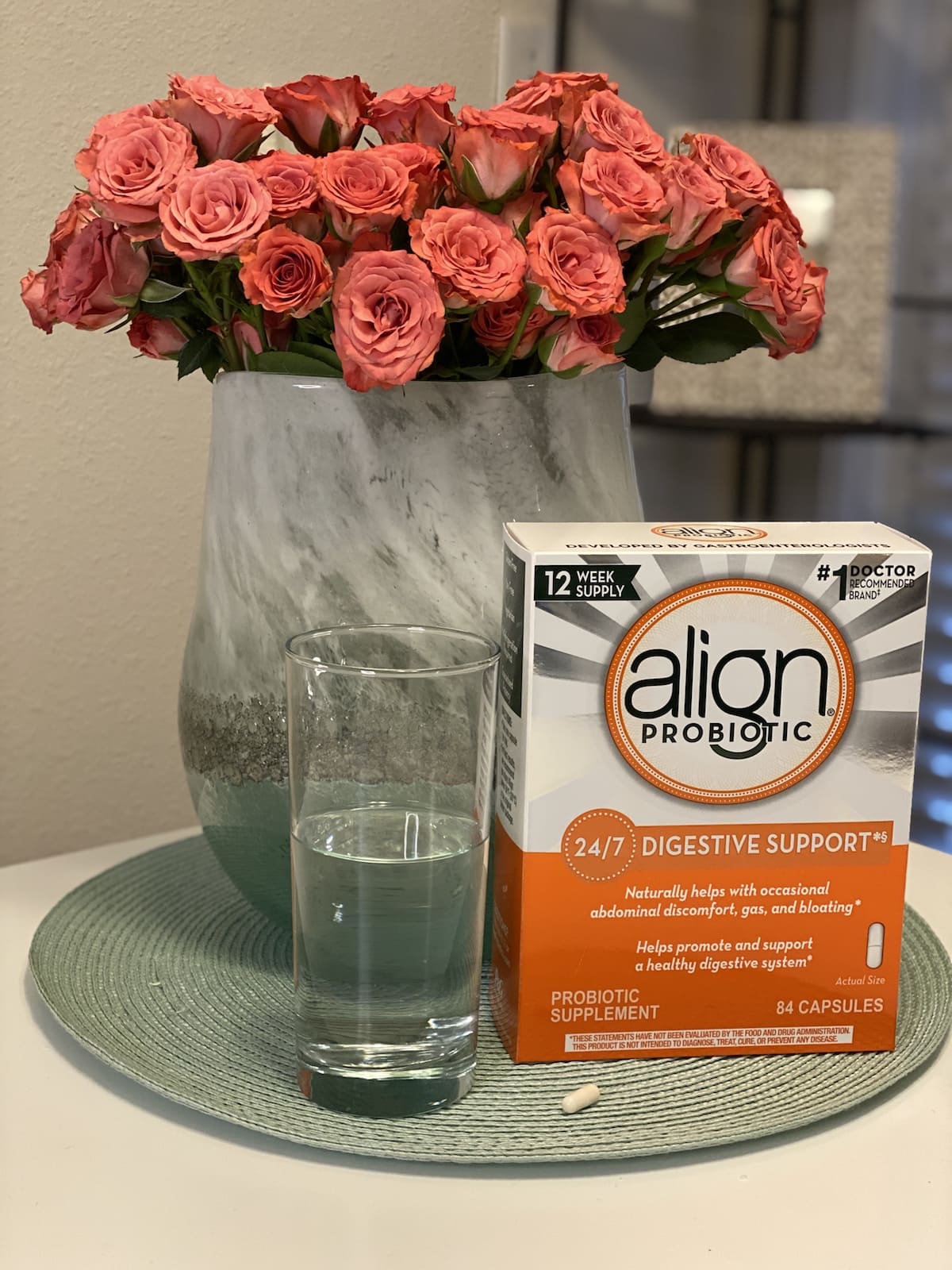 Align is the digestive support you need for just that. And it can help with occasional abdominal discomfort*. Even better – it is gluten free, soy free, vegetarian and doesn't require any refrigeration.
It's simple to take Align once a day. It can be taken any time – with or without food. (See? One small change that takes only seconds to make.)
When you buy from Sam's Club as I do, there is an even greater benefit of this 12-week pack of probiotics – an instant savings of $11 now until February 23rd. Visit a Sam's Club near you or shop online to purchase Align Probiotics (with free shipping!) to start making your one small change can help you feel better from the inside out.
*These statements have not been evaluated by the Food and Drug Administration. This product is not intended to diagnose, treat, cure or prevent any disease.
‡Among Doctors who recommended a brand of probiotic in a ProVoice 2008-2018 survey.