My husband studied abroad in Spain about a million years ago.  Since I began cooking for him….practically the day we started dating…he's been telling me the BEST meal he has ever had is:
Seafood Paella
I'll be honest….it sounded ok to me…but nothing I've felt compelled to tackle.  Until tonight.
You see, a few weeks ago, I asked for a little help (from all of you).  I'm working healthier foods, healthier habits, into my life.  So, I dusted off my Cooking With All Things Trader Joe's cookbook. (I recommended it as a gift last Christmas!)
One of the first recipes I found:  Seafood Paella.
There were a few things appealing about this recipe for me:
1) I love seafood
2) I could get everything I needed in one store.  And I love Trader Joe's
3) The prep and cooking time = 20-25 minutes
4) The ingredients are healthy – no extra butters and fats
So, I did it.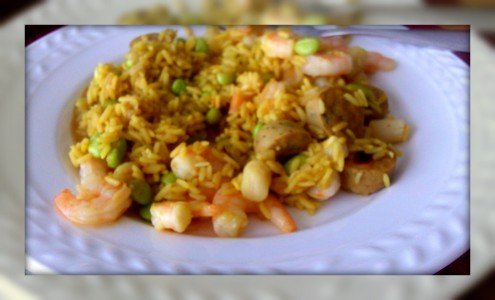 Two thumbs up from my husband.  Coop thought he liked it, singing, "I love Paella", but changed his mind….and Delaney did her due diligence – tried every piece of it – the rice, the shrimp, the scallops, the edamame, the sausage, but just wasn't a fan.
I was happy.  Here's the recipe from the book: (Cooking with All things Trader Joes)
1 9 ounce box of Spanish rice
2 TBSP Extra Virgin Olive Oil
1 refrigerated Chipotle Pepper Gourmet Chicken Sausage, cut into 1/2 ince slices
2.5 cups of water
1 TSP Spanish Saffron (half the jar) ** warning – this spice is pricey!**
1 cup frozen Shelled Edamame or Green Garbanzos
1/2 pound frozen small or medium size scallops
1/2 pound frozen Medium cooked tail-off shrimp, thawed
1/2 cup White Wine

Heat olive oil on high heat in a deep saucepan or skillet
Saute Sausage for about 1 minute
Add water, along with contents of Spanish style rice box, saffron and frozen edamame. Stir until combined,  Bring to a simmer and cover.  Reduce heat to low.  After 8-10 minutes, when most water is absorbed, add scallops, shrimp (if using raw) and wine. Stir to combine.
Simmer for an additional 5 minutes, until shrimp and scallops are opaque and cooked through.  Add more water if necessary to keep rice moist.  If using cooked shrimp, add at the very end and cover pan until heated through.