Every day, someone in my family asks, "What's for dinner?". It seems like a fairly innocuous question, yes? I mean – the small people and my husband a) know they are going to be hungry at the end of the day, b) know I'm typically the chef/master of meals in the home and c) are aware that I need to work around the ever-rotating schedule of sports that require us to run out the door each night.
This means, I'm often scrambling to get everyone fed before practice or a Wednesday night double-header. I would love to tell you it is easy, but I would be lying.
However, my goal is to alleviate that stress – at least a few nights a week. How? With One Pot Meals that take less time AND can satisfy my family's hunger. So, here is a collection of 20 easy one pot meals. Check out a few of my favorites below: Pizza Pasta, Creamy Spinach Chicken, Teriyaki Chicken and Pineapple Rice and Lemon Shrimp Pasta. Enjoy!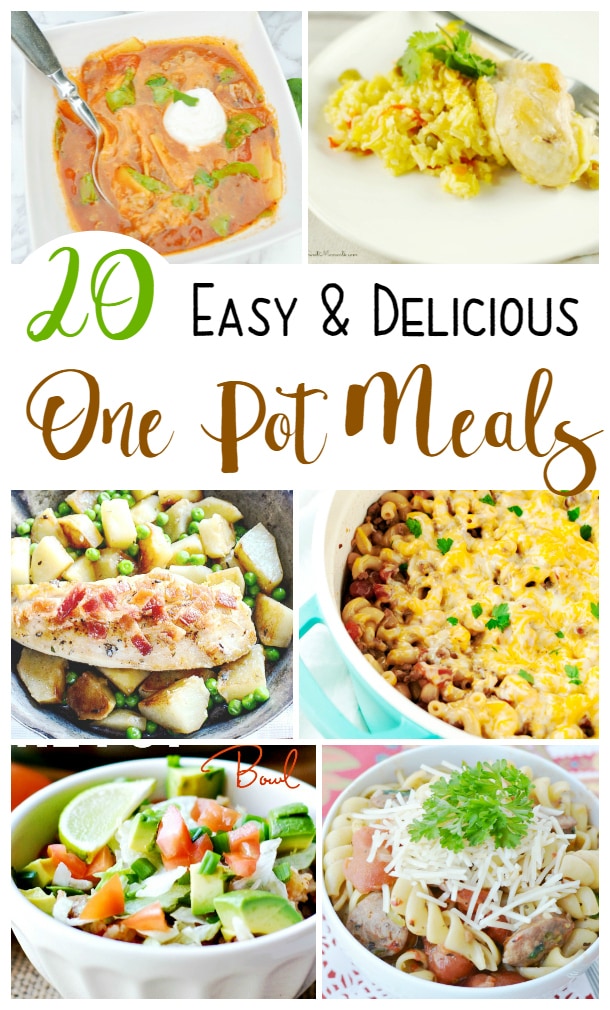 Easy and Delicious One Pot Meals
Skip to My Lou – One Pot Pizza Pasta
My Craftily Ever After – One Pot Creamy Spinach Chicken
A Simple Pantry – One Pot Chili Mac and Cheese
Simply Stacie – One Pot Chicken Fajita Rice
The Rebel Chick – Sweet Pepper Sausage Italian One Pot Meal
Living Sweet Moments – One Pot Spanish Chicken and Rice
The Bewitchin Kitchen – One Pot Perogie Casserole
Food Folks and Fun – One Pot Chicken Burrito Bowls
Electric Momsense – One Pot Lasagna Soup
Copy Kat – One Pot Pasta Cheesy Italian Skillet
See Mom Click – One Pot Dutch Oven Chicken Dinner
Domestic Superhero – One Pot Spicy Thai Noodles
Wine and Glue – One Pot Southwestern Alfredo Pasta
Damn Delicious – One Pot Zucchini Mushroom Pasta
A Spicy Perspective – One Pot Sloppy Joe Noodle Skillet
Number 2 Pencil – One Pot Cajun Chicken and Sausage Alfredo
Carlsbad Cravings – One Pot Teriyaki Chicken and Pineapple Rice
Living Sweet Moments – Chicken Bacon One Pot Meal
Well Plated – One Pot Lemon Shrimp Pasta
The Recipe Rebel – One Pot Chicken Chow Mein
Do you have a favorite on this list? Or one you'd love to share? I'm ALWAYS open to new and delicious options. Please do let me know.
And if you would like to plan ahead for a busy night – here are five fabulous slow cooker meals to add to your dinner rotation.
Happy cooking!