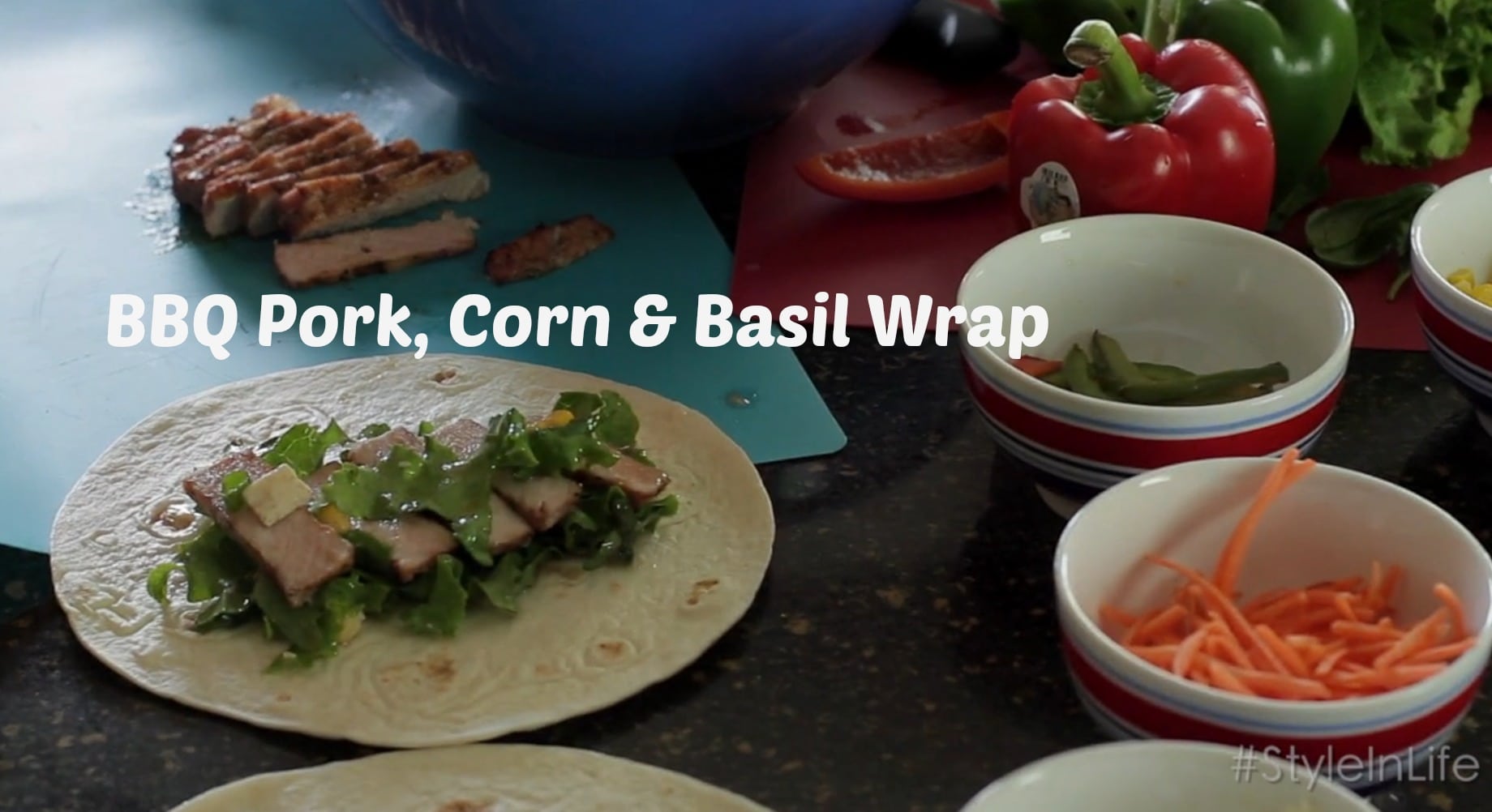 I can't get enough of this recipe.
Ok, fine – maybe it is partially because I helped to create it and that makes me proud.
It could also that it includes ALL fresh foods that I love…. or that I was able to include basil THAT I GREW MYSELF IN MY GARDEN!!…. (if you know me well, you understand the magnitude of that feat) or possibly that my entire family loves it – small people included…. or maybe, just maybe… that I was able to feed my entire family for under $10.
Seriously, friends…. that's a whole lot of love for this recipe, right? (and I didn't even mention that it is EASY to make!)
Just watch: BBQ Pork, Corn & Basil Wrap
Here is the recipe in full:
BBQ Pork, Corn & Basil Wrap
2-4 6-ounce boneless rib-eye or New York pork chops, about 3/4-inch thick
Salt and pepper
6 tablespoons bottled barbecue sauce, divided
3 tablespoons olive oil
2 tablespoon red wine vinegar
1 teaspoon paprika, ideally smoked paprika
4 cups shredded romaine lettuce (about 1 head)
1 cup fresh corn kernels (about 1 ear)
1/2 cup chopped fresh basil
1/4 cup crumbled feta cheese
4 scallions, thinly sliced
4 9- to 10-inch flour tortillas
Prepare a grill to medium-high heat and lightly oil the grate. Season pork with salt and pepper and grill 2 minutes per side. Use 2 tablespoons of the barbecue sauce to brush both sides of the chops and continue to cook until internal temperature reaches 145 degrees F (for medium rare or 160 degrees for medium), about 2 minutes per side. Remove chops from grill and let rest 5 minutes.
Meanwhile, in a small bowl, whisk together oil, vinegar, and paprika. In a large bowl, combine romaine, corn, basil, feta, and scallions. Add dressing and toss. Add salt and pepper to taste.
Thinly slice pork. Place a tortilla on your work surface, spoon salad mixture on to tortilla, stopping about 2 inches short of one edge.  Top with 1/4 of pork.  Fold one side of the tortilla up and over the fillings, tucking the fillings in tightly, then fold in the 2-inch edge. Continue rolling the tortilla toward the other side, securing it with a toothpick if necessary.
Repeat with the remaining tortillas. Serve with the remaining 1/4 cup of barbecue sauce on the side for dipping.
* You can also broil the chops if you prefer—cook about 6 inches from the heat in a preheated broiler until internal temperature reaches 145 degrees F, 5 to 6 minutes per side.
* If you prefer to heat your tortillas, you can do that in a skillet or all at once, microwave them on high until warm and softened, 30 to 60 seconds.
ENJOY! (I don't doubt that you will!) But let me know.
This Summer you can find '10 for $10′ on PorkBeInspired.com. That is 10 different recipes that can feed a family of 4 for $10 or less – all created by moms like me.
This video is part of my 'Keeping Style in Your Life' Series…  I've loved focusing on everything from organization to favorite food to easy hairstyles and wine.
Disclosure: I am excited to have teamed up with the National Pork Board as a spokesperson for Summer Grilling Season and even more delighted to have helped to create this recipe (and another one I hope you saw: Grilled Pork Chops with Minted Strawberry Avocado Salsa).