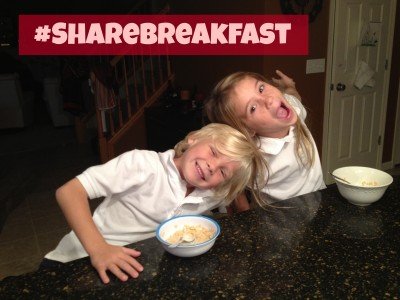 Mornings in my house are a little chaotic. I'm sure you understand – there is a rush to get dressed, a rush to get out the door, a rush to find socks and shoes, and in the colder months – we are always on the hunt for sweatshirts, coats, mittens and hats. Just this morning, my small dude tried to opt for the socks he wore YESTERDAY.  I DON'T THINK SO, LITTLE GUY!
But no matter how limited our time might be, my small people never – and I do mean NEVER –  skip breakfast.  I know that their little minds and their little bodies need fuel first thing in the morning.  I know that they need energy to push them through the day, to help them concentrate, to allow them to absorb what they will be learning when they first walk through the doors of their classrooms. As a mom, you try to head off potential disasters for your kids – I know that my children can't concentrate when they are lacking in two very important areas: sleep and food.
We are lucky.  Breakfast in our home in something we cherish as we know it isn't a luxury all children have.  It hurts my heart to know that there are, in fact, so many children who DON'T have the opportunity to start the day this way.
In fact, one in five children head to school hungry.
Think about that for a moment. One in five. How many small people do you think you know who might not get enough to eat every day?
I think you know combating this problem is a passion of mine. I'm grateful to partner with companies who want to do something about it.  Since breakfast is SO important, Kelloggs has created the ShareBreakfast campaign and they have partnered with the fabulous Taye Diggs to spread the word.
I love this.  Share Breakfast is all about getting breakfast to the small people who need it.  Kelloggs is working with Action for Healthy Kids.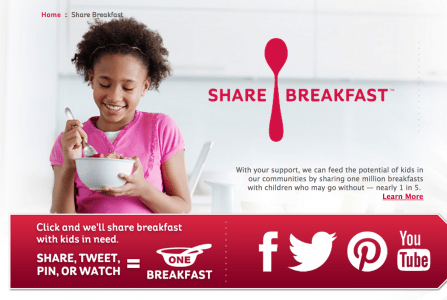 And it is SO SIMPLE for you and I to help.  Every time we 'SHARE' – tweet (#ShareBreakfast), pin the campaign or watch the video, a breakfast will be shared with a child who might otherwise go without. The goal is ONE MILLION breakfasts in a school year. You can keep track of the progress and learn more on the ShareBreakfast site.
It starts today.
I'm proud to have a long term relationship with Kelloggs, though my relationship with them in no way influences my choice of words.  All thoughts and opinions reflected on this site are strictly my own.