I woke up this morning and it 'feels like' 17 degrees outside. No, I'm not living in the Yukon territory, just making my home in the Midwest, like so many other people.
And like so many other people, I've grown almost as tired of the phrases 'polar vortex', 'snowpocalypse' and 'snowmageddon' as I have of experiencing the bitterness on my face, my fingers, my whole being.
I actually live somewhere the air hurts my face. Who does that? I suppose you, me and about half the country are doing it this Winter. Dragging the small people out of bed in the morning to face yet another day in the teens isn't easy. (Let's be honest, I would prefer to stay tucked in bed!)
Our mornings have been slow. They have been quiet. And yet, we have remained connected.
My small people talk to me in the kitchen. They share with me during breakfast. They chatter as they pour their own cereal – proud that they can be involved while I make school lunches. If it means we must get up a little earlier to have this time, I make it happen. I know how they are doing in school, which friends have the kindest hearts, what they want to be when they grow up (today) and most of all, what makes them happy.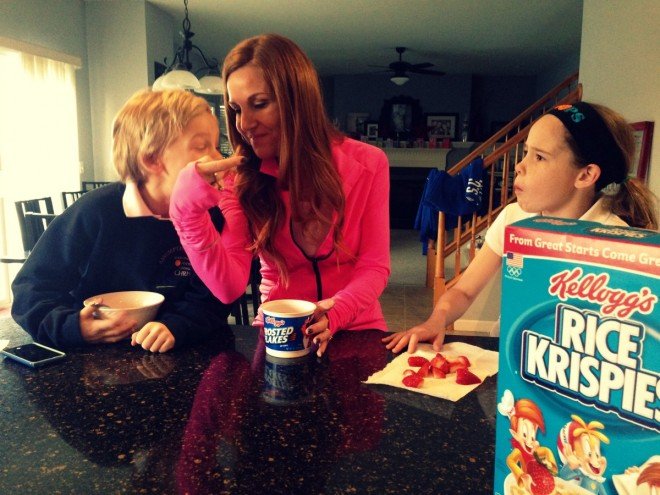 In honor of National Breakfast Week – something we are celebrating with our good friends at Kellogg's, I wanted to share a few things about this time of the morning you may not know:
Research shows that sharing three or more family meals per week helps children have healthier eating habits. Cereal makes it easy to start the day together. (My note: it is also a super-easy, happy, evening snack and my small dude's 'go-to' before he heads to bed)
A serving of Kellogg cereals and 1 cup of skim milk can provide protein and four nutrients most people don't get enough of: fiber, calcium, Vitamin D and potassium.
Cereal makes financial sense. At about 50 cents a serving, a cereal and milk breakfast is delicious and nutritious way to help ensure a great start to the day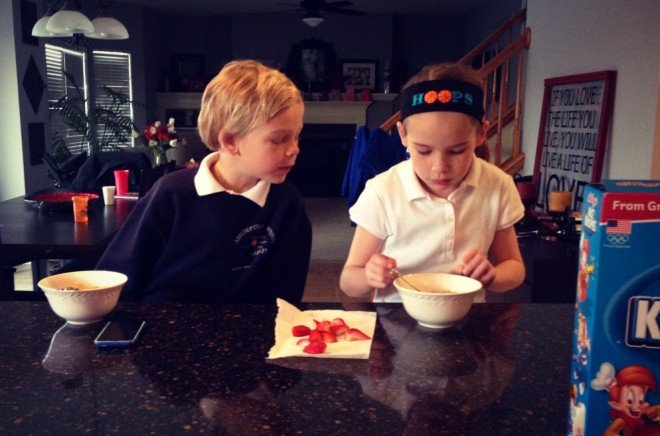 I know I have talked about this before, but these moments with my small people remind me that I am lucky… I know not every family has the same opportunity to share breakfast like this. Nearly one in five children goes without breakfast every day. Statistically speaking, that would be six kids from each of my children's school classes. Sometimes I think we need to apply the 'numbers' to us for them to sink in.
Imagine walking in to your child's classroom in the morning – only to watch six sit alone at their desks, hungry, while the others ate. I'm proud that Kellogg's has been working to combat this very thing with their #GreatStarts program. As I talked about during the Olympics, for every tweet, share or pin of an Olympian's  or Paralympian's #GreatStarts story, a meal will be donated to a child in need this school year- with the goal being 2 million. Where are we now? Almost 741- thousand.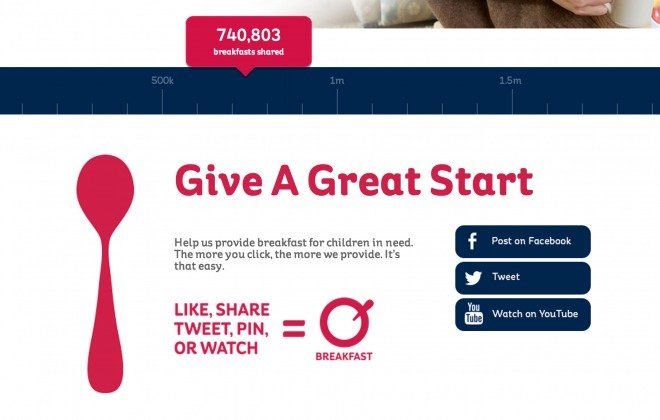 Not quite half way. We can do more, right? It is easy, yes?
How does a #GreatStart 'start'? With you and me. With these small people. With sharing breakfast and telling stories.
Watch a #GreatStarts Story.
Share a #GreatStarts Story (Paralympian Amy Purdy makes me cry every time).
Tweet. Pin. Share again (Charlie and Meryl!).
We can do it together.
To inspire you to help, the Team Kellogg's Olympians created this video to inspire you to give kids a #GreatStart. It will take 60 seconds of your day to watch and another 20 seconds (MAYBE!) to share it. Will you?
How do you Share Breakfast with your family? Are the meals big? Small? Or doesn't it matter because there is simply too much talking happening all at once?
Disclosure: I have a long standing relationship with Kellogg's. This post is dedicated to National Breakfast Week and my hope is that it will inspire you to help offer a #GreatStart to a child in need. As always, all thoughts and opinions are mine and mine alone.