F-E-A-R of E-M-B-A-R-R-A-S-S-M-E-N-T.
It can paralyze even the most confident of us. We see an opportunity to do something great, something we know we can do, but that trepidation of being made fun of overcomes us … pushing us off the stage before we could take a step up onto it.
This is the story of a little girl overcoming her greatest fear and proving that putting oneself out there … is A-O-K.
At Assumption School, the reward for winning the 5th grade class spelling bee is the opportunity to compete… on stage… in front of the entire school…for the right to represent the student body at the Missouri-Illinois Bi-State Regional Spelling Bee. 8 Students, 2 from each 5th thru 8th grade class are competing. Winner moves on…
Rewind, 6 weeks prior to the All-School Spelling Bee. 3:40pm. Front Door opens. Delaney shuffles in… We silently wait … Delaney plops down on the couch, buries her face in her hands. My wife and I are sewing, dusting, ironing, tasks we normally accomplish on a Friday afternoon at 3:41pm. Delaney's freckly face re-appears from her paws with one tear streaming down her left cheek. We both hug her and reassure her that it's okay, and she can try again next year to win her class Spelling Bee…
"I won"
Is this a tear of a joy or a tear of …
"I'm scared Daddy"
F-E-A-R
"Now, I have the All-School Spelling Bee… In front of the whole school… Speak into a microphone with all of my friends, classmates, everyone watching. What if I mess up? What if I'm the first one out? What if I mis-spell my own name? Nope, not doing it. No way."
We assure Delaney of a few things.
The All-School Spelling Bee isn't for another 6 weeks so let's celebrate this win. Now. With Ice Cream. The great mind numb-er… brain freeze… thus allowing amnesia to set in…
Her friends will support her, which they will and they did by the way. Great story if you keep reading.
Trust us, Delaney, it won't be that bad. Yah, that was a dumb thing to say… so, I back pedaled from that statement, then jammed the car in drive and off to Dairy Queen we went…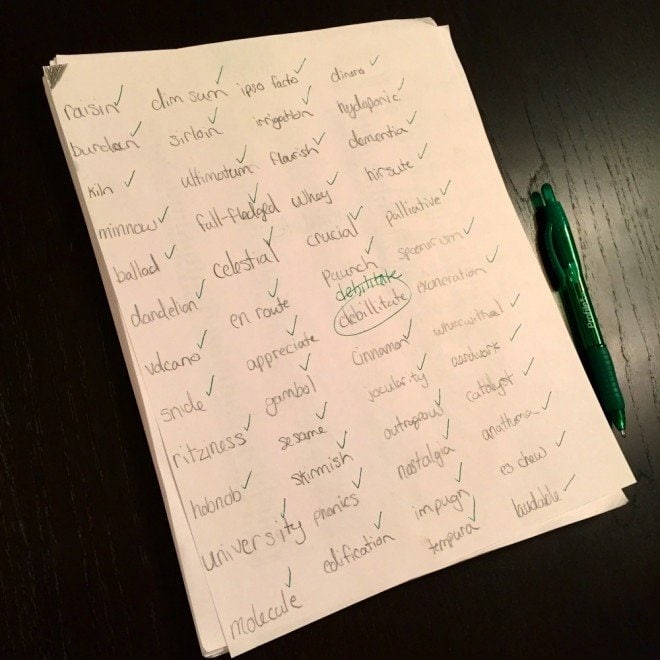 Now, fast-forward to Spelling Bee Eve. Delaney kneels down for bedtime prayers, "Dear Lord, don't let me mess up. Let me get one word right. Maybe two. Oh, how about three, but please just don't let me mess up." Then it's my turn to pray, "Dear Lord, thank you for Delaney. The End. I mean. Amen." She laughs when I say "The End." Got to keep it light, right?
Night Falls. Morning Follows. It's Bee Big Day.
Delaney comes down to breakfast. "How did you sleep kiddo?" exclaims an energetic, overzealous, rested, proud papa. "Not a wink, Daddy. I'm so scared." Time for Hugs and Kellogg's Frosted Flakes, They're G-R-E-A-T. More spelling. I can't stop. I've caught the bug. It was time for the pre-game speech from dear old Dad.
Delaney, listen. You're already a winner. You won your class spelling bee. Anything that happens today is just a bonus, like extra credit on a test. There will be one All-School winner and 7 Class winners. No losers. It's true. All 8 of you have won already. But, there has to be an All-School winner, so why not you? 500 students started this competition. It's down to the Elite 8. After today, 1 will stand, and my money is on you. I'm serious. You're going to win this darn thing. Do you believe me (she nods in disagreement)? Will you believe me after you win (another nod in disagreement)? Alrighty then, after today, there will be another winner. Me. I'm ready. Let's Fly like a butterfly and Sting like a …
"Bee-Have Students of Assumption," bellows a voice over the Gymnasium loud speaker. "Today, we've all gathered together for the 2015 Assumption All-School Spelling Bee. Please give a round of applause for your 8 Finalists now sitting on the stage! (Crowd Cheers). The winner of today's competition will advance to the Bi-State Regional Bee with that winner flying to our nation's capital, Washington D.C., to compete in the Scripps National Spelling Bee. Let the Spelling Bee-gin (moderator laughs at her own pun). Sheesh, puns, lowest form of humor. Not punny.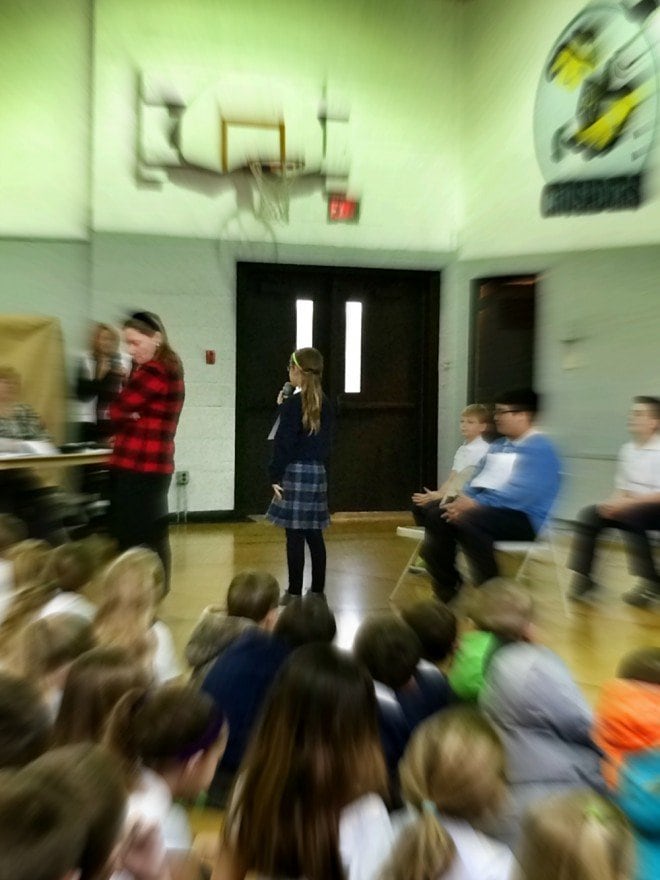 Round 1 – All answer correctly. I sigh in relief. "Today"… Her first word. It starts slow.
Round 2 – All 8. U-N-S-C-A-T-H-E-D. Delaney's voice is unwavering, she stares straight ahead and is as calm as an F-15 Fighter Pilot. Ice cold. No mistakes. That's the way she spells.
Round 3 – The Lord has answered. Delaney is thru 3 as are the other 7 geniuses. Her third word was "Knead" in case you were curious.
Round 4 – Whoops, We lose 1. I feel for that young girl. Even more for her parents.
Round 5 – Double Whoops, 2 more are out. 5 remain after 5. One of those is Mini-D aka Delaney aka My Pick to Click. Her word "parlor."
Rounds 6-8 – Clean for the Fab 5. I'm, surprisingly calm, she's still hanging in there. She's won her grade. She's proven she belongs. I begin to relax. A little.   Meaning, my right foot has stopped tapping 55mph.
Round 9 – Another falters… Final Four. One of which is the youngest kid on stage, guess who?
Round 10 – Down to Three after this round…
Quick Note: I was satisfied after Round 3, really happy when she wasn't the first eliminated, elated when it was Delaney and two of the older kids, but then the amazing happened. Round 11…
Round 11 – A former champion falters, staggers, seems to recover but then errs and bows out after 10 correct words. The crowd graciously applauds her strong effort.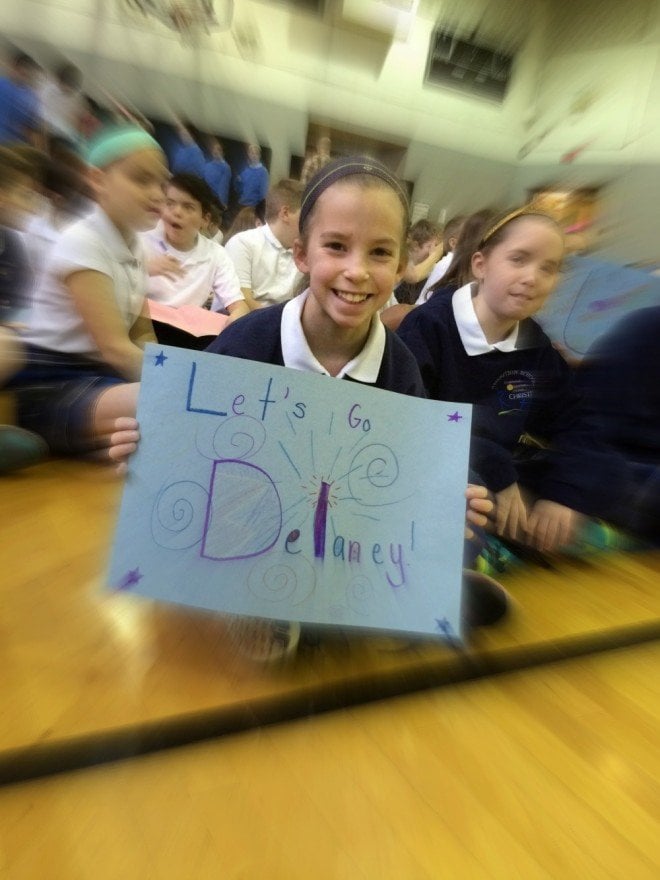 And, then there were two… , a former champion, super smart, center stage confident 8th grader versus the little girl stage left whose eyes remain fixated on the moderator. She won't blink. Then, the students begin an impromptu chant of "Delaney!… Stomp… Delaney!… Stomp… Delaney!" Her 5th grade class, the 6th grade class, the gym is pulling for the underdog. The 7th graders join the chant mob. I, actually, feel bad for the 8th grader now. My eyes are welling. Delaney versus the Champ for the right to represent her school at Regionals. And, more importantly, for me to be correct. I mean, more importantly, for her to realize that there has to be a winner, so why not her. A life lesson happening before my watery eyes… My wife is squeezing my hand so tight that I have permanent blood flow issues in my left hand now. Possible exaggeration.
Round 12 – Both answer correctly
Round 13 – Same Result. I'm exhausted. I can't see because my hand hurts so badly. The pain is rushing to my head. I'm about to faint. I'm hanging on… I need some water. I can't see. Everything is foggy… Cut me Mick, Cut me… then I hear it.
Round 14 – To the Champ… the word is Ultimatum. He spells "U-L-T-I-M-A-T-E-M." Ugh. The Champ is down. But, the kid challenger must answer her last word correctly or the Champ gets up to fight again. "Stalwart… S-T-A-L-W-A-R-T"
Then a pause…
"STALWART!" whispers MY DAUGHTER into the microphone.
The Moderator… states … for the record… CORRECT!!!
… and bedlam ensues in the Assumption Gymnasium. The Delaney Chants echo throughout the school. The smallest, youngest, quietest kid on the stage is the new Champ. She's so shy. She wants to hide. As soon as the moderator dismisses the student body, I rush to the stage, pick her up and she screams at me to put her down. F-E-A-R of E-M-B-A-R-R-A-S-S-M-E-N-T. Even moments after her big win. I whisper her in ear… "I'm so proud of you. You did it. Oh, and by the way, I was right, you won!"
She stopped asking me to put her down, hugged me and whispered back, I love you Daddy.
I won too.
Sincerely,
A Daddy