I went to sleep the other night…. the mother of the sweet baby girl.  Born with a full head of dark brown hair, brown eyes reminiscent of milk chocolate…. a smile that can make you melt. She toddled through my dreams saying her first word, 'bit' for blanket, holding my hand, snuggling into my bed and sucking her thumb.
When I woke, I found this….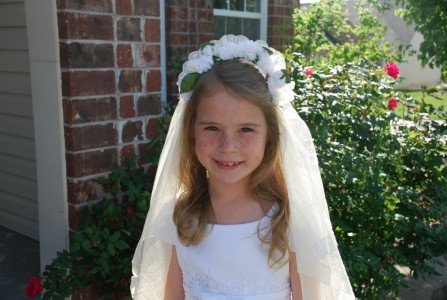 An angel of a girl, no longer toddling…. full of questions, spunky, sassy and with freckles that I have spent hours trying to memorize like astromers do their favorite constellations.
This weekend, Delaney will make her First Communion… an incredibly important step in the Catholic faith.  She has spent the better part of her second grade year preparing for it.  This feels like her first 'grown up' moment.  We have had so many beautiful, meaningful conversations surrounding what will happen for her this weekend.  She is taking it all so seriously…
And another part of the treasure for me comes steeped in tradition.  The veil you see on her sweet head is over 100 years old.
I wore it on my First Communion.
So did my mother.
And so did my grandmother.
And that veil?  Was created from my great-grandmother's wedding veil.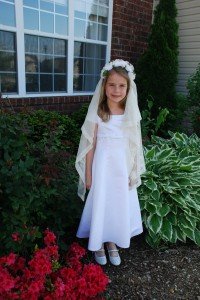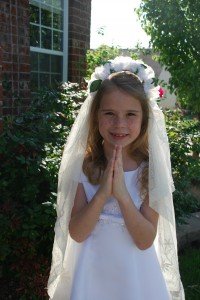 Delaney and I took these pictures as a 'trial-run'…. she chose her own dress, but allowed me to be the stylist for her hair and veil (though having her hair done does not rank high on my tom-boy's list of things to do).
She was so reverent about the veil, took such good care as we moved around outide and was so beautifully spirited…..choosing different poses and enjoying every moment with me.
I'm going to watch her on Sunday…. walk down the aisle of the church…. in that dress and veil.  She will still be seven when she walks out the door, but she will have carried on a glorious family tradition and given me one more memory to decorate my dreams as she gets a little older day-by-day.