I am 100% ready to fully embrace summer. Who is with me? As the temperatures have warmed, I've slowly started to pull out my sandals and incorporate them back into my wardrobe. But there are so many cute new options this season that I couldn't help but do a little shopping too. If you're ready for a little shoe refresh, then this post is for you. Let's chat the cutest sandals for spring, and they're all under $100.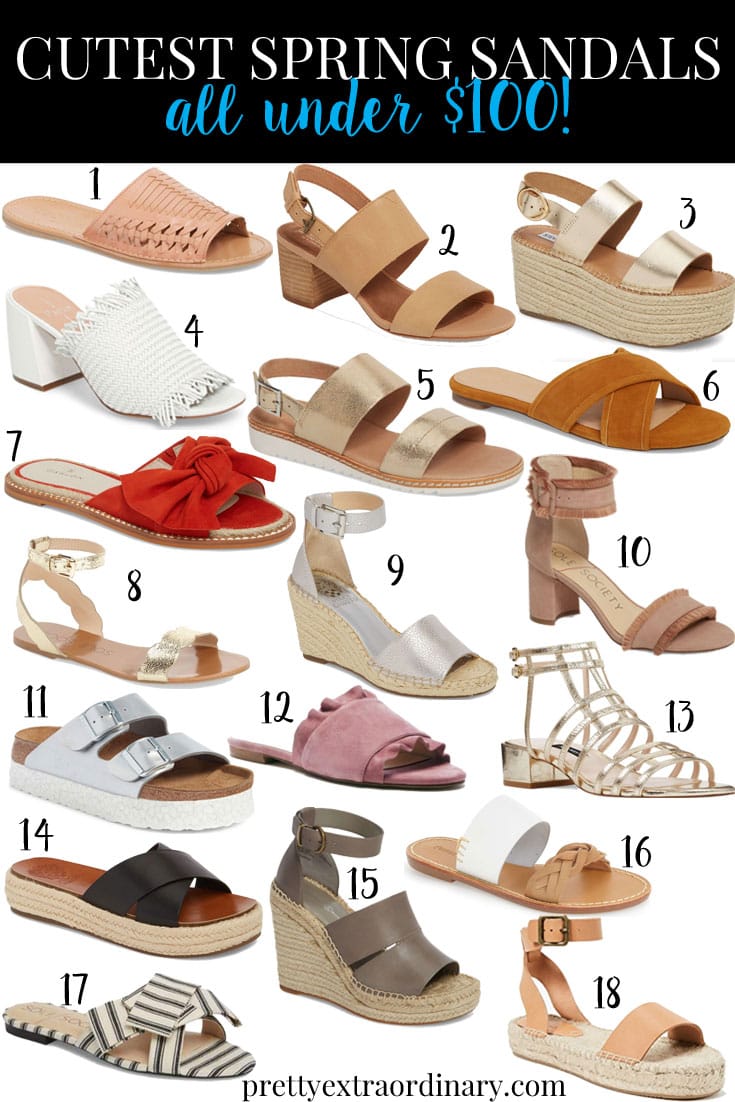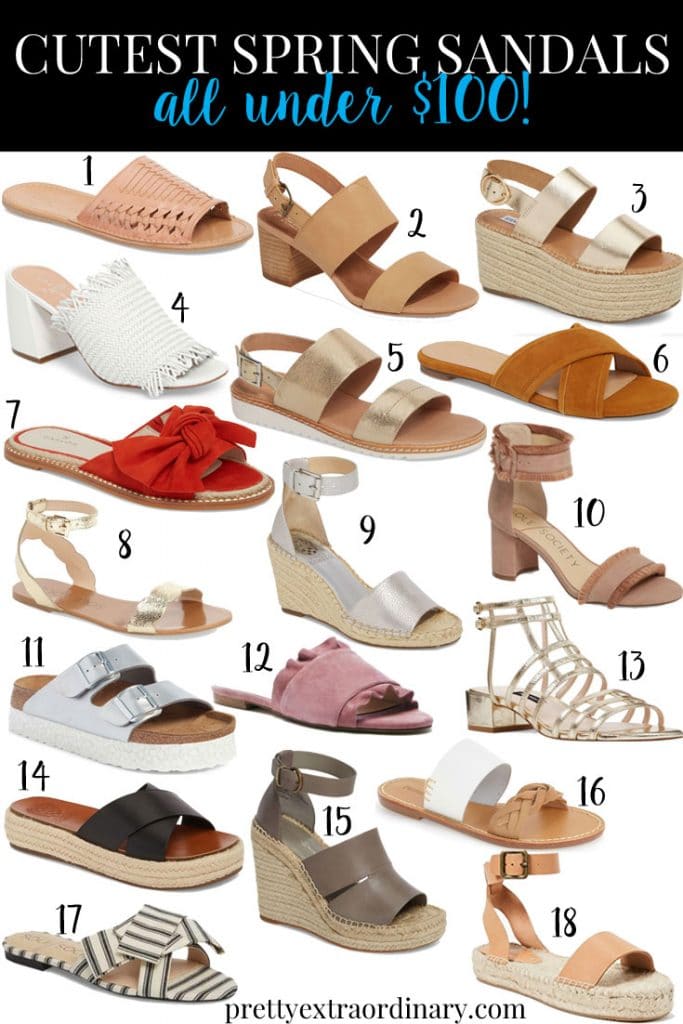 1 | 2 | 3 | 4 | 5 | 6 | 7 | 8 | 9 | 10 | 11 | 12 | 13 | 14 | 15 | 16 | 17 | 18
Slides
Slides and mules have been hot for the past year, but it seems like this season they've really taken over. The majority of the sandals I've come across are slides. Thankfully, they are comfortable and so easy to kick on. I'm surely not going to complain. If you're looking for a great neutral option, #16 is one of my favorites. Pair #1 are also adorable and versatile. They'd look fab with both dresses and shorts alike. For a statement-maker, grab #7 (they also come in four other colors!) or #17. How cute are those stripes?
Platforms
If adding a little height is important to you, then platform sandals are right up your alley. I love that they lengthen the leg without having to wear a heel. Many of these are more casual styles, but they can definitely be worn every day! #15 comes in several perfectly neutral colors like cognac, gray, black, and white. #11 are a little twist on the classic Birkenstock, and #14 is another slide style that comes in so many options (7 colors and patterns!).
Block Heels
Block heels are another great option that are comfortable but still give a little extra height and up the dressy factor. The thicker heel provides a great base so you won't be teetering around or struggling to find your balance on uneven surfaces. If you love keeping up with trends, I have to recommend pair #4. The mule style with fringe and woven texture are so of-the-moment. Wear them with shorts, jeans, dresses, everything! #2 are a pair that would work in every woman's wardrobe. They're a classic. For casual everyday to dressy events, I also love #10, which also come in denim and a stripe pattern.
Metallics
From silvers to rose golds, metallic sandals are such a fun way to add a little extra sparkle to an outfit. #8 are such a great feminine option with the pretty scalloped details. How cute would they be with a sundress or shorts and a flowy top? For an everyday option, you can't go wrong with #5 or #3 if you prefer a platform style
Tell me: what's your favorite type of summer sandal? Will you be adding some of these styles to your wardrobe this season?