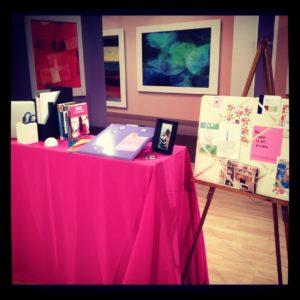 Working from home isn't easy when you AREN'T a mom, but when you add MOM to the mix… it is a whole new juggle.
It requires a special level of patience, an ability to compartmentalize and don't forget – you must become a master at organization. (do as I say….not as I do….  Just ask my husband!  he is still waiting for me to master organization!)
Also: make sure to sit down with your family before you begin your work-at-home journey.  It is best for both YOU and your family (your significant other and your children) to understand how this is going to work and what to expect.  The fewer surprises along the way, the better for everyone involved!
Aliza and I talked about this in Mom, Incorporated and I was delighted to join one of my favorite anchors, Virginia Kerr, on Great Day St. Louis (KMOV) this morning to talk about tips to creating that Home Office Space and truly creating a room of your own.
(Updated September 7, 2018 – Video no longer available)
3 Tips to Keep in Mind When Creating that Home Office Space:
Permanance – You need a place that is permananetly yours…not a space you a constantly packing up each night.  It doesn't have to be an entire room.  It can be a corner, a few shelves, a table – but it must be yours. This is where you will sit, work, place your computer, your printer, etc.
Productivity – what tools do you need to be productive?  Pens?  Fabric?  Your camera?  A filing cabinet?  In/Out boxes? Sticky notes?  A white board?  A timer (to keep you moving from one task to the next – thank you Amanda Henson for the suggestion!) What allows you to feel the most organized?  Once you know what makes you tick…. you can place these tools in their PERMANENT place.
Personalization – what inspires you?  Color?  A picture of your kids?  A motivational quote?  A window?  Keep these items close by and refer to them often.  These will be what keep you on track when your mind threatens to wander.
And thank you, friends…. for the many suggestions you posted to Facebook (some serious and some humorous!)….  what else keeps you on track?