My small girl didn't ask for gifts for her 8th birthday.  But she did have a very specific request.
She wanted all pink removed from her room. Now, this is a tall request since pink was a dominant color in the space.  But she has long been leaning away from the color pink – in clothing, in backpacks, in stuffed animals and toys – she simply isn't interested.
Purple and Blue.  These are her favorites.
So, we committed to re-doing her room as her 'gift' for her birthday.
This was Delaney's room before (and while messy – this is actually *almost* clean).  Yes, the ceiling is pink, too. (And that purple on the bottom?  That USED to be a dark shade of pink before Delaney requested I paint it two years ago)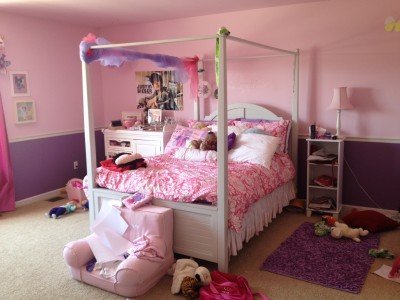 So, we made some changes… we added  a few new accessories and made some adjustments to her existing ones.
$30 for a new furry purple lamp, $30 for the amazing little blue chair (a favorite for curling up to read) and $20 for the softest purple blanket of all time.  All at Target. I changed the location of the shelves. The trophies were already hers and I replaced the pink framing of the picture with purple to match the decor of the room.  I used leftover scrap paper.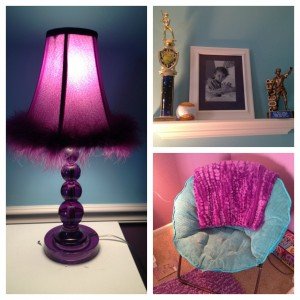 Jeff's parents (MaMa and PaPa) jumped in on the fun – buying all of the bedding and pillows to match the room.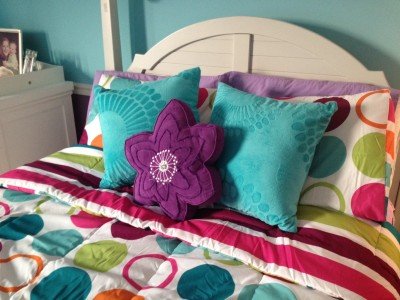 And, of course…. painting makes all the difference. Ta-Da!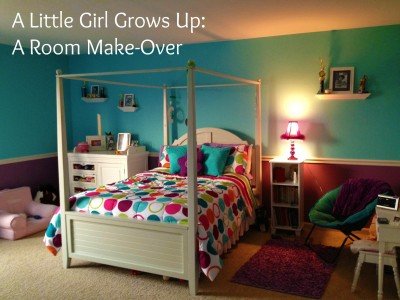 And from the other angle: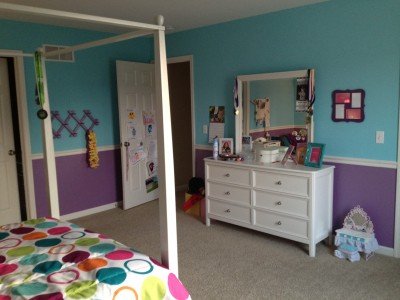 I have to confess, I had so much fun doing this for her – and she has been so grateful.  She has even managed to sleep in later than normal (courtesy of her Eclipse room-darkening curtains – also from Target).  Those are a life-saver.
What tricks do you have for a room-makeover without spending a fortune?