The magic of Magic Kingdom comes to life when you arrive at the park and have the chance to see your favorite characters throughout the park. However, if you are trying to save money on your Disney World vacation you may not want to spend a fortune on character dining. The good news is you can meet most of your favorites without making a special appointment.
Magic Kingdom has some of the best characters roaming from Main Street to just outside certain rides. However, there are always ones those extra special characters that everyone wants to meet.
If you have a Fastpass option, use it to avoid spending a lot of time waiting to meet your child's favorite. That goes for any of the parks, not just Magic Kingdom. We waited in line for 2 hours to meet Kylo Ren at Hollywood Studios. The wait times for Cinderella, Belle, Anna, and Elsa can be just as long. So definitely save a few of your Fastpasses for character meets.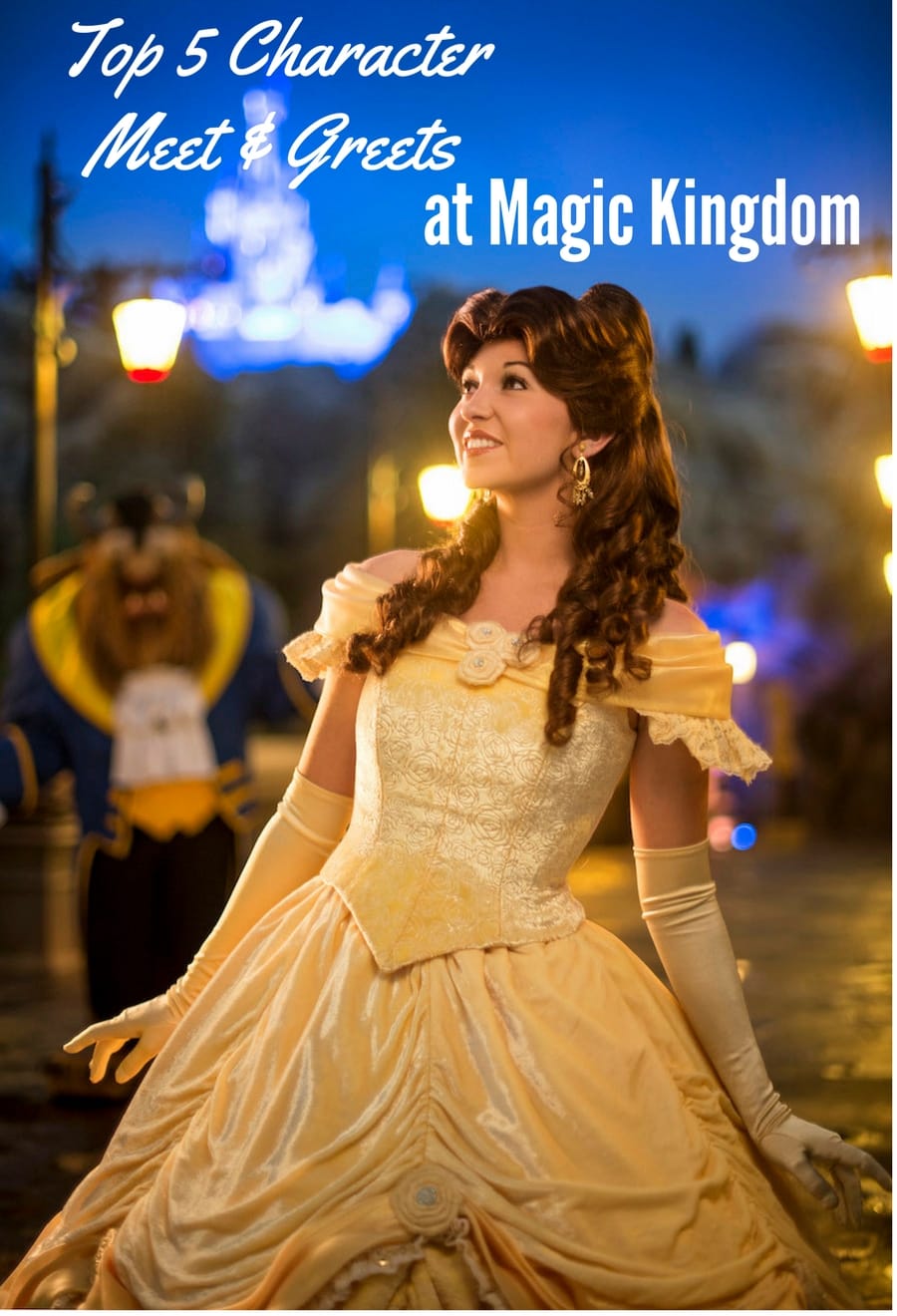 Cinderella
Cinderella can be found at a couple of different spots but the most popular is the Princess Fairytale Hall. Situated right across from the carousel it is the easiest place to find her. She and Rapunzel are in the same room together, so you will get to meet both.  Try to see her as soon as you enter the park so your wait time isn't as long. If there is a long line, you may be rushed during your visit and that certainly isn't very magical.
Anna and Elsa
Anna and Elsa are in the same room together at the Princess Fairytale Hall as well. They are still the most popular characters in the park and wait times can be insane, but it is worth it. Anna is as sweet as she can be and will talk about the castle, Kristoff, and Sven. Elsa is a little more reserved but if you ask her about Olaf she comes alive and will tell you a little about his adventures. If you have a Frozen fan in your family this a must-do meet and greet.
Belle
Unfortunately you can only meet the Beast during dinner at Be Our Guest. However, you can meet Belle at her own little section at "Enchanted Tales With Belle". This meet and greet is extraordinary. If you love Belle, you won't want to miss this entire experience. Belle is one of the sweetest characters at Magic Kingdom. This is definitely worth a Fastpass. I don't want to spoil anything, but plan to be here for at least an hour.
Ariel
Ariel is a bit hidden behind the Mine Train in her own little grotto. The lines are hit and miss. Sometimes, they stretch for ages while other times it is only 5 minutes. It really depends on what time of the day you arrive. One of the best parts of meeting Ariel is visiting her Little Mermaid themed grotto. It truly does feel like a whole different world. When we visited, Ariel spent a little more time with us than most of the characters do. If she is your favorite, you must take the time to visit with her.
Tinkerbell, Mickey, and Snow White
When you go to to the Town Square Theater you will find two permanent character areas, Mickey Mouse and Tinkerbell. Tinkerbell's line is never too long and she is as sweet as can be. Mickey, on the other hand, always seems to have a long line. You can certainly use a Fastpass for him or expect to wait quite a while. When you walk outside of the theater you will find Snow White. She is as gorgeous as you imagine. Keep an eye out for her – she is easy to miss.
Bonus Meet and Greets
It is nearly impossible to list ALL of the characters you might see, but here are three bonus ones!
Gaston– Gaston is not for the sensitive. He can be rough around the edges. Sometimes he rubs people the wrong way, but, it is his character. If you can take a good laugh and a good ribbing, definitely check out Gaston at the Pub near the Beast and Belle's Castle.
The Fairy Godmother– Believe it or not, The Fairy Godmother is a hot commodity in the Magic Kingdom. Why? Because she takes your wishes. All you have to do is ask her and she will take it with her. It may or may not come true, but that is part of the magic! I know a certain person in our party wished that Santa would wave at them at the Christmas parade and well, not only did Santa wave but he knew their name and said hi. Wishes really do come true at Disney!
Princess Tiana– You can find Princess Tiana in her own little area called Tiana's Garden. She is as sweet as she can be and sometimes if you are lucky you can meet Prince Naveen!
Meeting the characters can be really fun and magical. There is something special about seeing a character you have grown up loving come to life before your very eyes. With a little planning you can see all your favorites and have an amazing time doing it!