I have a new love. Or maybe you just might call it a slight obsession: Trunk Club.
I've long loved new clothes. I've long had a bit of a predisposition for shopping, but admit that I don't always like the 'hunt' that goes in to finding the best deals, the items that are the perfect fit for me, or even accessories or latest styles that just might push my fashion edges.
For the past two years, I've had good success with Stitch Fix – an online personal stylist that sends five items a month matching my style for a nominal fee of $20. As I requested I keep the same stylist (Layla) from one month to the next (that was key for me), I found I would typically keep a few items each time. If I kept an item, my $20 styling fee would go towards those items.
Trunk Club, however, does have a few extra perks that I'm finding make me giddy.
My personal stylist is Gretchen. I feel comfortable calling her a personal stylist as we both email and talk on the phone. She caters each trunk for me based not only on my individual style (I hate turtle necks and flats, but love dresses and high heels) but also by what I may have coming up in my life – Spring Break Vacation (she can send resort wear) or a formal event (think little black dress or cocktail attire.)
Each Trunk comes with fifteen items that I am allowed to preview and decline. Based on our talks, Gretchen will put together a series of items she thinks I may like. I have 48 hours to accept or decline individual items based on style or pricing and offer feedback. If I accept only eight or nine items, she will 'fill in' the remainder of the box and send it my way.
There is no styling fee at all. And no cost for shipping. I pay for only what I decide to keep. (Edit: as of October 3, 2016, this changed. There is a $25 styling fee charged to your account, but that money is applied to any clothing you decide to keep….Once you hit a lifetime spend of $1000, the fee no longer applies.)
I can set pricing guidelines. As many of the items are Nordstrom brands, you will find items that are high quality. You can set your price range based on your budget and comfort level.
Within your trunk, you can receive clothing, shoes, handbags, jewelry and sunglasses.
Your trunk is self contained and comes with return instructions. Any items you choose not to keep will be returned to the same box, taped and scheduled for pick up from UPS.
You can schedule a trunk as frequently or as infrequently as you wish – there is no mandatory requirement.
You can see the video of my first trunk unboxing here.
Along with my trunk, Gretchen sent styling suggestions….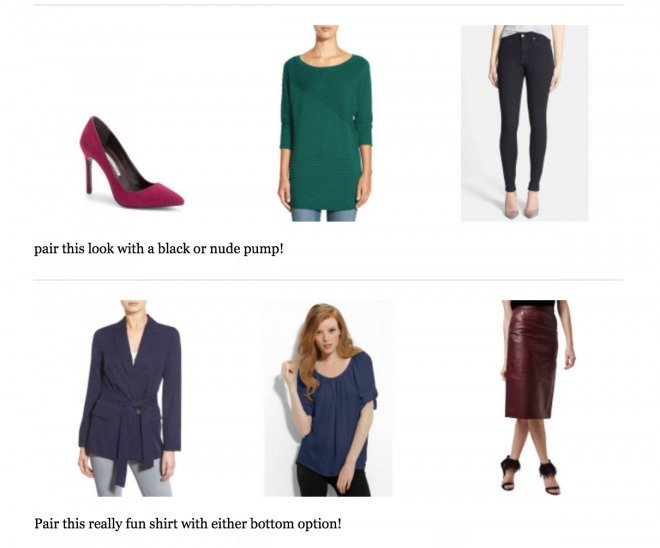 Naturally, I tried everything on.  Of all fifteen items, only one item didn't fit me perfectly (the black taffeta skirt below – bottom left – it is pinned for the picture) – which I find amazing. Think about that – the jeans, the shirts, the dresses, the shirts – all of it fit me. I didn't provide Gretchen with measurements, but rather just my basic sizing – and voila – great fits.
This is what I decided to send back (it was a tough decision)….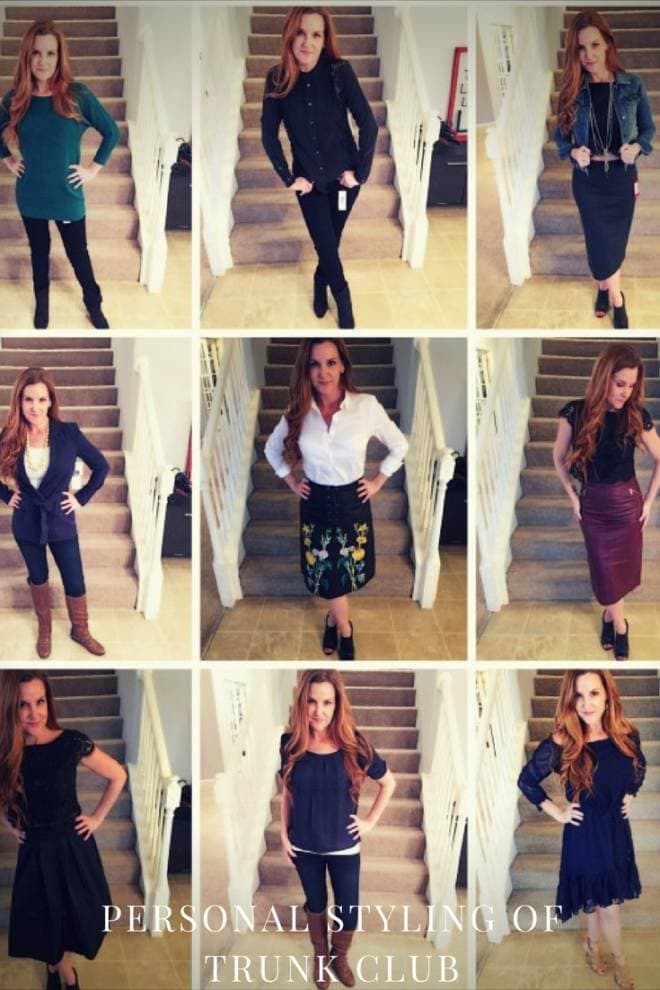 Sent back: Starting from top left – the teal sweater, the navy lace shirt, the black pencil skirt, the navy unstructured blazer, leather embroidered skirt, leather burgundy pencil skirt, black taffeta skirt, navy blouse, navy off-the-shoulder dress.
And what I decided to keep: Red blouse, cap-sleeve floral skirt dress, plaid shirt and black jeans, backless green shirt. (pink shoes also went back.)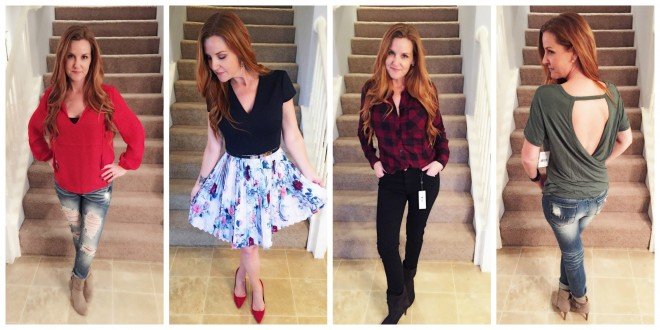 Here's a quick video recap if that's easier for you:
Just this weekend, Gretchen sent me a second preview email. After my first trunk, I provided her with a bit of feedback on pricing and made a few requests for what I might like to see this time.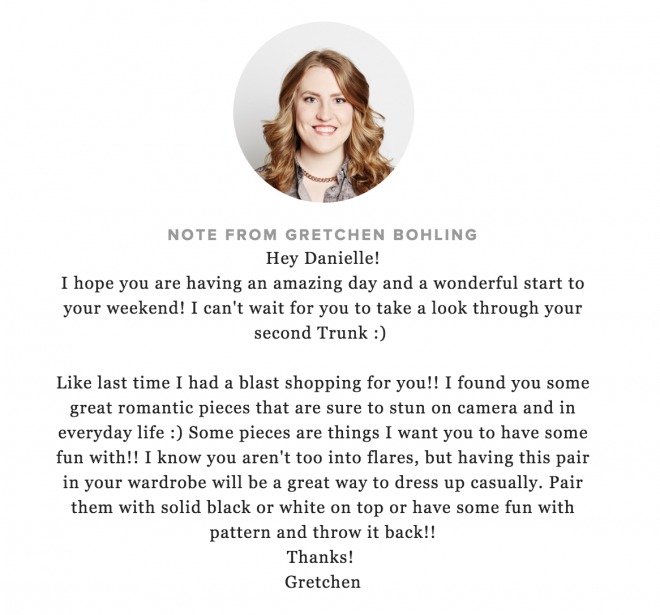 I'm excited that I know about ten of the items that will be coming my way, but also requested a few surprise pairings for clothing in that box.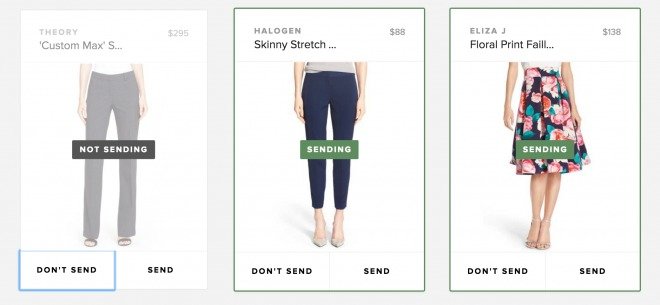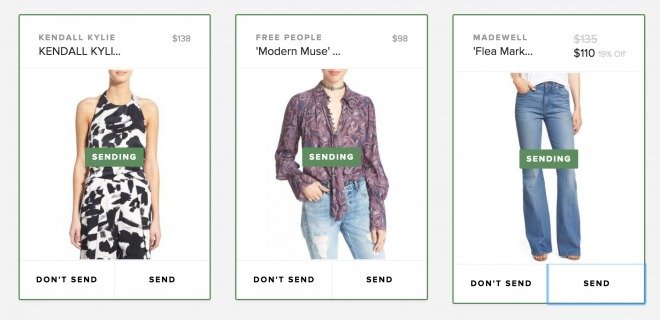 My trunk will soon be on its way to me. Can't wait to share later this week. So, what do you think? Have you heard of Trunk Club or have you tried it yet? If you are curious about their service, be sure to reach out to Gretchen – I know you won't be disappointed.
Edited to add: Gretchen is no longer at Trunk Club (she has started her own business designing clothing), but my new Stylist – Erin – would be happy to take care of you.
Second Edit