Working from home does not mean I sit around in my comfiest clothing all day long (not that I haven't ever succumbed to the favorite-sweats-hair-in-a-bun look), but most days I'm on the run in some way – meetings, sporting events, house errands….you name it.
I will be the first to admit, I *just may* lean towards the dressier side – my small girl has teased me for wearing a skirt or dress to a soccer game, but that's just me. Now, you don't have to be a master sleuth to know that I also love to shop, but clearly, I can't do that all the time.
Finding a way to mix and match those staple favorite pieces in my closet with a few new items makes the most sense.
I will break this outfit down for you….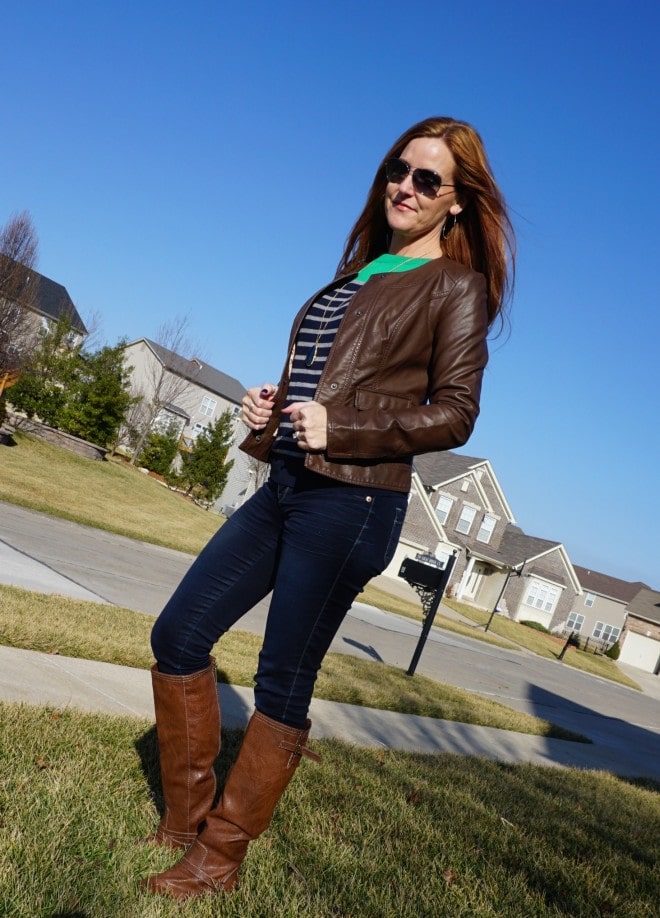 The jeans in this picture? Going on their third season. Yes, I know bell bottoms are making a huge come back and, as with everything 'old' fashion style that becomes 'new' again, I have to ruminate for a bit, deciding if I can re-embrace the trend. For the moment…dark wash skinny jeans are still a classic favorite. And I'm positive I've grabbed my money's worth on these… a purchase from Express.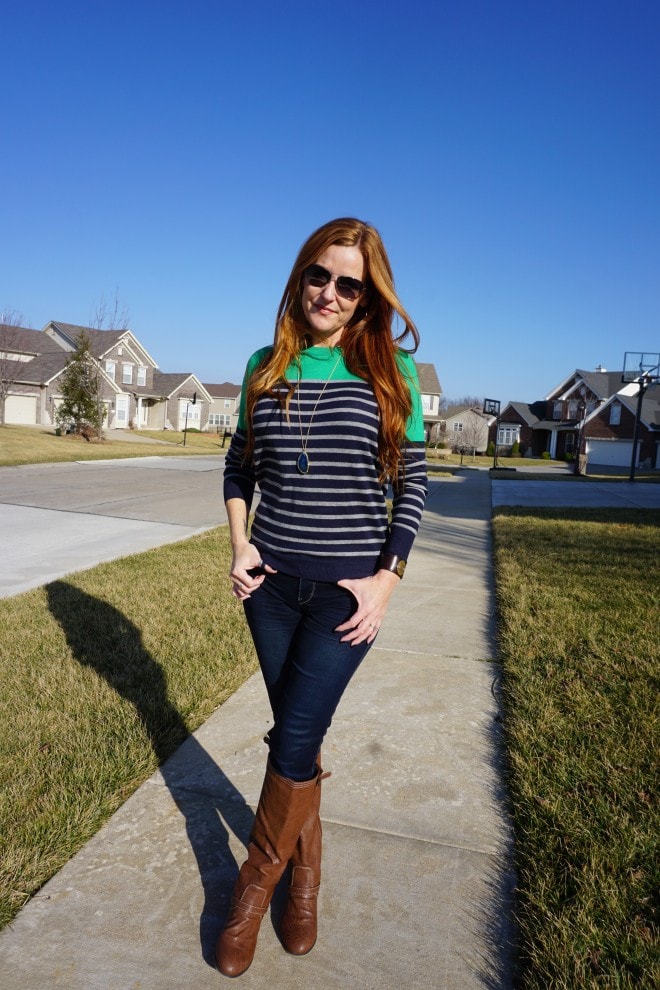 The striped sweater is my 'new' find. It arrived in a StitchFix box about two months ago and is admittedly a bit more conservative than I typically go, but I love it. The kelly green/navy combo is one of my favorites. The brand is 41Hawthorn.
Pairing the jeans and sweater solo with your choice of boot (low or high) is an option. I grabbed a high brown – one that I tend to wear constantly this time of year.  Can you believe I ordered this pair online for $46 dollars from Modern Vintage?  They fit like a dream and are a perfect replacement for a similar pair I wore until they fell apart.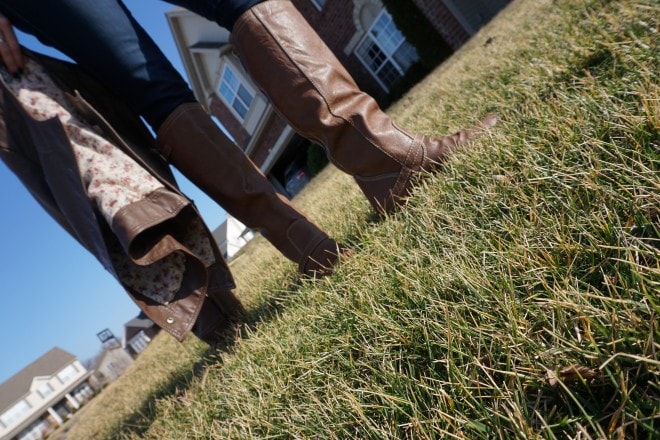 With the insane temperatures in the Midwest (65 degrees one day, 35 the next), it is a necessity to either dress in layers, or at least prepare to do so. This jacket from Kut from the Kloth. There have dozens of jacket options (while I don't see this exact one anymore, there are a few similar). Nordstrom also carries a variety of Kut choices.
And who doesn't love a few choice accessories? I pair this Atltar'd State necklace  (I love their jewelry) with anything that can use a touch of that dynamite blue. Here is a similar option.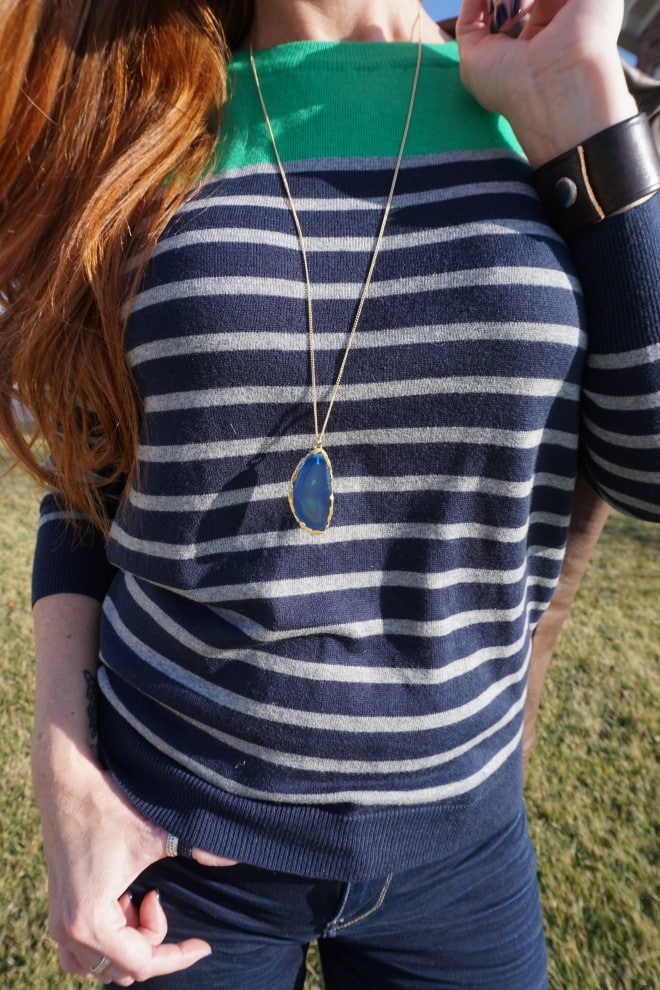 Finally, my bracelet. If I'm heading to one of my kids' games, you can bet I'll be sporting this. The casual feel of the leather cuff, with such a perfectly stamped phrase makes this a staple for many days.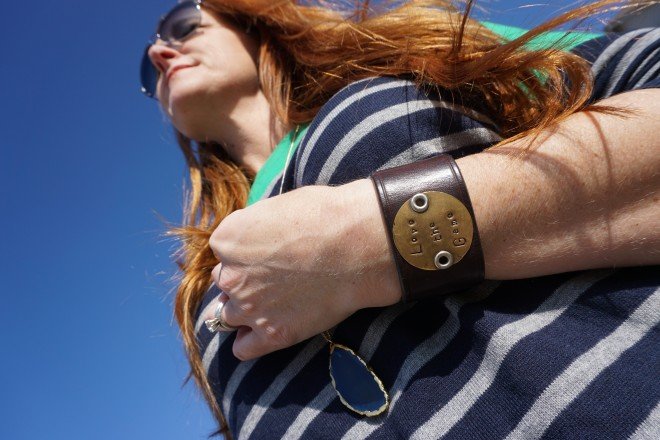 How do you pair the classic favorites in your closet with newer items? Are you loving stripes as much as I am for this season?
Crazy, mad props to my small girl for playing photographer for me on this shoot – so much fun to work with her.