With Independence Day right around the corner, I've got my mind on all things red, white and blue. Do you have your menu planned? Whether you're hosting a get-together with friends and family or just want to impress your kids with a fun patriotic snack, today's post is for you. These easy 4th of July snack ideas are so fun and will certainly wow.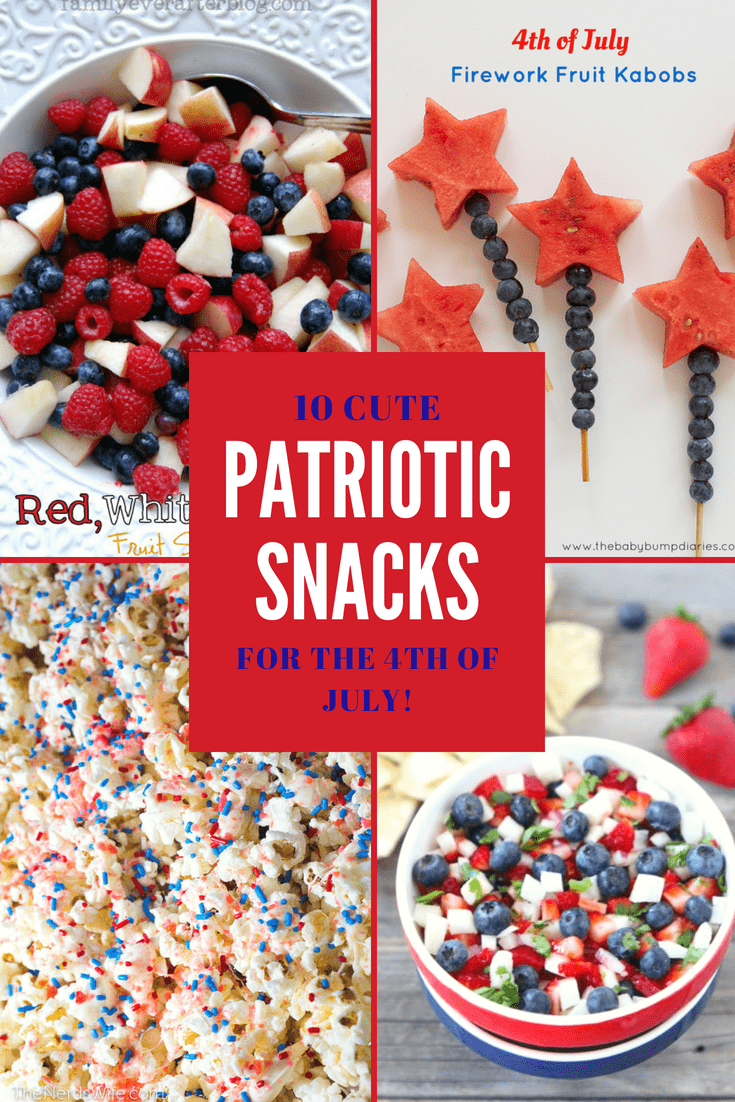 Healthy Snacks
So many of the 4th of July recipes I've come across are more dessert-based. So, I was pumped to find some healthy snack options!
If you love fruit, there are tons of ideas out there using red, white, and blue berries. I particularly love these star-topped fruit kabobs. Kids will love helping cutting the watermelon with cookie cutters! Or use your berries to make a kabob American flag. So cute. One of the easiest recipes I came across is this fruit salad, using raspberries, blueberries, and apples. You can even spice it up with this fruit salad dressing, which also prevents browning.
If you want to incorporate more veggies in your menu, this veggie tray flag recipe is such a cute healthy option. It even includes a blue-tinted dill dip. And this salsa recipe looks seriously delicious. You can eat it with chips or use it as a topper on your favorite grilled chicken or fish recipe.
Desserts
And of course, I couldn't skip the sweet treats completely. These patriotic desserts are not only cute but they will leave you salivating.
If you want to go super-simple, you can't go wrong with a patriotic parfait. It's the perfect mix of healthy option and dessert. This firecracker popcorn is another easy recipe that you can make quickly. I also love these dipped pretzels. The mix of sprinkles and drizzle make them picture-perfect.
For kids, I don't know if it gets any better than these rice krispie treats. I love how they're even in fun star shapes. And making these dipped oreos will also be a hit with the little ones. Anytime we get to break out the sprinkles is a good time for my daughter.
What is your favorite 4th of July snack idea? Are there any other recipes I should be adding to my menu this year?