My child is an eater. Every couple hours like clockwork she runs into the kitchen ready for a snack. And she doesn't mess around when she's ready to eat either. (Anyone else have a little one like this?) So having snacks ready to go is always a priority for me. But what if you're on-the-go? These snack ideas are perfect for keeping your little one satisfied while out of the house!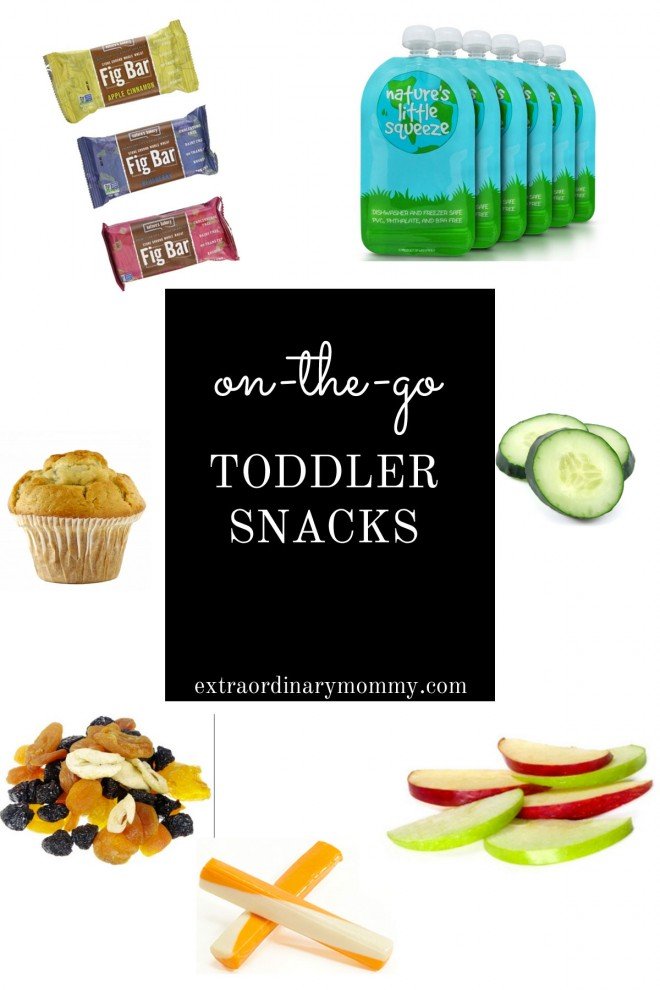 Store bought options
Let's be honest: I'm sure we'd all love to have the time to bake and cook from-scratch goodies for our little ones daily, but that's not always a realistic option. These store-bought snacks are easy and guilt-free!
Dry cereal – Cheerios are an all-time fav but Kix or Oatmeal Squares are other great healthy, whole grain options
Fruit and Veggie Pouches – Layla loves almost all flavors from Happy Baby
Breakfast Bars – these fig bars are a huge hit at our house, and Ella's Kitchen also makes a great bar for on-the-go
Whole grain crackers
Minimal Prep
If you have a few minutes to throw something together, these will be your go-to's!
Veggies – Throw in a few carrots, cucumber slices, and broccoli and call it a day. Or add in a pack of hummus to go!
Fruit Salad – Melon, berries, apple, pear, banana… the options are endless!
String Cheese + Lunch meat – Just wrap a slice around the cheese and head out the door
Whole grain wraps – Fill with hummus and veggies or peanut butter with apple or banana slices
Dried fruit "trail mix" – Dried bananas, strawberries, or even apricot – yum!
Smoothie – Blend yogurt with your little ones fav fruit. You can even put it in these reusable pouches!
Homemade
Have some extra time in the kitchen? These recipes are perfect for your toddlers!
Do you have any tried and true snacks? Please share them in the comments. I'm always looking for new ideas!