I have this bad habit – I find an article of clothing – a summer dress, a perfect chambray (my friend Taylor can show you how to style one three ways!), wedge heels I can't live without – and I wear them to death. My children have, in fact, said to me, "Didn't you wear that yesterday?". Why yes, Master of the Obvious – I most certainly did. They don't notice the laundry on their floors, the empty bowl of cereal on the counter or their unmade beds…but mom wears something twice? Got it.
But let's get back to that special something.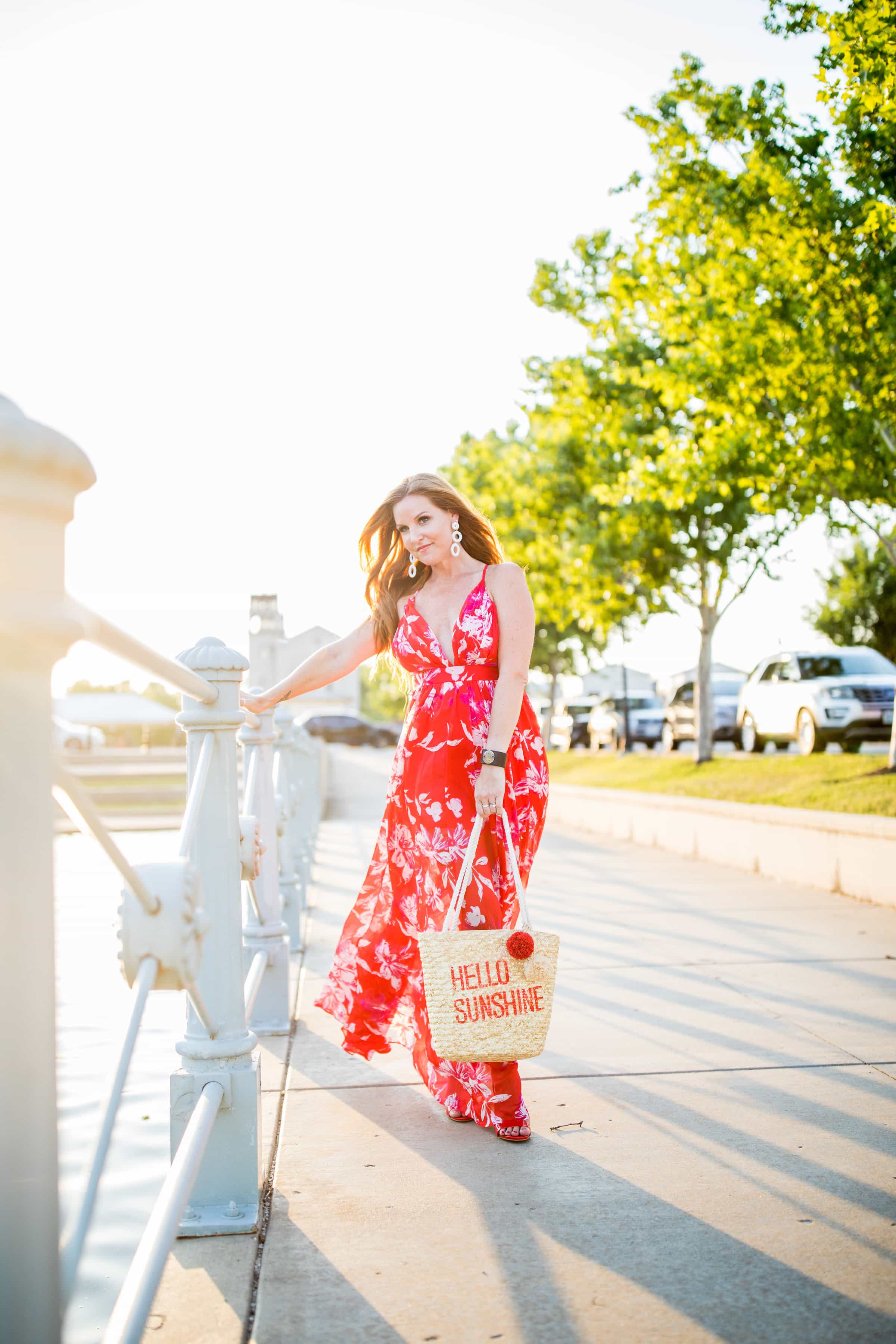 You know that piece of clothing you wear that makes you forget your flaws? The one that accentuates anything you love about yourself and seems to mask anything you don't? I feel as though I'm becoming a master at this. I've shared a bit about the changes I've witnessed in myself over the past year plus – as well as the positive changes I'm working on making – but finding clothes that make you feel beautiful is all part of that.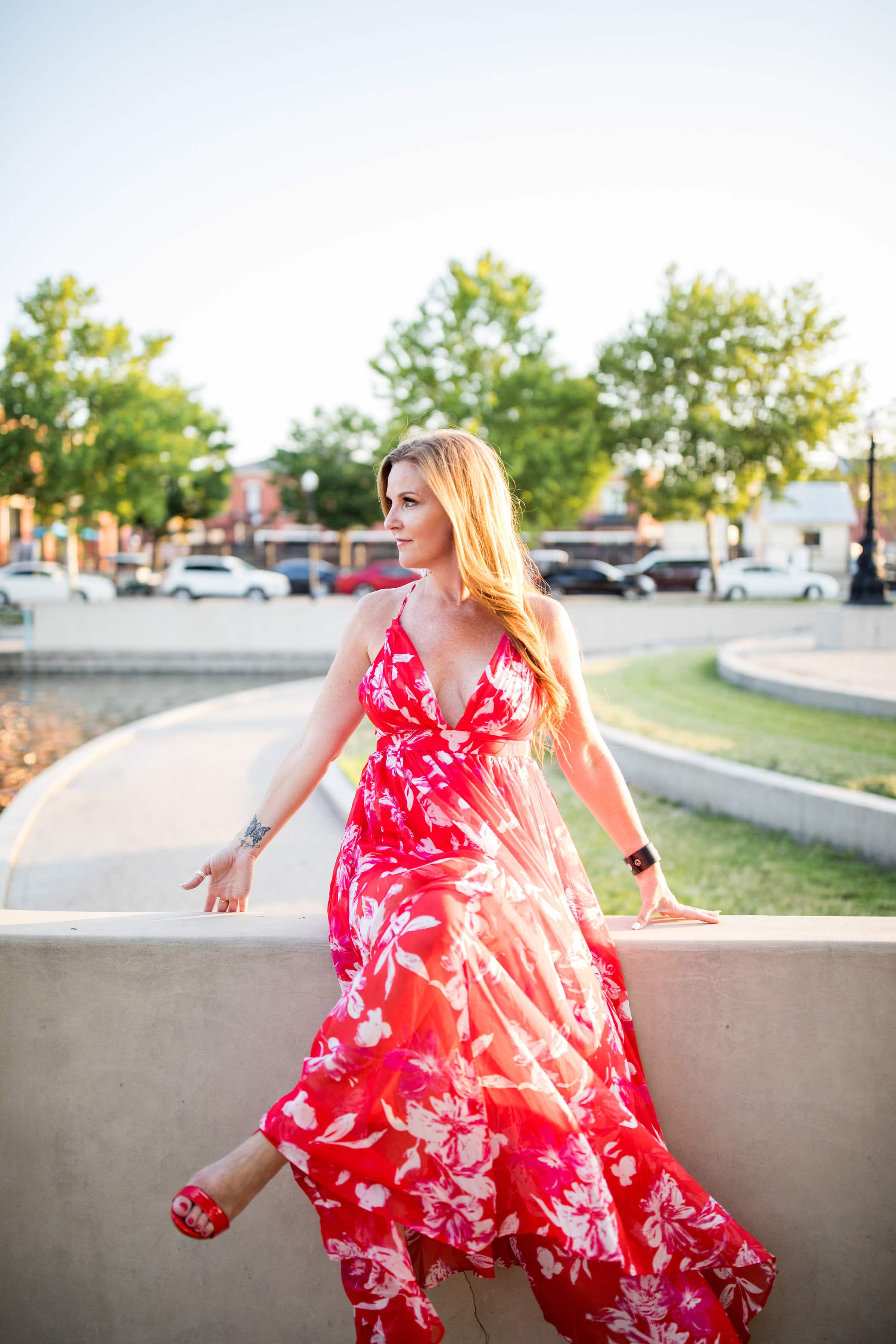 This red dress falls in to that category. And it isn't too pricy at $84.
It flows. It fits. It is light and airy and the most lovely shade of red. It is like summer in a dress.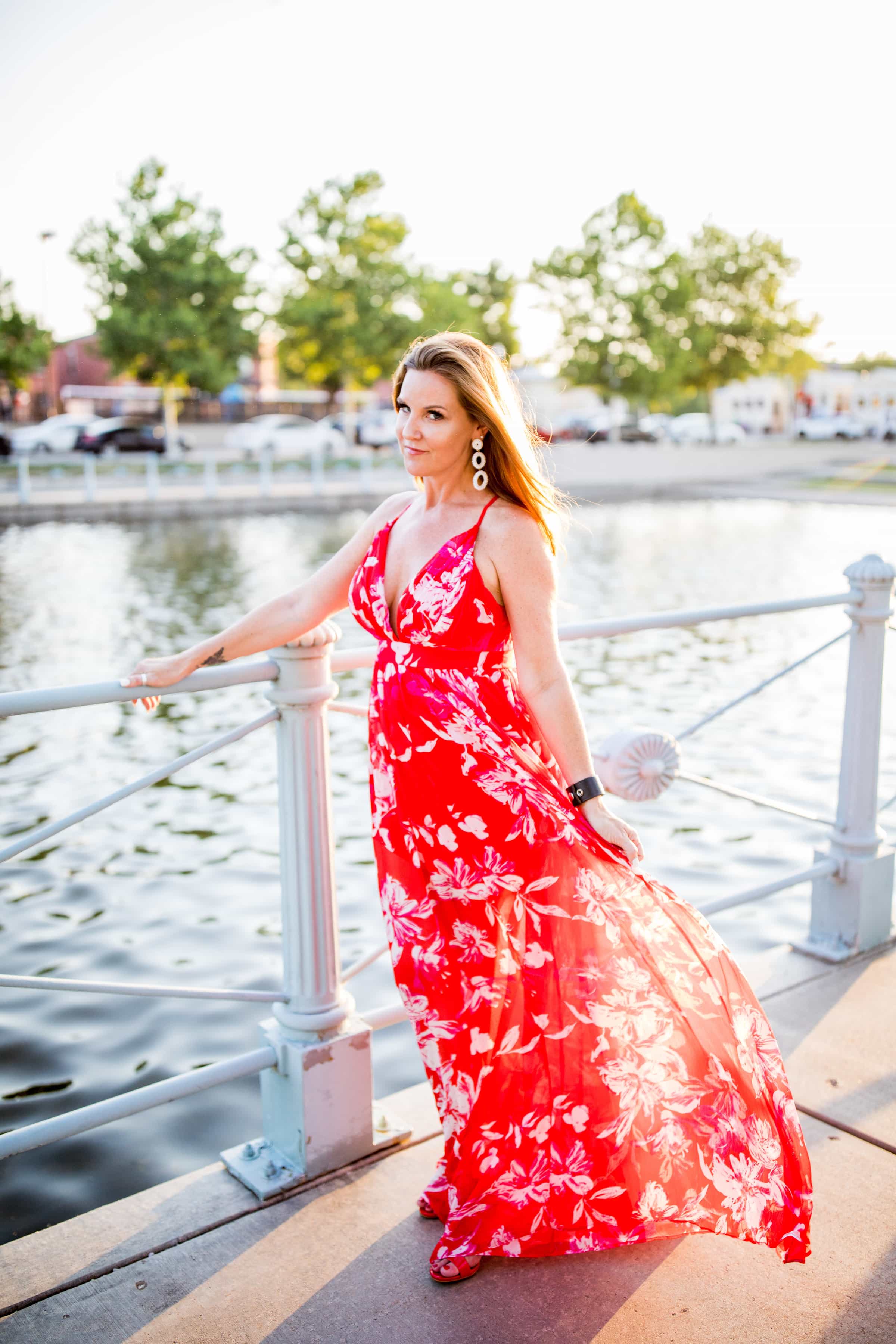 When I was young, my mom told me redheads don't wear red or orange.
I feel like I'm proving that wrong. I feel good – powerful, strong and happy in red.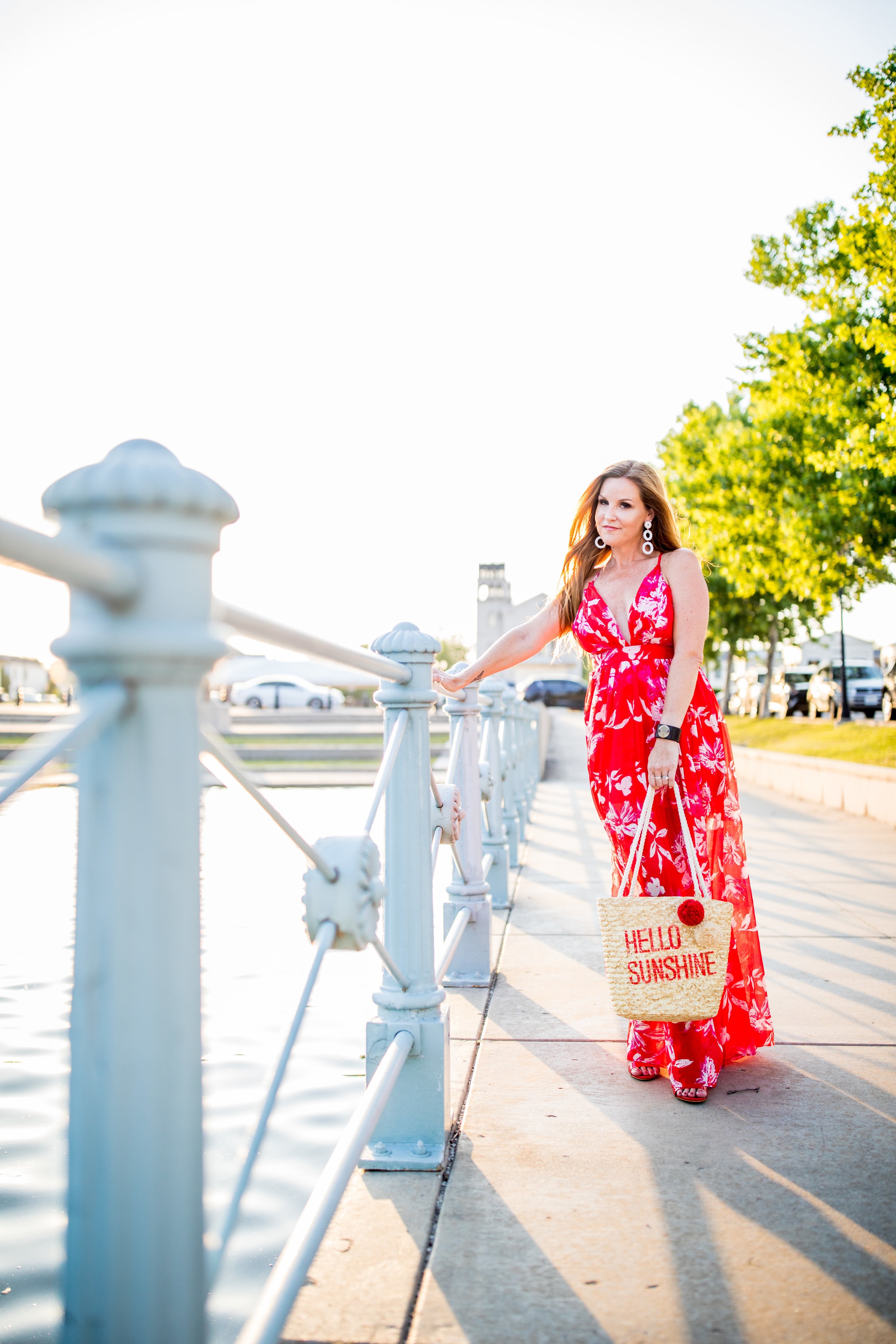 I love the floral detail, the fact that I can wear with my favorite red stiletto Steve Madden sandals with it and it is comfortable. I mentioned finding clothes that accent the good? It is cinched around my rib cage, has a deep V that I find flattering (I'm ok with that part) and hides the midsection I'm trying to keep a bit under wraps.
I also love that the top layer of the dress is sheer – so it gives the appearance of showing off your legs without feeling like you might be wearing something a little too short. And can we talk about my bag? This little steal came right off the shelves at Target, is only $30 and I can't get enough of it.
And for fun – I want to point out the ring I wearing as it is a special one for me. It belonged to my grandmother and is her favorite stone -my birthstone: a garnet. It wasn't her birthstone, but she always believed it was the strongest stone – so she passed it on to me on my 40th birthday. I lost her last year at 104 and I haven't taken it off since.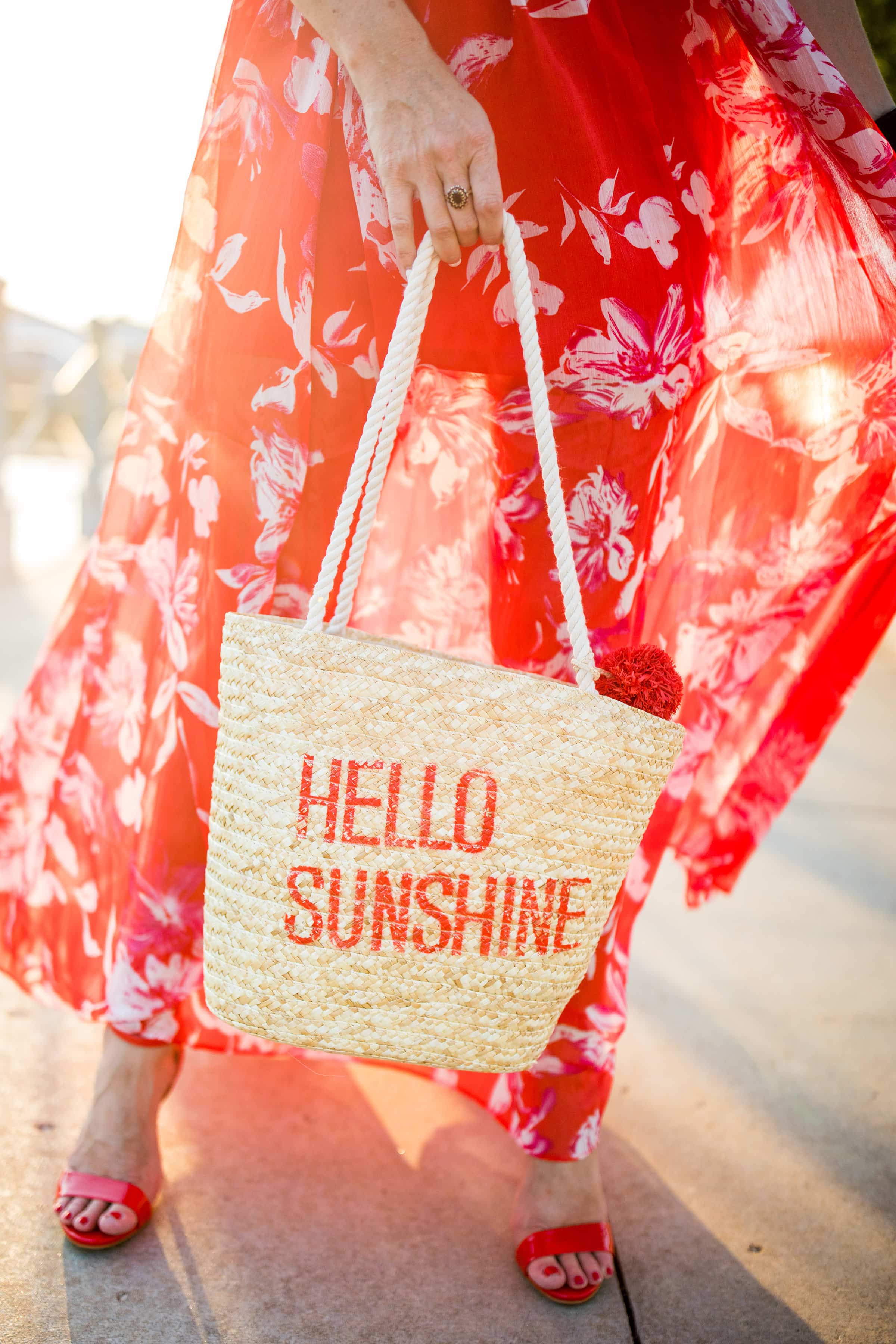 If the red feels a little too much for you, or you haven't been able to move past the feeling that you shouldn't wear red, I wanted to give you a few options that are the same style and fit, but with colors that may be more your style.

What do you think of these?
Do you have an outfit that makes you feel dynamite? I hope so. And if not, get to looking.
xoxo