We are well into summer, and if any of you are like me you may be feeling the conflicted strains of wishing time could slow down while also really looking forward to school starting back up again.
One of the joys of summertime is the snacking. Somehow, in the scorching summer months, certain snacks just taste better. For example, a popsicle is good anytime of year, but on a hot summer day, eating a popsicle is almost a holy experience. Summertime memories are crafted around the perfect summer treats.
Enter Pink Lemonade Pie.
I was first introduced to pink lemonade pie as a sophomore in college when my roommate made it on a particularly hot Texas afternoon. After the first bite, I wondered how on earth I'd managed to live my entire life without it.
Today, I like to save Pink Lemonade Pie for the summer months, because somehow it just tastes sweeter beneath the blazing sun. And when the time comes for me to pull it from the freezer, my kids cheer as though it's the very first time they've tasted this treat in their lives!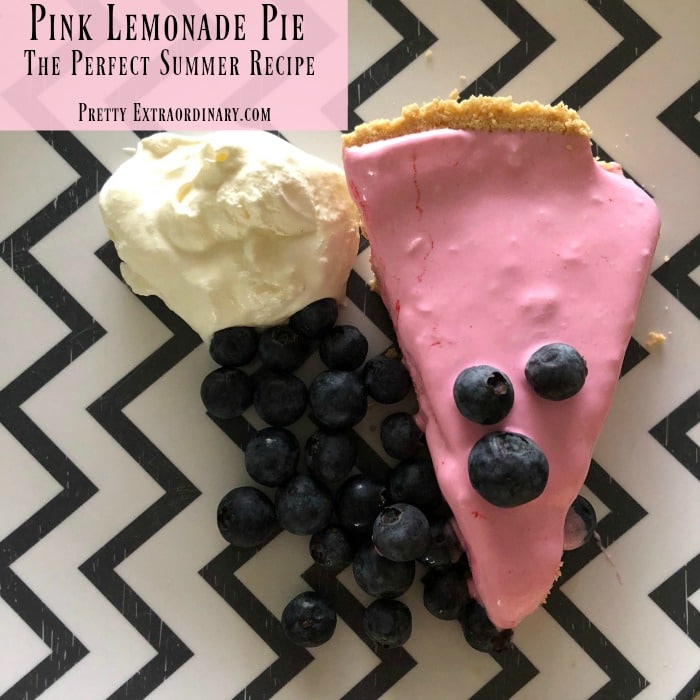 So if you're looking for that perfect dessert to complete your perfect summer, look no more! I am here to give you that holy experience you've been waiting for.
*wink*
Pink Lemonade Pie
Ingredients:
One ready made pie crust
One can of frozen pink lemonade
One tub of whipped cream
Red food coloring to pop the color
Strawberries or blueberries to top the pie, if desired
Process:
In a large mixing bowl, combine the can of frozen lemonade with the tub of whipped cream and mix together. If you want your pie to be more sweet and less tart, then only use three quarters of the can of frozen lemonade. Stir in 3-5 drops of food coloring to pop the color of your pie, then pour the mixture into the ready made pie crust. (Hint: If you buy the smaller pie crusts, you can usually fill two of them.)
Place the plastic lid of the pie crust back on top, then place in the freezer and freeze for two – three hours. Slice and enjoy plain, or with a dollop of whipped cream and sliced fruit.
'Pink Lemonade Pie: The Perfect Summer Treat' A new summer recipe by @kellistuart
Click To Tweet
Easy as pie, right?
What is your favorite go-to summer recipe?