During the summer everyone wants a little bit of 'less-is-more', am I right? Kids are out of school and yet all the responsibilities of being an adult (totally overrated!) are still there. So naturally we must let some things slide. One of them might be our personal care routine. Who has time, or who wants to take the time to apply a full face of makeup? Not this girl! Thankfully I've found some drug store products that will give you just enough to look nice without taking a ton of time and effort or having to wear a ton of makeup!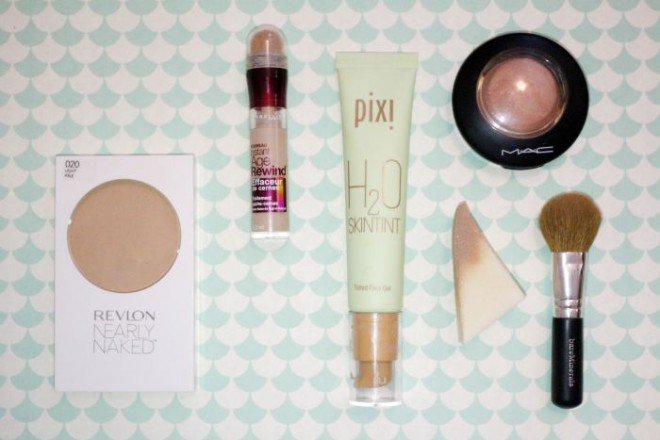 All of these, except the MAC, were purchased at Target. Can I get an amen?! And the best MAC blush dupe is probably NYX Terra Cotta.
It's probably best to start with a primer. Even if it's an extra step, during the hot summer months this will keep your makeup from creasing throughout the day. I used Younique and I really love it. If you're looking for a drugstore primer, try Rimmel Stay Matte primer.
I recently found this Pixi skin tint at Target when I asked the makeup lady there (they have makeup ladies now!) what was the best bet for nice coverage but really lightweight. This stuff is it. It's water based and goes on very, very light, but it evens out your skin tone. Then you apply some Revlon Nearly Naked powder for just a tad bit more coverage and to help with any heat & humidity you might experience throughout the day.
If you want/need to, you can add some concealer. I've been suing Age Rewind by Maybelline and really like it. But if you're in a hurry or don't feel like it, just skip this step! You can blend it in with a cheap version of a beauty blender or leave it alone if you skipped that step.
I have been using blush that has a bronze tone to it which is perfect for summer. It adds a little color and removes any kind of contouring steps you might think you have to take. Instead, just use the bronze-blush and you kill two birds with one stone! Add some brown eye liner because it's more natural than black and mascara and you're good to go!
Here is the step-by-step: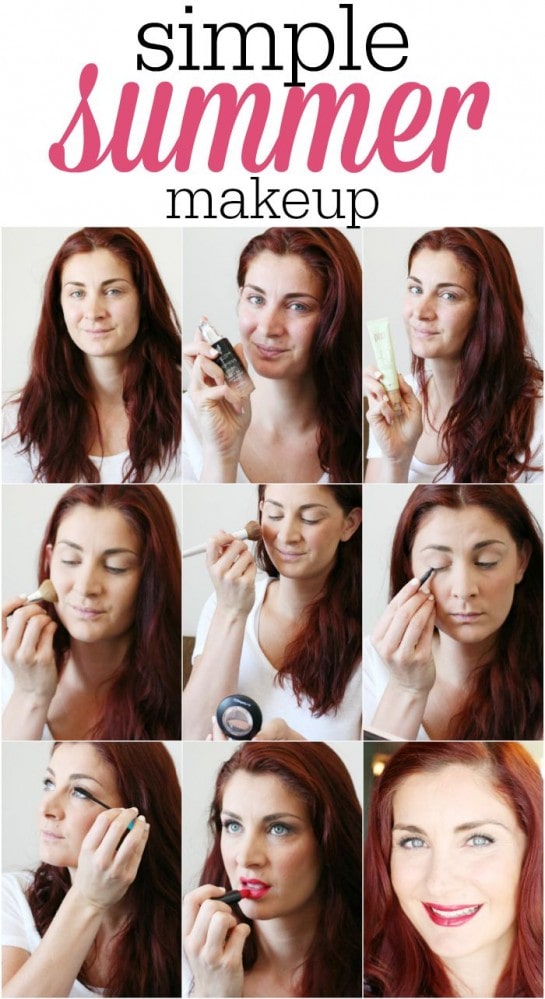 I almost forgot to add that at the end you could add a fun bright lipstick because, well, it's summer! If you're not a lipstick kinda gal just add a tinted lip balm like Burt's Bees for a little color with no effort.
There you have it! What do you think about this summer makeup routine? Easy enough, right? It's pretty much been my daily for a while now. Hope you like it!