How do you choose to feed your family? Do you look for the easiest recipes or are you willing to take a little extra time in the kitchen to cook the meals you think are healthiest for you and your family? Maybe you embrace Paleo. Or Keto. or Vegetarian.
The more clean foods and vegetables I include in our meals, the better I feel about how I'm keeping my small people on track for learning healthy options as they grow in to adulthood.
And you have to know I jumped on the Instant Pot Bandwagon, right? (This is the one I have.)
So I wanted to share a collection of some of the best Instant Pot Vegetarian Dinner Recipes around.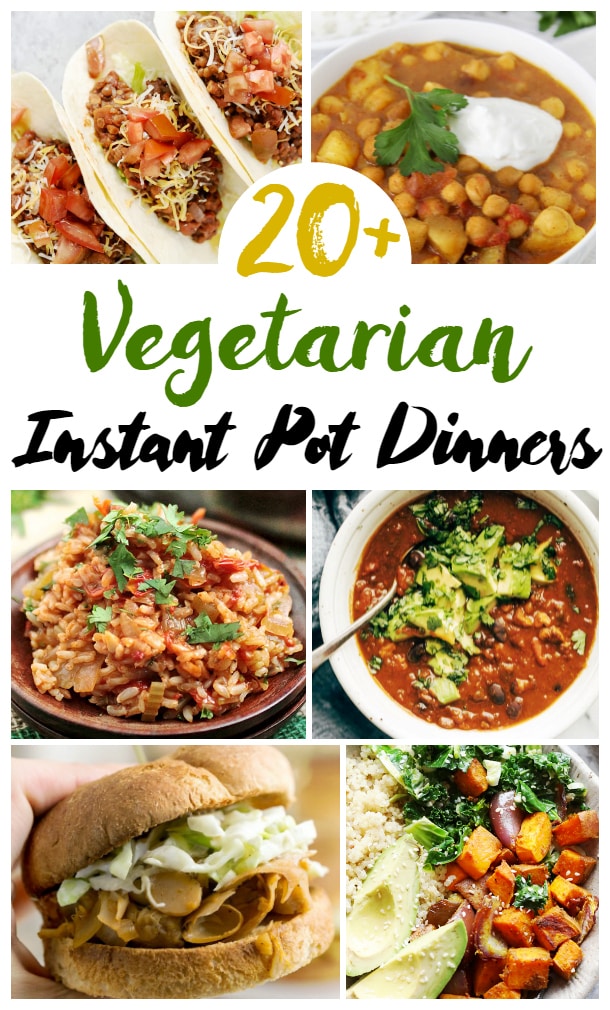 Instant Pot Vegetarian Dinners
Instant Pot Chana Masala – Smashed Peas and Carrots
Coconut Chickpea Curry – Jessia in the Kitchen
Spicy Vegan Jambalaya – Life as a Strawberry
Instant Pot Potato Corn Chowder – The Typical Mom
Instant Pot Lemon Vegetable Risotto – Lexi's Kitchen
Sweet Potato Vegan Budha Bowl – Fit Foodie Finds
Instant Pot Walnut Lentil Tacos – Delish Knowledge
Instant Pot Pulled Jackfruit – Vegan Yack Attack
Busy Night Pasta – My Plantbased Family
Instant Pot Chili – Pinch of Yum
One Pot Baked Ziti with Ricotta – Kitchen Nostalgia
Instant Pot Broccoli Cheddar Pasta – Adventures of a Nurse
Quinoa Fried Rice – Life Made Sweeter
Vegan Burritos – Nora Cooks
Instant Pot One Minute Quinoa and Veggies – Super Healthy Kids
Tofu Sheperds Pie – Glue and Glitter
Instant Pot Vegan Pad Thai – Fit Foodie Finds
Instant Pot Pasta Puttanesca – Veggies Save the Day
Instant Pot Sweet Potato Lentil Curry – Happy Food Tube
Instant Pot Tofu Lettuce Wraps – Herbivore Cucina
Instant Pot Lo Mein – Slap Dash Mom
Instant Pot Lentil Stroganoff – Nourish Nutrition
Instant Pot Ravioli Lasagna – Spice Cravings
P.S. – my favorites? Instant Pot Ravioli Lasagna, Instant Pot Chili and Instant Pot Lemon Vegetable Risotto. Have you tried any of these? If not, which is the one you are planning to tackle first?