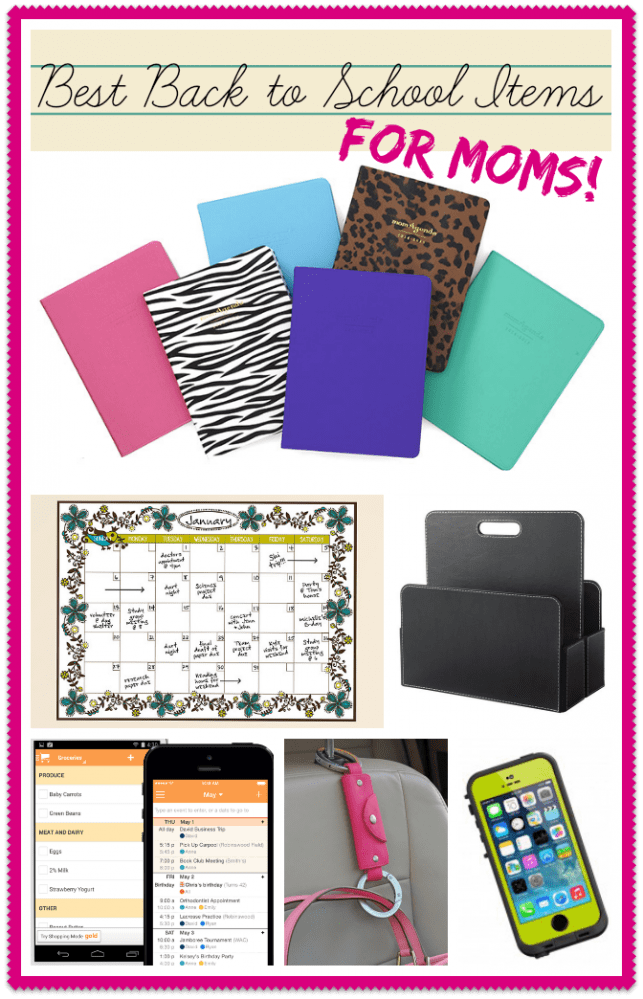 You amazing, awesome mother, you. You are already diligently cataloging whether Charlie needs jeans, if Eve needs a new backpack and where to find the best back-to-school deals for your kids. You will research the best place to snag those sneaks that your son has to have, and look high and low for an Elsa and Anna lunch bag.
You will scour the Internet and trek the mall in order to find those items that will make your children happy and proud when they enter the doors of their school that first day.
But wait! As usual, you are forgetting someone. Yourself! To keep everyone organized and the trains running on time, there are a few items that YOU, Mother of Dragons, can totally use for #backtoschool. You may not need a plaid skirt or number two pencils, but you can use these fabulous, functional items especially for dedicated moms.
momAgenda Desktop Planner $43 Keep all of your work, personal and kids' appointments organized in this beautiful, intuitive planner developed with you– the over-extended mom — in mind. There is something about keeping track of all family plans in a paper calendar that keeps your commitments, deadlines and just your mind more organized.
Wall Pops Calendar $14.99 A dry-erase calendar in a family common area helps everyone in the house. Train the kids to check what they need to bring with them to school that day (their instrument? gym shoes? art folio?) and what activities are planned for the afternoon and evening. We love how these calendars are constructed on wall decals so not only are they reusable month to month, they are super easy to hang, rehang and are not bulky on the wall.
Ikea Rissla Magazine File $9.99 Do you live a double life of working woman and M-O-M? Then a two-sided file is perfect for your duality. Keep the PTA handbook and soccer phone tree on one side, and your agenda, work forms, expense sheets, etc. on the other side.
Cozi Family Organizer App Free House your entire family's to-do lists, digital calendars and shopping lists in one place that syncs and shares all users' additions. Sending your husband a shopping list or reminding your teen about his orthodontist appointment has never been so painless.
Handbag Handcuff $42 If your car is your command center, then your purse is your co-pilot. Keep that baby safe and from toppling over at red lights with this crazy helpful innovation (invented by a mom…of course!) Just attach one cuff to your bag and the other cuff to your car's headrest post. Your goods will be secured from spilling all over your passenger seat and car floor.
Lifeproof Phone Case $59.99 – $89.99 Drops, spills, cracks, dunks and more hazards threaten your precious smart phone daily when you are a busy parent. We love how this case offers optimum screen, device and liquid protection while still remaining sleek enough to slip into a pocket of skinny jeans.
What back to school item for YOU is at the top of your list? Share with us!