Let's talk about an effective way to keep your family's schedule organized.
When my kids were little, it was pretty easy to keep our schedule straight:
Monday – playdate.  Tuesday – library.  Wednesday – playdate.  Thursday – Dr Appt.  Friday – free day.  Repeat weekly.
But, as my kids got older (and I added more!)  it turned into more of a challenge with homework, after school activities, days off and more!  Trying to keep a family of 5's schedule organized is a huge task!  But, if you can figure out a way that works for your family that keeps everything organized and straight – you can avoid a lot of stress and missed obligations!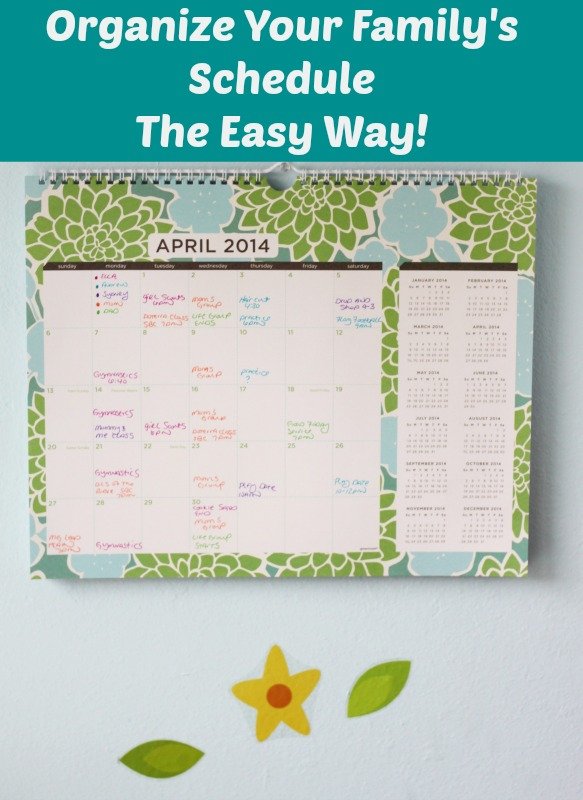 What I've found that works best for my family is using a color coded calendar! This simple yet effective system is a great way to organize your calendar that your entire family can get on board with!  Being organized doesn't come natural to me,  so I have to work harder at finding systems that work and then stick to them.  But this organizational calendar  makes organization fun AND pretty, therefore I enjoy doing it so much more! By using my my handy dandy colored pens, I  give each family member their own color to be added to the calendar  and I hang it on the wall in a central location so that my entire family can see what they're doing each day!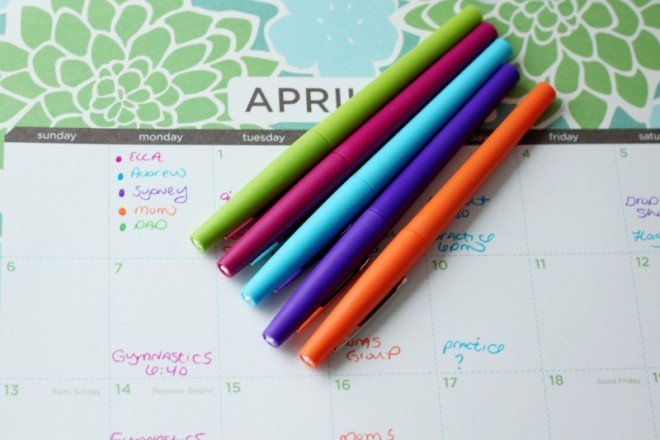 Each month I fill in our standing activities – gymnastics, girl scouts, life group, practices, etc…  I find that if I don't put it on the calendar, I get so caught up in my day with kids, blogging, dinner and homework – that I totally forget things, even though we do some activities weekly!   Even if it's my 8 year old's Gymnastics class or 5 year old's  Flag Football practice that happens every week – it goes on the calendar.  Next, I add in things as they come up – doctor & hair appointments, playdates, meetings, family outings, etc…  I add everything!  That way I am less likely to miss something because it's right there in front of me (and everyone in the household!).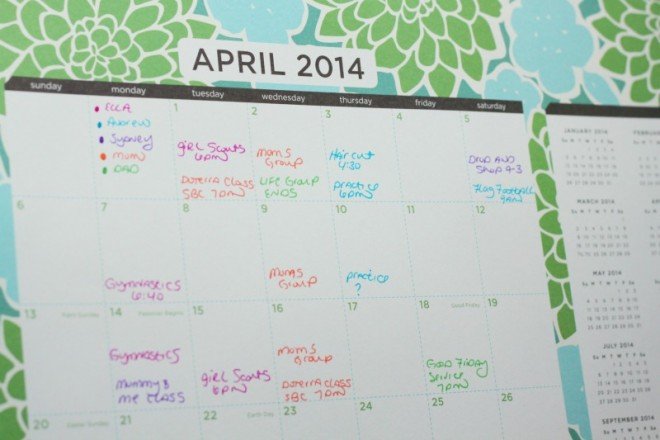 Another great thing about this simple family organizational calendar is that everyone can quickly take a glance and see if they have something coming up that day.  My big girl knows that her color is pink and if she checks the calendar, she can quickly see what's on her agenda for the day. No more excuses for forgetting to take your library books to school or sending in a class project either.   It's a great way to give your big kids ownership and responsibility in the family, too!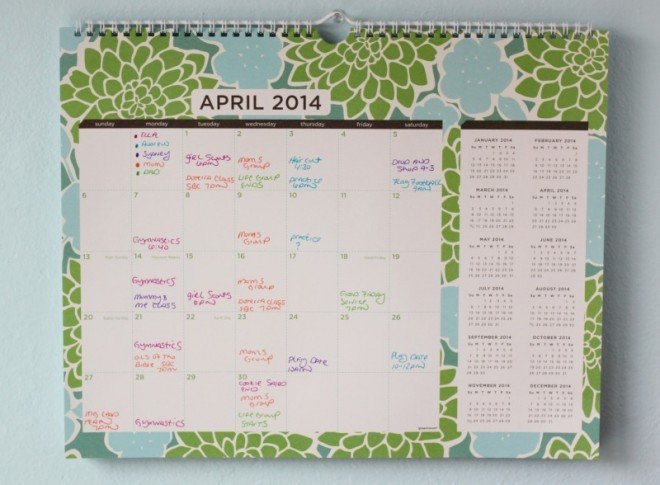 Organizing your family's schedule doesn't have to be hard or expensive – grab a wall calendar from Target or even the Dollar Store along with some colored pencils or pens and get it down!  Right now you can probably even find calendars on sale since we're a few months into the year.
Here is a Household Management Binder to keep important papers, info, recipes and a to-do list handy. It's our way to keep our schedule organized for every member in our household and it's an  easy way to get everyone involved and  keep your agendas straight throughout the year.
Let me know in the comments if you have a special way of keeping your family organized.  I'd love to hear!